Jurassic World: Dominion Dominates Fandom Wikis - The Loop
Play Sound
This article is a work-in-progress.
The content and format of this page may change drastically over the next few hours or days.
The Submarine is a new underwater vehicle in ATLAS added in the Update v1.5/v100.1
Explore the depths of the ocean in this small scouting submarine. Use the claw arms to help harvest the ocean floor and explore (demolish) shipwrecks.
Also equipped with a harpoon (uses
Ballista Bolt ammunition) as a new underwater weapon which will ramp up oceanic combat.
Build info
[
]
Anyone may ride in a Submarine as a passenger, release, retrieve and repair a Submarine from the Ship Hanger. However, the Kraken must be killed to unlock the ability to craft and operate a Submarine.
The Submarine is crafted and repaired inside the
Dinghy Ship Hangar.

In addition to some basic materials (listed on the sidebar), the Submarine requires:

Base gems, crystal & alloy cannot be used for crafting a Submarine, but can be used for repairs.


Usage
[
]
After building the submarine, it will appear in the Dinghy Ship Hangar of your ship.
It can be released by standing on it and holding e to release it, this will then drop it into the water, this can also be repeated to re-dock it back into the submarine if close enough.
you can enter it by swimming next to it and pressing e to board.
The Submarine has 18 inventory slots for storing gathered resources/ammunition
Driving
[
]
Sit in the driver's seat by pressing e, and then you can steer using the mouse
Left or Right Mouse to use the claws or Middle to fire Ballista Bolt. The claws perform a basic melee attack and can be used to kill, for example, Squids or take a Giant Crab down to low enough health to tame. As using claws puts the submarine in melee range of the creature it is likely that your submarine will take a bit of damage from this, this should not trouble a full health submarine. The claws are able to farm the ocean floor as well, very useful in the Trench where most coral / shell objects return valuable resources.
Fuel
[
]
Requires Fuel - Mythos to be placed in the Dinghy Ship Hangar, and a supply of Ballista Bolt for attacking at range.
A gauge for how much Mythos is required to fuel a submarine is approximately 1 Mythos per 45 seconds of the motor engine being operational. It doesn't appear to use much or any Mythos when the submarine is stationary (requires confirmation). As the Trenches are not that big, 50-100 Mythos put in the Dinghy Ship Hangar should be more than enough to explore one Trench completely.

Repair
[
]
Gallery
[
]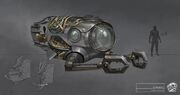 Patch History
[
]
Patch
Notes
100.1

New Vehicle: Submarine. Explore the depths of the ocean in this small scouting submarine. Use the claw arms to help harvest the ocean floor and explore (demolish) player shipwrecks. Also equipped with a harpoon (uses ballista bolts) as a new underwater weapon which will ramp up oceanic combat.

100.81

Submarine is now unlocked when defeating the Kraken, regardless if you have collected all the power stones as an individual.

101.1

Reduced Submarine max weight to 1000
Submarines move 33% slower and uses 50% more fuel
Submarine is unable to move laterally when overweight/over crewed, can still move longitudinally.

104.14

Submarine now consumes fuel consistently after crossing a world border

207.91

Submarines docked on hangars now retain their colour after server restarts
Gameplay Mechanics

Character

Domestication

Crafting

Other