Overview
[
]
Squid
314x300px
NPC
Common Name
Squid
Group
Invertebrates
Diet
Carnivorous
Nature
Aggressive
Release version
v100.1
Domestication
Tameable
No
Rideable
No
Other information
Drops
Habitat
Spawns in
Ocean
Rarity
Unknown
Squids are one of the aggressive Invertebrates in ATLAS. There are two types: Trench Squids and Giant Squids.
Trench Squids are generally found floating up at the very top / just above the Trenches in each of the Golden Age Ruin grids. There are usually quite a lot of Trench Squids but you may not find a lot if someone is taming crabs (which require Squid Innards) or has recently farmed them for the gold/carapace.
Giant Squids are much more elusive, generally found in Desert biomes. When you kill a Giant Squid you will complete the Squid Killer Quest.
Basic Information
[
]
Behavior
[
]
Aggressive; will creep up on you, then attack you. Aggro range is high.
Appearance
[
]
Dark colored, about 2-3x bigger than average human. Some parts of it's body and tentacles are fluorescent which makes spotting one especially in the trenches a lot easier.
Drops
[
]
Stats
[
]
Domestication
[
]
Taming
[
]
Not currently tameable.
Utility
[
]
N/A.
Combat
[
]
Position yourself opposite its tentacles as the tentacles are its only means of attack. When the squid is low hp it will emit a swell of ink. Very easy to kill with a submarine even without ballista bolts.
Known Locations
[
]
You can find

Squid in the regions linked in the chart below. Please store specific location information in the pages for the regions where you have found it. (How To Add a Region)
Note: As of June, we have no in-game screenshot of this type of squid. Please help us out by uploading one and naming it "Squid.png".

* asterisk indicates region page has confirmed coordinates
Notes
[
]
The Giant Squid have bioluminescence similarly to most deep sea creatures in real life.
Gallery
[
]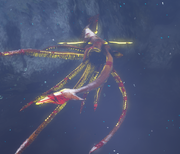 Notes
[
]