Free ports are no longer working on private servers please fix @ Grapeshot 5/29/2021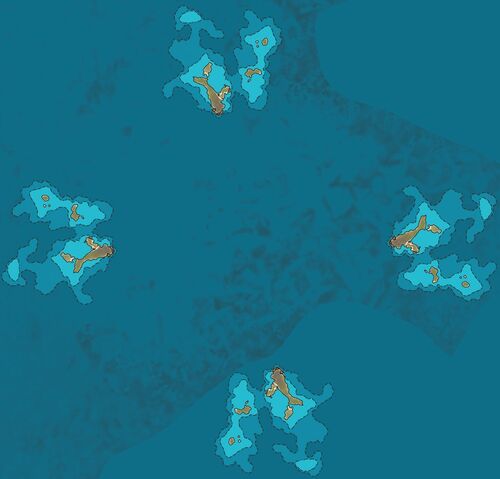 Freeport are one of the region types found in ATLAS. When you create a new Pathfinder you will spawn in a Freeport region. Once a region is selected, an island is chosen either North, West, East or South islands. These islands are completely identical except for their geographical orientation and each is rotated based on its cardinal direction. Freeports are the intended starting area and are much easier to survive compared to other regions.
PVP is disabled in Freeports, the carnivorous animals are not as challenging, and resources are much more plentiful. Freeports only contain they the generic type of each resource, not important for a new players but Blueprints will not accept them.
Note: You cannot progress past level 8 while in a Freeport (some unofficial servers have this restriction disabled).
A new player's objective is to provision some Food, craft Tools and Weapons, and finally gather the Resources to purchase a

Raft or

Ramshackle Sloop.
Once you have your first ship, it is wise to leave the Freeport region as soon as possible. Primarily because decay damage to Ships is much higher in a Freeport compared to Lawless or claimable regions.
NPCs
[
]
Shipyardsman
[
]
The Shipyardsman is an important NPC, as he exchanges supplies for either a

Raft or

Ramshackle Sloop. It is advised to build a

Simple Bed to place on your new sailing vessel. If you should meet your end at sea, this will allow you to respawn on your ship.
Others
[
]
Decay
[
]
As noted previously decay rate is much higher in these regions.
Example: a ramshackle sloop will decay within 7-8 hours without repair.
Decay Rates:
Sloop - 6 dmg/min
Schooner - 7 dmg/min
Brig - 8 dmg/min
Galleon - 10 dmg/min
Locations
[
]
Freeports can be found in these regions:
| | A | B | C | D | E | F | G | H | I | J | K |
| --- | --- | --- | --- | --- | --- | --- | --- | --- | --- | --- | --- |
| 1 | | | | | | | | | | | |
| 2 | | | | | | | | | | | |
| 3 | | | | | | | | | | | |
| 4 | | | | | | | | | | | |
| 5 | | | | | | | | | | | |
| 6 | | | | | | | | | | | |
| 7 | | | | | | | | | | | |
| 8 | | B8 | | | | | G8 | | | | |
| 9 | | | | | E9 | | | | | J9 | |
| 10 | | | | | | | | | | | |
| 11 | | | | | | | | | | | |
Gallery
[
]