Line 281:
Line 281:
 

| -92.07

 

| -92.07

 

| -54.34

 

| -54.34

 
+

|

 
+

|-

 
+

|A12

 
+

|The Old Bridge

 
+

|Cresney Cay

 
+

| -91.48

 
+

| -54.64

 
+

|

 
+

|-

 
+

|A12

 
+

|Makeshift Pier

 
+

|Cresney Cay

 
+

| -91.35

 
+

| -54.74

 
+

|

 
+

|-

 
+

|A12

 
+

|The Franklin Tollway

 
+

|Cresney Cay

 
+

| -91.93

 
+

| -54.60

 
+

|

 
+

|-

 
+

|A12

 
+

|Bountiful BackSide Inn

 
+

|Cresney Cay

 
+

| -92.06

 
+

| -54.43

 
+

|

 
+

|-

 
+

|A12

 
+

|Samuel's Shoe Shop

 
+

|Cresney Cay

 
+

| -92.93

 
+

| -54.63

 
+

|

 
+

|-

 
+

|A12

 
+

|Barley's Watch Tower

 
+

|Cresney Cay

 
+

| -92.03

 
+

| -54.94

 
+

|

 
+

|-

 
+

|A12

 
+

|Hambolton Harbor

 
+

|Cresney Cay

 
+

| -93.16

 
+

| -53.75

 
+

|

 
+

|-

 
+

|A12

 
+

|Hodge's Onion Farm

 
+

|Cresney Cay

 
+

| -91.86

 
+

| -56.03

 
+

|

 
+

|-

 
+

|A12

 
+

|The Red Sand Inn

 
+

|Cresney Cay

 
+

| -92.95

 
+

| -54.56

 
+

|

 
+

|-

 
+

|A12

 
+

|Hightown's Tower

 
+

|Cresney Cay

 
+

| -92.68

 
+

| -54.55

 

|

 

|

 

|}

 

|}

 
+
 
 
 

Created: 13.03.2020

 

Created: 13.03.2020
---
Revision as of 16:09, 13 March 2020
Discoveries are special areas found around the world of Atlas that give a small number of discovery points each. Gaining more discovery points will add more levels to the soft level cap after 51. A full list of points needed per level can be found on the Level page.
Every named island gives 2 discovery points, but often other areas can be found on islands as well and they are worth more. Using a spyglass helps locate them, as discovery points appear as blue dome energy shields when looking through it. Sometimes doing a lap around an island while looking through the spyglass from an elevated point will make it easier to locate them from afar.
As of the last Major patch v207 there are now 2408 obtainable from islands and discovery points.
Obtaining Discovery Zone points are also tied to the following quests

Veteran Explorer 25% (season 3: 998 (season 2 was: 602) - +250% Encumbered Speed Bonus
Master Cartographer 40% (964) - Feat: Instant Equip
Interactive Map
You can access to the linked page by passing here.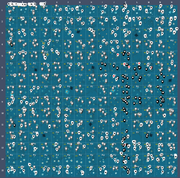 Discovery Count by Sector
The first number is the total discovery points in the grid. The second is the total excluding islands. The third number is just the number of islands.
A1
| Grid | Discovery name | Longitude | Latitude |
| --- | --- | --- | --- |
| A1 | Shefcola Island | -86,70 | 92,36 |
| A1 | Digshaw Atoll | -86,89 | 85,04 |
A2
| Grid | Discovery name | Longitude | Latitude |
| --- | --- | --- | --- |
| A2 | Ellissend Islet | -89,17 | 77,28 |
| A2 | Tecumtawa Atoll | -86,30 | 68,85 |
A3
| Grid | Discovery name | Longitude | Latitude |
| --- | --- | --- | --- |
| A3 | Deldes Isle | -85,80 | 51,26 |
| A3 | Allerdon Islet | -85,96 | 59,38 |
A4
| Grid | Discovery name | Longitude | Latitude |
| --- | --- | --- | --- |
| A4 | Luseden Archipelago | -88,33 | 31,42 |
| A4 | Hampnoque Refuge | -86,30 | 39,09 |
A5
| Grid | Discovery name | Longitude | Latitude |
| --- | --- | --- | --- |
| A5 | Playnia Holm | -93,78 | 22,64 |
| A5 | Chanwater Island | -86,91 | 19,40 |
A6
No Discoveries: Free Port
A7
| Grid | Discovery name | Longitude | Latitude |
| --- | --- | --- | --- |
| A7 | The Harmonious Island | -95,99 | -13,42 |
| A7 | Bassard Island | -85,84 | -23,21 |
| A7 | Flemfield Haven | -86,83 | -15,17 |
A8
| Grid | Discovery name | Longitude | Latitude |
| --- | --- | --- | --- |
| A8 | Nokonan Island | -90,05 | -31,00 |
| A8 | Stambel Key | -93,69 | -39,99 |
A9
| Grid | Discovery name | Longitude | Latitude |
| --- | --- | --- | --- |
| A9 | Appleheller Isles | -88,68 | -51,63 |
| A9 | Unstabke Island | -87,48 | -59,58 |
A10
Free Port with Discoveries
| Grid | Name | Island | Longitude | Latitude |
| --- | --- | --- | --- | --- |
| A10 | Hampnoque Refuge | - | -93.32 | -23.01 |
| A10 | Antibron Refuge | - | -93.62 | -30.40 |
| A10 | The Stingray Archipelago | - | -97.31 | -26.26 |
| A10 | The Black Chain | - | -89.74 | -26.38 |
Created: 13.03.2020
A11
| Grid | Name | Island | Longitude | Latitude | Notes |
| --- | --- | --- | --- | --- | --- |
| A11 | Luseden Archipelago | - | -93.96 | -35.68 | |
| A11 | A Modest Dock | Luseden Archipelago | -93.70 | -35.73 | |
| A11 | Hawk's Abode | Luseden Archipelago | -93.61 | -35.48 | Climbing equipment required |
| A11 | Fallcast Isles | - | -91.87 | -38.28 | |
| A11 | The Risen Forest | Fallcast Isles | -91.96 | -38.37 | Climbing equipment required |
| A11 | The Cutlass Crab | Fallcast Isles | -92.44 | -38.46 | |
| A11 | Boltois Cay | - | -97.29 | -36.55 | |
| A11 | The Little Woods | Boltois Cay | -97.49 | -36.64 | Climbing equipment required |
| A11 | Maggie's Little Cottage | Boltois Cay | -97.87 | -36.05 | |
| A11 | Fire Elemental's Terf | Boltois Cay | -98.34 | -35.84 | Climbing equipment helpful |
| A11 | Bergamot Atoll | - | -94.59 | -42.02 | |
| A11 | Mighty Captain Benjamin | Bergamot Atoll | -94.61 | -41.98 | Climbing equipment required |
| A11 | The Old Courtyard | Bergamot Atoll | -95.37 | -42.27 | |
| A11 | Bloomslis | - | -89.41 | -42.27 | |
| A11 | Scallywag's Cove | Bloomslis | -89.73 | -42.08 | |
Created 12.03.2020
A12
| Grid | Name | Island | Longitude | Latitude | Notes |
| --- | --- | --- | --- | --- | --- |
| A12 | Halgue Key | - | -90.07 | -50.41 | |
| A12 | The Forest Rise | Halgue Key | -90.13 | -50.59 | Climbing equipment required |
| A12 | A Giant Crustacean | Halgue Key | -90.67 | -50.54 | |
| A12 | Albernoque Skerry | - | -94.78 | -50.22 | |
| A12 | Gorgon's State | Albernoque Skerry | -94.41 | -50.29 | Climbing equipment required |
| A12 | Midsea Key | - | -97.40 | -55.39 | |
| A12 | Risen Forest | Midsea Key | -97.82 | -55.81 | |
| A12 | Cresney Cay | - | -92.70 | -54.56 | |
| A12 | The Village of Hambolton | Cresney Cay | -92.86 | -54.62 | |
| A12 | Hightown's Mill | Cresney Cay | -92.67 | -54.50 | |
| A12 | Lucy's Berry Garden | Cresney Cay | -92.07 | -54.34 | |
| A12 | The Old Bridge | Cresney Cay | -91.48 | -54.64 | |
| A12 | Makeshift Pier | Cresney Cay | -91.35 | -54.74 | |
| A12 | The Franklin Tollway | Cresney Cay | -91.93 | -54.60 | |
| A12 | Bountiful BackSide Inn | Cresney Cay | -92.06 | -54.43 | |
| A12 | Samuel's Shoe Shop | Cresney Cay | -92.93 | -54.63 | |
| A12 | Barley's Watch Tower | Cresney Cay | -92.03 | -54.94 | |
| A12 | Hambolton Harbor | Cresney Cay | -93.16 | -53.75 | |
| A12 | Hodge's Onion Farm | Cresney Cay | -91.86 | -56.03 | |
| A12 | The Red Sand Inn | Cresney Cay | -92.95 | -54.56 | |
| A12 | Hightown's Tower | Cresney Cay | -92.68 | -54.55 | |

Created: 13.03.2020
A13
A14
A15
B1
| Grid | Discovery name | Longitude | Latitude |
| --- | --- | --- | --- |
| B1 | Croyterel Refuge | -77,58 | 89,37 |
| B1 | The Haunted Islet | -69,82 | 85,30 |
B2
| Grid | Discovery name | Longitude | Latitude |
| --- | --- | --- | --- |
| B2 | Boothliers Ait | -69,21 | 78,22 |
| B2 | The Flamingo Archipelago | -78,76 | 78,25 |
| B2 | The Veiled Chain | -79,05 | 70,74 |
| B2 | Beverfail Atoll | -72,48 | 72,62 |
B3
| Grid | Discovery name | Longitude | Latitude |
| --- | --- | --- | --- |
| B3 | Malarwood Chain | -77,79 | 58,26 |
| B3 | Antibron Refuge | -67,54 | 52,14 |
| B3 | The Dancing Haven | -78,69 | 50,29 |
| B3 | Rossby Ait | -72,99 | 48,21 |
B4
| Grid | Discovery name | Longitude | Latitude | Note |
| --- | --- | --- | --- | --- |
| B4 | Northquest Island | -77,65 | 41,46 | Island |
| B4 | Lindiac Chain | -67,37 | 35,35 | Island |
| B4 | Mighty Islet | -69,21 | 41,28 | Island |
| B4 | The Turquoise Essence of Power | | | ? |
| B4 | Deepend Hold | -78.40 | 32.96 | Trench |
| B4 | Summershire | -76.83 | 32.69 | Trench |
| B4 | The Abyss of Trencester | -75.99 | 32.67 | Trench |
| B4 | Arid Watch | -75.93 | 30.89 | Trench |
| B4 | Crystal Fen Pillar | -76.35 | 31.04 | Trench |
| B4 | Kindled Spirit | -76.19 | 32.91 | Trench |
| B4 | The Soundless Tides | -77.18 | 30.77 | Trench |
| B4 | Clarechester Wall | -77.92 | 32.04 | Trench |
| B4 | Aysel Stronghold | -76.41 | 32.90 | Trench |
| B4 | The Tranquil Spire | -77.11 | 32.90 | Trench |
B5
| Grid | Discovery name | Longitude | Latitude |
| --- | --- | --- | --- |
| B5 | Hillburns Archipelago | -78,11 | 23,73 |
| B5 | The Depraved Reef | -70,10 | 12,27 |
| B5 | Somerhill Refuge | -75,25 | 16,07 |
| B5 | Gandale Haven | -69,18 | 21,25 |
B6
| Grid | Discovery name | Longitude | Latitude |
| --- | --- | --- | --- |
| B6 | Avonder Isle | -67,38 | 07,47 |
| B6 | The Killing Isles | -67,09 | 05,72 |
| B6 | Kinideen Key | -68,88 | 06,89 |
| B6 | Winderden Island | -75,51 | 05,39 |
| B6 | Halistall Islet | -69,55 | -06,25 |
| B6 | Shrewsmer Cay | -77,90 | -04,27 |
| B6 | Wapedeen Island | -69,09 | -01,26 |
B7
| Grid | Discovery name | Longitude | Latitude |
| --- | --- | --- | --- |
| B7 | The Cheering Isle | -76,52 | -23,98 |
| B7 | Keeltawa Haven | -79,36 | -12,83 |
| B7 | Gibtois Refuge | -71,74 | -12,82 |
| B7 | Doland Atoll | -69,52 | -19,13 |
B8
| Grid | Discovery name | Longitude | Latitude |
| --- | --- | --- | --- |
| B8 | Hinghead Island | -73,27 | -36,16 |
| B8 | Bracepool Holm | -68,61 | -41,29 |
B9
| Grid | Discovery name | Longitude | Latitude | Note |
| --- | --- | --- | --- | --- |
| B9 | The Sharp-peaked Key | -67,36 | -48,68 | Island |
| B9 | Allerbel Cay | -72,10 | -55,15 | Island |
| B9 | The White Essence of Power | | | ? |
| B9 | Maetrine Stronghold | | | Trench |
| B9 | A Peaceful Village | | | Trench |
| B9 | The Whispering Bluff | | | Trench |
| B9 | Dire Base | | | Trench |
| B9 | Purity Spire | | | Trench |
| B9 | The Flaring Wastes | | | Trench |
| B9 | Haverpar Expanse | | | Trench |
| B9 | The Basalt Ravine | | | Trench |
| B9 | Gandum Citadel | | | Trench |
| B9 | The Princess Perch | | | Trench |
B10
| Grid | Discovery name | Longitude | Latitude |
| --- | --- | --- | --- |
| B10 | The Seashell Isle | -76,67 | -77,61 |
| B10 | Krakens Bay | -69,51 | -77,41 |
| B10 | Ringher Isle | -76,74 | -70,74 |
B11
| Grid | Discovery name | Longitude | Latitude |
| --- | --- | --- | --- |
| B11 | Emerald Peninsula | -68,00 | -86,42 |
| B11 | Bayney Atoll | -75,08 | -89,39 |
B12
| Grid | Name | Island | Longitude | Latitude | Notes |
| --- | --- | --- | --- | --- | --- |
| B12 | The Collapsing Holm | - | - | - | |
| B12 | Landlubber's Cove | The Collapsing Holm | -83.08 | -52.21 | |
| B12 | The Cheerless Island | - | - | - | |
| B12 | Rumrunner's Hideout | The Cheerless Island | -82.08 | -49.25 | |
| B12 | Refuge of Seadogs | The Cheerless Island | -82.36 | -49.08 | |
| B12 | Haven of No Tales | The Cheerless Island | -81.67 | -49.80 | |
| B12 | Rockholm Island | - | - | - | |
| B12 | Last Words Ridge | Rockholm Island | -77.14 | -55.88 | |
| B12 | Coalguay Peninsula | - | - | - | |
| B12 | The Charlotte Fair | Coalguay Peninsula | -76.59 | -52.86 | |
| B12 | The Clamming Shallows | Coalguay Peninsula | -76.35 | -53.21 | |
| B12 | Rockcouche Islands | - | - | - | |
B13
| Grid | Name | Island | Longitude | Latitude | Notes |
| --- | --- | --- | --- | --- | --- |
| B13 | Zara's Spot | - | -77.06 | -69.39 | |
| B13 | Ode to the Kraken | Bloomfail Chain | -81.72 | -62.99 | |
| B13 | Food for Thought | Bienstable Reef | -80.84 | -68.17 | |
| B13 | Cavern of Auras | Zara's Spot | -76.99 | -69.44 | |
| B13 | Bloomfail Chain | - | - | - | |
| B13 | Bienstable Reef | - | - | - | |
| B13 | Verminster Isle | - | - | - | |
| B13 | Frosty Oasis | Verminster Isle | -78.10 | -64.76 | |
B14
| Grid | Name | Island | Longitude | Latitude |
| --- | --- | --- | --- | --- |
| B14 | Exterre Holm | - | - | - |
| B14 | Middon Isles | - | - | - |
| B14 | Nottingcam Islands | - | - | - |
| B14 | Scarmont Haven | - | - | - |
B15
| Grid | Name | Island | Longitude | Latitude |
| --- | --- | --- | --- | --- |
| B15 | The Jezebel | Hilboia Reef | 00.00 | 00.00 |
| B15 | Pasland Island | - | - | - |
| B15 | Hinwood Island | - | - | - |
| B15 | Hilboia Reef | - | - | - |
| B15 | Glenminster Holm | - | - | - |
| B15 | Bordgar Cay | - | - | - |
| B15 | A Cold and Usless Place | Pasland Island | 00.00 | 00.00 |
C1
| Grid | Discovery name | Longitude | Latitude |
| --- | --- | --- | --- |
| C1 | The Defeated Island | -55,06 | 85,45 |
| C1 | The Hopeless Reef | -48,52 | 89,77 |
C2
| Grid | Discovery name | Longitude | Latitude |
| --- | --- | --- | --- |
| C2 | The Turbulent Islet | -49,35 | 78,39 |
| C2 | Campmer Holm | -56,74 | 75,96 |
| C2 | The Stingray Archipelago | -50,53 | 68,12 |
C3
| Grid | Discovery name | Longitude | Latitude |
| --- | --- | --- | --- |
| C3 | Bloomslis | -51,33 | 60,17 |
| C3 | Bergamot Atoll | -58,43 | 58,08 |
| C3 | Terhill Enclave | -60,07 | 50,33 |
C4
| Grid | Discovery name | Longitude | Latitude |
| --- | --- | --- | --- |
| C4 | C4 Freeport Western Island | -59,29 | 36,28 |
| C4 | C4 Freeport Northern Island | -54,65 | 41,09 |
| C4 | C4 Freeport Eastern Island | -50,01 | 36,01 |
| C4 | C4 Freeport Southern Island | -54,58 | 31,73 |
C5
| Grid | Discovery name | Longitude | Latitude |
| --- | --- | --- | --- |
| C5 | Stoughcam Haven | -49,94 | 23,64 |
| C5 | Salismar Cay | -48,25 | 17,50 |
| C5 | Brightdurn Islands | -49,01 | 18,73 |
| C5 | Itugami Island | -48,38 | 12,20 |
| C5 | Effinglam Peninsula | -54,63 | 13,04 |
C6
| Grid | Discovery name | Longitude | Latitude |
| --- | --- | --- | --- |
| C6 | Magriden Holm | -57,40 | 05,37 |
| C6 | Bereslet Reef | -48,11 | -01,38 |
| C6 | Bonedry Island | -50,75 | -05,72 |
| C6 | Forddurn Cay | -49,34 | 05,20 |
| C6 | Marlgue Isles | -54,33 | -00,48 |
C7
| Grid | Discovery name | Longitude | Latitude |
| --- | --- | --- | --- |
| C7 | Rimounear Enclave | -56,28 | -12,52 |
| C7 | Whitewe Islet | -48,89 | -14,71 |
| C7 | Ganarial Island | -49,49 | -23,21 |
C8
| Grid | Discovery name | Longitude | Latitude |
| --- | --- | --- | --- |
| C8 | Tranquil Island | -60,91 | -37,04 |
| C8 | Pladosa Island | -52,28 | -43,47 |
| C8 | Bredenmark Reef | -54,79 | -38,12 |
| C8 | Cochline Isles | -60,66 | -42,98 |
C9
| Grid | Discovery name | Longitude | Latitude |
| --- | --- | --- | --- |
| C9 | The Adamantine Refuge | -59,99 | -50,72 |
| C9 | Gravetown Island | -51,27 | -49,71 |
| C9 | Miltown Enclave | -50,12 | -56,32 |
C10
| Grid | Discovery name | Longitude | Latitude |
| --- | --- | --- | --- |
| C10 | Wrentcana Island | -58,95 | -78,67 |
| C10 | Broadstead Island | -60,10 | -72,64 |
| C10 | Applepar Cay | -51,39 | -78,38 |
| C10 | Eastdon Cay | -48,76 | -72,54 |
C11
| Grid | Discovery name | Longitude | Latitude |
| --- | --- | --- | --- |
| C11 | Mahostable Island | -59,86 | -91,95 |
| C11 | Causabo Haven | -58,07 | -86,19 |
| C11 | The Immense Reef | -50,58 | -91,72 |
C12
| Grid | Name | Island | Longitude | Latitude |
| --- | --- | --- | --- | --- |
| C12 | Verlet Archipelago | - | - | - |
| C12 | The Ancient Enclave | - | - | - |
| C12 | Gaulto Reef | - | - | - |
| C12 | The Fortune Horiwon | Gaulto Reef | -63.74 | -52.15 |
| C12 | Siren's Hollow | Gaulto Reef | -64.46 | -52.33 |
| C12 | An Adorable Tidepool | Gaulto Reef | -63.80 | -51.70 |
| C12 | Ganarial Island | - | - | - |
| C12 | Onward to Paradise | Ganarial Island | -68.01 | -54.60 |
C13
C14
| Grid | Name | Island | Longitude | Latitude |
| --- | --- | --- | --- | --- |
| C14 | The Mighty Isle | - | - | - |
| C14 | Coalrior Ait | - | - | - |
| C14 | Barfil Islet | - | - | - |
| C14 | Birquet Skerry | - | - | - |
C15
D1
| Grid | Discovery name | Longitude | Latitude |
| --- | --- | --- | --- |
| D1 | Gloversend Islands | -40,85 | 89,68 |
| D1 | The Red Enclave | -34,10 | 86,51 |
D2
| Grid | Discovery name | Longitude | Latitude |
| --- | --- | --- | --- |
| D2 | The Waterless Atoll | -34,16 | 77,86 |
| D2 | The Shadowy Key | -38,42 | 67,78 |
| D2 | Pachampton Island | -41,52 | 74,64 |
D3
| Grid | Discovery name | Longitude | Latitude |
| --- | --- | --- | --- |
| D3 | The New Atoll | -42,53 | 52,24 |
| D3 | Terrennear Refuge | -35,91 | 55,84 |
| D3 | Eatoswell Island | -31,60 | 60,94 |
| D3 | The Black Chain | -42,33 | 60,67 |
D4
| Grid | Discovery name | Longitude | Latitude |
| --- | --- | --- | --- |
| D4 | Comgue Peninsula | -30,46 | 40,54 |
| D4 | Lockethon Isle | -30,63 | 30,44 |
| D4 | Expond Key | -40,70 | 41,46 |
| D4 | Beverfail Atoll | -35,83 | 35,84 |
| D4 | Chamgonie Isles | -41,65 | 30,50 |
D4 - Hambolt Harlow - Birlisle Key - -55.61 - 55.47
D5
| Grid | Discovery name | Longitude | Latitude |
| --- | --- | --- | --- |
| D5 | Turtle Island | -41,69 | 24,05 |
| D5 | The Colossal Atoll | -40,35 | 13,45 |
| D5 | Laniston Chain | -37,38 | 20,50 |
| D5 | Gorgon's Haven | -37,42 | 19,03 |
| D5 | Ridgecana Islet | -31,64 | 23,75 |
D6
| Grid | Discovery name | Longitude | Latitude |
| --- | --- | --- | --- |
| D6 | Hammere Cay | -34,46 | 04,49 |
| D6 | Shauna Holm | -31,86 | -03,65 |
| D6 | The Squid Key | -38,36 | -00,77 |
| D6 | Minifil Island | -42,86 | -06,30 |
| D6 | The Seagrass Atoll | -41,49 | -05,51 |
| D6 | Chever Archipelago | -41,29 | 05,59 |
D7
| Grid | Discovery name | Longitude | Latitude |
| --- | --- | --- | --- |
| D7 | Richbonear Chain | -31,37 | -13,34 |
| D7 | Delisborg Cay | -30,80 | -24,82 |
| D7 | Camswell Islet | -34,47 | -18,13 |
| D7 | Brifield Isle | -37,02 | -24,18 |
| D7 | Kerrocroft Island | -41,92 | -20,45 |
| D7 | The Ancient Enclave | -39,47 | -12,91 |
D8
| Grid | Discovery name | Longitude | Latitude |
| --- | --- | --- | --- |
| D8 | The Haunted Key | -36,94 | -36,30 |
| D8 | Whitgar Archipelago | -39,08 | -30,31 |
| D8 | Wigsant Retreat | -30,80 | -30,64 |
| D8 | Halkidi Cove | -30,09 | -40,63 |
D9
| Grid | Discovery name | Longitude | Latitude |
| --- | --- | --- | --- |
| D9 | D9 Freeport Western Island | -40,46 | -54,86 |
| D9 | D9 Freeport Northern Island | -36,05 | -50,00 |
| D9 | D9 Freeport Eastern Island | -31,79 | -54,82 |
| D9 | D9 Freeport Southern Island | -35,80 | -59,54 |
D10
| Grid | Discovery name | Longitude | Latitude |
| --- | --- | --- | --- |
| D10 | The Gloomy Isle | -41,12 | -69,49 |
| D10 | Colipar Peninsula | -41,43 | -77,73 |
| D10 | Bentisle Refuge | -35,30 | -67,77 |
| D10 | The Eroded Haven | -31,80 | -74,90 |
D11
| Grid | Discovery name | Longitude | Latitude |
| --- | --- | --- | --- |
| D11 | Granding Islands | -40,10 | -86,98 |
| D11 | Causagar Skerry | -32,37 | -85,81 |
| D11 | The Harmonious Reef | -36,37 | -93,79 |
D12
| Grid | Name | Island | Longitude | Latitude |
| --- | --- | --- | --- | --- |
| D12 | Tower of the Dawn | Bigsevain Atoll | 00.00 | 00.00 |
| D12 | The Turquoise Stone of Power | Bigsevain Atoll | 00.00 | 00.00 |
| D12 | Pass of Horrors | Bigsevain Atoll | -51.53 | -55.97 |
| D12 | Lord Ungar's Keep | Bigsevain Atoll | -50.89 | -56.05 |
| D12 | Bigsevain Atoll | - | - | - |
| D12 | Halcyon's Breech | Trench | 00.00 | 00.00 |
| D12 | Summershire | Trench | 00.00 | 00.00 |
| D12 | Black Cavern Gorge | Trench | 00.00 | 00.00 |
| D12 | The Thunder Tower | Trench | 00.00 | 00.00 |
| D12 | Mount Ashcloud | Trench | 00.00 | 00.00 |
| D12 | The Abyss of Trencester | Trench | 00.00 | 00.00 |
| D12 | Mirage Obelisk | Trench | 00.00 | 00.00 |
| D12 | Yiwaphere | Trench | 00.00 | 00.00 |
| D12 | Northfist Haven | Trench | 00.00 | 00.00 |
| D12 | Eldford Fortress | Trench | 00.00 | 00.00 |
| D12 | The Orange Essence of Power | Trench | -54.71 | -52.13 |
D13
| Grid | Name | Island | Longitude | Latitude |
| --- | --- | --- | --- | --- |
| D13 | The Sanctum Enclave | - | - | - |
| D13 | The Haunted Peninsula | - | - | - |
| D13 | The Bare Enclave | - | - | - |
| D13 | Reef of Anchors | Dignigan Island | -52.93 | -63.48 |
| D13 | Highho Jolly Tavern | The Bare Enclave | -55.88 | -68.08 |
| D13 | Dignigan Island | Dignigan Island | -51.18 | -64.22 |
| D13 | Crackel Fruit Way | Dignigan Island | -51.09 | -64.31 |
D14
| Grid | Name | Island | Longitude | Latitude |
| --- | --- | --- | --- | --- |
| D14 | Grafsor Island | - | - | - |
| D14 | Mentou Enclave | - | - | - |
| D14 | Mulmeda Island | - | - | - |
| D14 | Kensinggate Peninsula | - | - | - |
| D14 | Cottlelem Peninsula | - | - | - |
D15
| Grid | Name | Island | Longitude | Latitude | Notes |
| --- | --- | --- | --- | --- | --- |
| D15 | The Steep Key | - | - | - | - |
| D15 | The Sea Devil | Enguay Refuge | -50.64 | -92.92 | Shipwreck (old) |
| D15 | The Cyclone Chaser | Enguay Refuge | -50.23 | -93.01 | Second Shipwreck (old) |
| D15 | Readmeny Reef | - | - | - | |
| D15 | Langisle Holm | - | - | - | |
| D15 | Kinichester Reef | - | - | - | |
| D15 | Kamcord Enclave | - | - | - | |
| D15 | Jacob's Errand | Readmeny Reef | -55.60 | -93.40 | |
| D15 | Enguay Refuge | - | - | - | |
| D15 | Buchside Holm | - | - | - | |
| D15 | A Horrible Plan | Enguay Refuge | -50.50 | -94.18 | You need to dismount if you are riding |
| D15 | Cracked Rock | - | - | - | |
| D15 | A Slick Situation | Cracked Rock | -53.25 | -89.67 | Oil Rocks in Pass (Dismount if riding) |
E1
| Grid | Discovery name | Longitude | Latitude | Note |
| --- | --- | --- | --- | --- |
| E1 | Caleson Island | -13,05 | 85,62 | Island |
| E1 | The Barracude Refuge | -12,75 | 92,60 | Island |
| E1 | The Purple Essence of Power | | | ? |
| E1 | Arvendon Hold | | | Trench |
| E1 | Oceanspire | | | Trench |
| E1 | Gravenmouth Gulch | | | Trench |
| E1 | Sentinel's Perch | | | Trench |
| E1 | Spearman's Tower | | | Trench |
| E1 | The Broken Tail | | | Trench |
| E1 | Plyterel Depths | | | Trench |
| E1 | Maraby Canyon | | | Trench |
| E1 | The Palace | | | Trench |
| E1 | The Obelisk Of Istrefyne | | | Trench |
E2
| Grid | Discovery name | Longitude | Latitude |
| --- | --- | --- | --- |
| E2 | Cresney Cay | -19,94 | 77,45 |
| E2 | Halgue Key | -13,77 | 73,28 |
E3
| Grid | Discovery name | Longitude | Latitude |
| --- | --- | --- | --- |
| E3 | Readwich Peninsula | -23,53 | 49,14 |
| E3 | Fallcaster Isles | -12,17 | 48,54 |
| E3 | Brimingcona Haven | -17,39 | 49,83 |
| E3 | Attleburg Reef | -11,83 | 54,48 |
E4
| Grid | Discovery name | Longitude | Latitude |
| --- | --- | --- | --- |
| E4 | Nicoterre Island | -22,57 | 42,30 |
| E4 | The Flowing Ait | -12,25 | 33,41 |
| E4 | The Whale Enclave | -23,54 | 31,61 |
| E4 | Farnterre Enclave | -12,63 | 41,04 |
| E4 | Barcam Reef | -18,30 | 36,35 |
E5
| Grid | Discovery name | Longitude | Latitude | Note |
| --- | --- | --- | --- | --- |
| E5 | Crescana Isle | -13,30 | 15,53 | Island |
| E5 | A Path to Treasure or Death? | | | Crescana Isle |
| E5 | Decay of a Grand Affair | | | Crescana Isle |
| E5 | Lifeblood of The City | | | Crescana Isle |
| E5 | The Temple Destroyed | | | Crescana Isle |
| E5 | The Wall that Almost Fell | | | Crescana Isle |
| E5 | Watchman's High Tower | | | Crescana Isle |
| E5 | The Pink Stone of Power | | | ? |
| E5 | Sinkasing Island | -22,27 | 22,21 | Island |
| E5 | The Cyan Stone of Power | | | ? |
E6
| Grid | Discovery name | Longitude | Latitude | Note |
| --- | --- | --- | --- | --- |
| E6 | Rossraine Island | -17,74 | 03,70 | Island |
| E6 | A Dawn Spire | | | Rossraine Island |
| E6 | A Narrow Pass to a Secret Place | | | Rossraine Island |
| E6 | Hanging Garden's of the Dawn | -17,32 | 3,55 | Rossraine Island |
| E6 | How The City Was Breached | | | Rossraine Island |
| E6 | The Highest Tower | | | Rossraine Island |
| E6 | War Elephant's Doing | | | Rossraine Island |
| E6 | The Red Stone of Power | | | ? |
| E6 | The Yellow Essence of Power | | | ? |
E7
| Grid | Discovery name | Longitude | Latitude | Note |
| --- | --- | --- | --- | --- |
| E7 | Salisroy Peninsula | -15,09 | -13,43 | Island |
| E7 | Pass of Horrors | | | Salisroy Peninsula |
| E7 | Lord Ungar's Keep | | | Salisroy Peninsula |
| E7 | Tower of the Dawn | | | Salisroy Peninsula |
| E7 | The Orange Stone of Power | | | ? |
E8
| Grid | Discovery name | Longitude | Latitude |
| --- | --- | --- | --- |
| E8 | Okograve Islands | -24,19 | -42,44 |
| E8 | Hepvons Reef | -11,67 | -41,45 |
| E8 | Sherrood Island | -22,46 | -33,29 |
| E8 | Notbron Ait | -13,60 | -35,47 |
| E8 | Moonlit Haven | -18,06 | -42,46 |
E9
| Grid | Discovery name | Longitude | Latitude |
| --- | --- | --- | --- |
| E9 | The Bare Enclave | -22,33 | -47,36 |
| E9 | Latchgrave Ait | -12,12 | -52,81 |
| E9 | The Haunted Peninsula | -11,52 | -48,01 |
| E9 | Amnia Refuge | -18,05 | -50,32 |
E10
| Grid | Discovery name | Longitude | Latitude |
| --- | --- | --- | --- |
| E10 | Grandmeda Reef | -23,77 | -77,98 |
| E10 | The Bland Haven | -12,55 | -75,77 |
| E10 | Chilgeo Enclave | -17,47 | -72,77 |
| E10 | Radmark Skerry | -11,62 | -68,85 |
E11
| Grid | Discovery name | Longitude | Latitude |
| --- | --- | --- | --- |
| E11 | Prescola Island | -14,97 | -85,08 |
| E11 | Battlena Island | -22,32 | -88,21 |
E12
| Grid | Name | Island | Longitude | Latitude |
| --- | --- | --- | --- | --- |
| E12 | Kirkdosa Peninsula | - | - | - |
| E12 | Leanear Islands | - | - | - |
| E12 | Keellants Islet | - | - | - |
| E12 | The Molten Key | - | - | - |
E13
E14
| Grid | Name | Island | Longitude | Latitude |
| --- | --- | --- | --- | --- |
| E14 | Bob Ross Isle NA/PVE | Chilgeo Enclave | - | - |
| E14 | Grandmeda Reef | - | - | - |
| E14 | The Bland Haven | - | - | - |
| E14 | Bayney Atoll | - | - | - |
E15
| Grid | Name | Island | Longitude | Latitude |
| --- | --- | --- | --- | --- |
| E15 | Irobrook Haven | - | - | - |
| E15 | Where Nothing Grows | Colipar Peninsula | 00.00 | 00.00 |
| E15 | The Eroded Haven | - | - | - |
| E15 | Prescola Island | - | - | - |
| E15 | Landlubber's Demise | Bentisle Refuge | 00.00 | 00.00 |
| E15 | Emerald Peninsula | - | - | - |
| E15 | Dead End | Battlena Island | -43.18 | -92.59 |
| E15 | Colipar Peninsula | - | - | - |
| E15 | Bloomport Island | - | - | - |
| E15 | Bentisle Refuge | - | - | - |
| E15 | Battlena Island | - | - | - |
F1
| Grid | Discovery name | Longitude | Latitude |
| --- | --- | --- | --- |
| F1 | Ridgeshire Island | -05,19 | 95,17 |
| F1 | Troheller Key | -04,05 | 86,75 |
| F1 | Seashell Reef | 03,62 | 86,19 |
F2
| Grid | Discovery name | Longitude | Latitude |
| --- | --- | --- | --- |
| F2 | The Rippling Haven | -05,85 | 75,65 |
| F2 | Horsnet Key | 01,34 | 78,54 |
F3
| Grid | Discovery name | Longitude | Latitude |
| --- | --- | --- | --- |
| F3 | Trito Enclave | 06,12 | 50,90 |
| F3 | Robrial Isles | -05,39 | 50,83 |
| F3 | The Gray Island | 04,70 | 55,76 |
| F3 | Ogegami Island | 00,69 | 48,99 |
| F3 | The Giant Holm | -02,86 | 57,05 |
F4
| Grid | Discovery name | Longitude | Latitude |
| --- | --- | --- | --- |
| F4 | Hermicord Island | -04,67 | 41,27 |
| F4 | The Withered Archipelago | 02,21 | 42,03 |
| F4 | The Oyster Bay Atoll | -00,21 | 36,12 |
| F4 | Hermicord Island | 06,39 | 36,56 |
| F4 | Croyberry Island | -05,97 | 34,78 |
F5
| Grid | Discovery name | Longitude | Latitude |
| --- | --- | --- | --- |
| F5 | Isle of Paradise | -00,53 | 16,24 |
| F5 | Dunkin's Rest | 03,32 | 16,42 |
| F5 | Doonutz Rock | 03,96 | 12,88 |
| F5 | The Highest View | | |
| F5 | The Lost Library | | |
| F5 | The Purple Stone of Power | | |
F6
| Grid | Discovery name | Longitude | Latitude |
| --- | --- | --- | --- |
| F6 | Defeated Monstrous Blue Whale | | |
| F6 | Defeated Monstrous Sperm Whale | | |
| F6 | The Cyan Stone of Power | | |
| F6 | The Demon of the Deep | | |
| F6 | The Empowered Demon of the Deep | | |
| F6 | A Mighty Giant Turned to Stone | | |
| F6 | Little Warrior Full of Fear | | |
| F6 | The Great and Angry Warrior | | |
| F6 | The Main Palace | | |
| F6 | The Wall is Breached! | | |
| F6 | They Left in a Hurry! | | |
| F6 | Warriors Battle Cry | | |
F7
| Grid | Discovery name | Longitude | Latitude |
| --- | --- | --- | --- |
| F7 | Gravenval Cay | -01,09 | -18,43 |
| F7 | The Belltower Temple | | |
| F7 | Betrayed | | |
| F7 | Brother of the Watch | | |
| F7 | Dawn Warrior | | |
| F7 | Ole Man Mayberrys Spot | | |
| F7 | Temple by the Sea | | |
| F7 | Watcher of the Sea | | |
| F7 | The Yellow Stone of Power | | |
F8
| Grid | Discovery name | Longitude | Latitude |
| --- | --- | --- | --- |
| F8 | Grafsor Island | 06,04 | -34,66 |
| F8 | Mentou Enclave | -00,09 | -36,02 |
| F8 | Readmeny Reef | 06,63 | -40,39 |
| F8 | Dignigan Island | 01,07 | -42,93 |
| F8 | The Sanctum Enclave | -05,81 | -39,88 |
F9
| Grid | Discovery name | Longitude | Latitude |
| --- | --- | --- | --- |
| F9 | Bigsevain Atoll | -05,38 | -55,67 |
| F9 | Cracked Rock | 05,59 | -51,72 |
| F9 | Doon's Paradise | -01,52 | -50,32 |
F10
| Grid | Discovery name | Longitude | Latitude |
| --- | --- | --- | --- |
| F10 | Carignola Refuge | 05,03 | -74,21 |
| F10 | Boxworth Isle | -03,65 | -77,34 |
F11
| Grid | Discovery name | Longitude | Latitude |
| --- | --- | --- | --- |
| F11 | The Bare Skerry | -04,05 | -87,13 |
| F11 | Eplow Key | -01,73 | -92,14 |
| F11 | The Lightest Isles | 03,44 | -87,50 |
F12
F13
F14
| Grid | Name | Island | Longitude | Latitude |
| --- | --- | --- | --- | --- |
| F14 | The Smoking Islet | - | - | - |
| F14 | Hillslam Island | - | - | - |
| F14 | Haverduff Peninsula | - | - | - |
| F14 | Dolgan Refuge | - | - | - |
| F14 | The Sphrere | Haverduff Island | -28.29 | -76.60 |
F15
| Grid | Name | Island | Longitude | Latitude |
| --- | --- | --- | --- | --- |
| F15 | Dancroft Key | - | - | - |
| F15 | Thin and Cracking | Southshall Ait | 00.00 | 00.00 |
| F15 | Southshall Ait | - | - | - |
| F15 | Monkware Chain | - | - | - |
| F15 | Marauder's Peak | Bloomsrey Ait | 00.00 | 00.00 |
| F15 | Hamgough Key | - | - | - |
| F15 | Golden Respite | Southshall Ait | 00.00 | 00.00 |
| F15 | Fools Slope | Bloomsrey Ait | 00.00 | 00.00 |
| F15 | Cyclops Pass | Bloomsrey Ait | 00.00 | 00.00 |
| F15 | Chiver Skerry | - | - | - |
| F15 | Bloomsrey Ait | - | - | - |
| F15 | Barrpar Peninsula | - | - | - |
| F15 | A Crack in Time | Southshall Ait | 00.00 | 00.00 |
G1
| Grid | Discovery name | Longitude | Latitude |
| --- | --- | --- | --- |
| G1 | Stockfait Key | 23,29 | 93,19 |
| G1 | Penwood Island | 21,14 | 85,36 |
| G1 | Wintry Skerry | 15,24 | 88,43 |
G2
| Grid | Discovery name | Longitude | Latitude |
| --- | --- | --- | --- |
| G2 | Chibouwe Ait | 17,65 | 72,85 |
| G2 | The Barracuda Reef | 13,30 | 78,99 |
| G2 | Expond Key | 23,96 | 69,52 |
| G2 | Fairher Cay | 23,56 | 77,47 |
G3
| Grid | Discovery name | Longitude | Latitude |
| --- | --- | --- | --- |
| G3 | Hepware Peninsula | 11,79 | 54,93 |
| G3 | Alafil Atoll | 24,31 | 47,89 |
| G3 | Troheim Isle | 12,93 | 48,93 |
| G3 | Nottingbour Island | 18,72 | 48,84 |
G5
| Grid | Discovery name | Longitude | Latitude |
| --- | --- | --- | --- |
| G4 | The Climbing Archipelago | 12,84 | 42,22 |
| G4 | The Collapsing Holm | 15,52 | 36,18 |
| G4 | Glasstone Island | 23,82 | 36,75 |
| G4 | Herminoque Archipelago | 24,16 | 30,13 |
| G4 | Verminster Isle | 20,04 | 41,68 |
G4
| Grid | Discovery name | Longitude | Latitude |
| --- | --- | --- | --- |
| G5 | Stelgue Island | 16,99 | 12,66 |
| G5 | Giant's Last Breath | | |
| G5 | Resting Place of The Sealion | | |
| G5 | Secret Tunnel | | |
| G5 | The Abandoned Tower | | |
| G5 | What Happened Here? | | |
| G5 | The Dark Blue Stone of Power | | |
| G5 | The Green Essence of Power | | |
| G5 | The Waterway | | |
| G5 | Edgemaw Village | | |
| G5 | The Broken Bluffs | | |
| G5 | Northfist Haven | | |
| G5 | Mirage Obelisk | | |
| G5 | The Sixiht Flamelands | | |
| G5 | The Rushing Deep | | |
| G5 | Otterstall Canyon | | |
| G5 | Eldford Fortress | | |
| G5 | The Thunder Tower | | |
G6
| Grid | Discovery name | Longitude | Latitude | Note |
| --- | --- | --- | --- | --- |
| G6 | Durmore Island | 19.84 | -02.49 | Island |
| G6 | Cherryhill | 00.00 | 00.00 | |
| G6 | Fredrick's Pass | 00.00 | 00.00 | |
| G6 | Old Man's Nose | 00.00 | 00.00 | |
| G6 | A Precarious Archway | 19.77 | -2.56 | Durmore Island |
| G6 | Something Went Wrong Here | 00.00 | 00.00 | |
| G6 | Lanky Light Tower | 00.00 | 00.00 | |
| G6 | The False Lighthouse | 00.00 | 00.00 | |
| G6 | The Mirror Pool | 00.00 | 00.00 | |
| G6 | Gorgon's Mirror | 20.67 | -2.67 | Durmore Island |
| G6 | The Sacred Pass | 00.00 | 00.00 | |
| G6 | Parley Pass | 18.95 | -2.99 | Durmore Island |
| G6 | The Light Blue Stone of Power | 00.00 | 00.00 | |
G7
| Grid | Discovery name | Longitude | Latitude | Note |
| --- | --- | --- | --- | --- |
| G7 | Cliffcolm Island | 15.26 | -15.37 | Island |
| G7 | The Trial | 14.83 | -14.51 | Cliffcolm Island |
| G7 | Salted Pool | 00.00 | 00.00 | Cliffcolm Island |
| G7 | The Slip | 15.17 | -15.45 | Cliffcolm Island |
| G7 | Ancient Observatory | 00.00 | 00.00 | Cliffcolm Island |
| G7 | The Mirror Pond | 14.94 | -16.26 | Cliffcolm Island |
| G7 | Serenity's Pass | 15.17 | -15.45 | Cliffcolm Island |
| G7 | Monk's Peak | 16.23 | -15.60 | Cliffcolm Island |
| G7 | Mermaid's Tide Pool | 00.00 | 00.00 | Cliffcolm Island |
| G7 | Snowdust Way | 00.00 | 00.00 | Cliffcolm Island |
| G7 | The Orange Essence of Power | 00.00 | 00.00 | ? |
| G7 | Citadel Wall | 00.00 | 00.00 | Trench |
| G7 | Wildestorm | 00.00 | 00.00 | Trench |
| G7 | Delher Gulch | 00.00 | 00.00 | Trench |
| G7 | Forsaken Redoubt | 00.00 | 00.00 | Trench |
| G7 | Shadow Bluff Pillar | 00.00 | 00.00 | Trench |
| G7 | The Flaming Pinnacle | 00.00 | 00.00 | Trench |
| G7 | The Coral Fields | 00.00 | 00.00 | Trench |
| G7 | The Tempest Gulch | 00.00 | 00.00 | Trench |
| G7 | The Tower Of Upahagan | 00.00 | 00.00 | Trench |
| G7 | The Green Stone of Power | 14.27 | -14.37 | Cliffcolm Island |
G8
| Grid | Discovery name | Longitude | Latitude |
| --- | --- | --- | --- |
| G8 | Kamcord Enclave | 14,41 | -42,61 |
| G8 | Oxhurst Cay | 12,91 | -36,03 |
| G8 | Lapland | 23,61 | -32,34 |
| G8 | The Steep Key | 19,41 | -36,96 |
| G8 | Mulmeda Island | 23,89 | -41,80 |
G9
| Grid | Discovery name | Longitude | Latitude |
| --- | --- | --- | --- |
| G9 | Weswe Isle | 12,95 | -54,96 |
| G9 | Kinichester Reef | 17,63 | -48,06 |
| G9 | Thetnora Island | 24,21 | -48,39 |
| G9 | Dedhill Refuge | 19,29 | -54,50 |
| G9 | Kensinggate Peninsula | 12,29 | -48,44 |
G10
| Grid | Discovery name | Longitude | Latitude |
| --- | --- | --- | --- |
| G10 | Barkriden Island | 16,04 | -77,50 |
| G10 | Okoside Skerry | 23,98 | -77,62 |
| G10 | Ellingsort Holm | 12,99 | -71,60 |
| G10 | Lamtos Key | 19,12 | -71,55 |
G11
| Grid | Discovery name | Longitude | Latitude |
| --- | --- | --- | --- |
| G11 | Gray's Islands | 13,81 | -85,86 |
| G11 | Windsons Isle | 21,01 | -85,18 |
G12
| Grid | Name | Island | Longitude | Latitude |
| --- | --- | --- | --- | --- |
| G12 | Amder Archipelago | - | - | - |
| G12 | Portsisle Islands | - | - | - |
| G12 | The Hammer's Blow | Sinkasing Island | -14.88 | -50.52 |
| G12 | The Golden Macaw | Sinkasing Island | -14.72 | -50.64 |
| G12 | Swashbuckler's Haven | Hulgan Enclave | -14.16 | -56.89 |
| G12 | Sinkasing Island | - | - | - |
| G12 | Salty Sam's Throne | Rossraine Island | -9.32 | -53.96 |
| G12 | Rossraine Island | - | - | - |
| G12 | Hulgan Enclave | - | - | - |
| G12 | Drunk Man's Way | Hulgan Enclave | -13.30 | -57.09 |
G13
| Grid | Name | Island | Longitude | Latitude |
| --- | --- | --- | --- | --- |
| G13 | Farnsend Isle | - | - | - |
| G13 | Trenmeuse Island | - | - | - |
| G13 | This is Where You Woo a Lady | Cliffcolm Island | -17.65 | -70.24 |
| G13 | Stelden Island | - | - | - |
| G13 | Red Water Hideout | Stelden Island | -10.00 | -66.10 |
| G13 | One Way Up | Elmguay Ait | 00.00 | 00.00 |
| G13 | Lurker Point | Elmguay Ait | -15.57 | -62.84 |
| G13 | Jagged Rock Pass | Trenmeuse Island | -16.06 | -68.04 |
| G13 | Enclave of Rapiers | Stelden Island | -9.15 | -66.20 |
| G13 | Elmguay Ait | - | - | - |
| G13 | Cliffcolm Island | - | - | - |
| G13 | More Of The Same | Farnsend Isle | -13.76 | -66.54 |
G14
| Grid | Name | Island | Longitude | Latitude |
| --- | --- | --- | --- | --- |
| G14 | Coalris Isle | - | - | - |
| G14 | The Terraced Enclave | - | - | - |
| G14 | Stelgue Island | - | - | - |
| G14 | Durmore Island | - | - | - |
G15
| Grid | Name | Island | Longitude | Latitude |
| --- | --- | --- | --- | --- |
| G15 | The Clownfish Islands | - | - | - |
| G15 | Merirose Holm | - | - | - |
| G15 | Golden Respite | Merirose Holm | -12.40 | -93.37 |
| G15 | Thin and Cracking | Merirose Holm | -11.73 | -93.07 |
| G15 | Cold Beauty | Rotheline Peninsula | 00.00 | 00.00 |
| G15 | Slick Footing | Rotheline Peninsula | 00.00 | 00.00 |
| G15 | Thetheller Refuge | - | - | - |
| G15 | The Weeping Elephant | Rotheline Peninsula | -11.82 | -97.72 |
| G15 | The Rolling Enclave | - | - | - |
| G15 | Rotheline Peninsula | - | - | - |
| G15 | Nottingbour Island | - | - | - |
| G15 | Giant's Crown | Rotheline Peninsula | 00.00 | 00.00 |
| G15 | Frozen Beneath | Biengate Ait | -15.99 | -90.32 |
| G15 | Biengate Ait | - | - | - |
H1
| Grid | Discovery name | Longitude | Latitude |
| --- | --- | --- | --- |
| H1 | Wickersop Isle | 31,29 | 95,86 |
| H1 | Milafor Cove | 37,06 | 91,78 |
| H1 | Baunspanto Islands | 31,42 | 85,75 |
H2
| Grid | Discovery name | Longitude | Latitude |
| --- | --- | --- | --- |
| H2 | Middon Isles | 37,45 | 78,39 |
| H2 | Zara's Spot | 37,10 | 66,91 |
| H2 | Bloomfail Chain | 30,09 | 78,78 |
| H2 | Coalguay Peninsula | 42,15 | 73,69 |
| H2 | The Cheerless Island | 30,34 | 70,79 |
H3
| Grid | Discovery name | Longitude | Latitude |
| --- | --- | --- | --- |
| H3 | H3 Freeport Western Island | 36,45 | 59,93 |
| H3 | H3 Freeport Northern Island | 41,38 | 54,44 |
| H3 | H3 Freeport Eastern Island | 36,55 | 48,93 |
| H3 | H3 Freeport Southern Island | 31,69 | 54,46 |
H4
| Grid | Discovery name | Longitude | Latitude |
| --- | --- | --- | --- |
| H4 | Exterre Holm | 29,80 | 40,72 |
| H4 | Hilboia Reef | 30,69 | 40,99 |
| H4 | Cresleche Isle | 31,79 | 40,12 |
| H4 | Hinwood Island | 37,69 | 37,83 |
| H4 | Rockholm Island | 40,58 | 32,51 |
| H4 | Bienstable Reef | 40,55 | 30,37 |
| H4 | Oxsend Island | 33,79 | 31,41 |
H5
| Grid | Discovery name | Longitude | Latitude |
| --- | --- | --- | --- |
| H5 | The Decayed Archipelago | 42,25 | 15,60 |
| H5 | Blainrath Enclave | 35,11 | 23,53 |
| H5 | Chesterland Haven | 35,71 | 13,13 |
| H5 | Verlet Archipelago | 30,34 | 20,09 |
| H5 | Lamkasing Cay | 41,69 | 21,88 |
H6
| Grid | Discovery name | Longitude | Latitude |
| --- | --- | --- | --- |
| H6 | Penechill Holm | 39,96 | 04,96 |
| H6 | Wally Enclave | 42,20 | -01,32 |
| H6 | Saufield Key | 32,45 | 03,77 |
| H6 | Thetheller Refuge | 35,90 | -05,06 |
H7
| Grid | Discovery name | Longitude | Latitude |
| --- | --- | --- | --- |
| H7 | Menpids Haven | 36,03 | -19,19 |
| H7 | Terreboro Archipelago | 34,48 | -12,92 |
| H7 | The Hollow Refuge | 42,70 | -15,25 |
| H7 | Windertague Island | 41,61 | -24,34 |
| H7 | Gamding Atoll | 30,78 | -24,73 |
H8
| Grid | Discovery name | Longitude | Latitude |
| --- | --- | --- | --- |
| H8 | Langisle Holm | 31,46 | -30,89 |
| H8 | Buchside Holm | 41,07 | -31,36 |
| H8 | Cottlelem Peninsula | 40,78 | -40,69 |
| H8 | Greencona Cay | 31,42 | -41,19 |
| H8 | Dalwaki Ait | 36,85 | -35,59 |
H9
| Grid | Discovery name | Longitude | Latitude |
| --- | --- | --- | --- |
| H9 | Clifmar Reef | 35,62 | -60,78 |
| H9 | The Jagged Atoll | 42,42 | -58,79 |
H10
| Grid | Discovery name | Longitude | Latitude |
| --- | --- | --- | --- |
| H10 | Smison Archipelago | 42,14 | -66,49 |
| H10 | Chesterlams Island | 42,01 | -73,98 |
| H10 | Gibliers Islet | 41,48 | -78,51 |
| H10 | Hillsjour Ait | 37,23 | -71,88 |
| H10 | The Cyan Essence of Power | | |
| H10 | Captain Falk's Wall | | |
| H10 | The Peaceful Village | | |
| H10 | The Deep Pass | | |
| H10 | A Perch for Sentinels | | |
| H10 | The Spear Tower | | |
| H10 | Lava Mounds | | |
| H10 | Fields of Coral | | |
| H10 | A Narrow Way | | |
| H10 | Palace of the Deep | | |
| H10 | The Prince's Perch | | |
| H10 | Snowpike Isle | 30,86 | -69,87 |
H11
| Grid | Discovery name | Longitude | Latitude |
| --- | --- | --- | --- |
| H11 | Readlow Island | 39,56 | -94,95 |
H12
| Grid | Name | Island | Longitude | Latitude |
| --- | --- | --- | --- | --- |
| H12 | The Rainless Reef | Donnahead Isle | 00.00 | 00.00 |
| H12 | The Dusty Bowl | Carighaze Island | 01.97 | -55.31 |
| H12 | Sanctuary of the Lost | Carighaze Island | 02.00 | -55.84 |
| H12 | Hydra's Cry | Baxris Bay | 1.67 | -48.97 |
| H12 | Donnahead Isle | - | - | - |
| H12 | Carighaze Island | - | - | - |
| H12 | Baxris Bay | - | - | - |
| H12 | Flatcoln Atoll | - | - | - |
| H12 | Smithtague Cay | - | - | - |
H13
| Grid | Name | Island | Longitude | Latitude |
| --- | --- | --- | --- | --- |
| H13 | Harpsevain Refuge | - | - | - |
| H13 | Golbridge Isles | - | - | - |
| H13 | The Eastern Reef | - | - | - |
| H13 | The Octopus Reef | - | - | - |
H14
| Grid | Name | Island | Longitude | Latitude |
| --- | --- | --- | --- | --- |
| H14 | The Cursed Holm | - | - | - |
| H14 | Oroston Island | - | - | - |
| H14 | The Boastfull Betty | Oroston Island | 2.22 | -82.17 |
| H14 | Flash of Lightning | Oroston Island | 2.43 | -81.87 |
| H14 | Minilam Refuge | - | - | - |
| H14 | Hafsay Island | - | - | - |
H15
| Grid | Name | Island | Longitude | Latitude |
| --- | --- | --- | --- | --- |
| H15 | Woops! | Corcord Island | 00.00 | 00.00 |
| H15 | The Frisky Dolphine | Corcord Island | 00.00 | 00.00 |
| H15 | The Mighty Wind | Corcord Island | -2.19 | -92.10 |
| H15 | Eastmer Island | - | - | - |
| H15 | Corcord Island | - | - | - |
| H15 | Chesgueuil Cay | - | - | - |
| H15 | Carlcam Isle | - | - | - |
| H15 | Brismagne Islands | - | - | - |
| H15 | Niverpids Haven | - | - | - |
I1
| Grid | Discovery name | Longitude | Latitude |
| --- | --- | --- | --- |
| I1 | The Shadowed Reef | 50,41 | 92,58 |
| I1 | The Bursting Atoll | 57,21 | 95,47 |
| I1 | Millercona Chain | 52,72 | 85,18 |
I2
| Grid | Discovery name | Longitude | Latitude |
| --- | --- | --- | --- |
| I2 | Hudrood Holm | 52,23 | 71,82 |
| I2 | Tiverfail Archipelago | 60,08 | 68,23 |
| I2 | Mustois Peninsula | 48,48 | 78,26 |
| I2 | Sennewich Enclave | 58,18 | 77,32 |
| I2 | Grensby Ait | 58,11 | 78,69 |
I3
| Grid | Discovery name | Longitude | Latitude |
| --- | --- | --- | --- |
| I3 | The Collapsing Holm | 58,21 | 59,20 |
| I3 | Boltois Cay | 49,59 | 58,79 |
| I3 | Leaminggus Skerry | 60,13 | 53,49 |
| I3 | The Faraway Haven | 59,91 | 48,99 |
| I3 | The Blue Essence of Power | | |
| I3 | Wayward Wall | | |
| I3 | Baymeadow | | |
| I3 | The Frothy Depths | | |
| I3 | Talon Bulwark | | |
| I3 | Soul Spire | | |
| I3 | Too Hot Too Hot | | |
| I3 | The Arching Abyss | | |
| I3 | Black Cavern Gorge | | |
| I3 | Dewmire Citadel | | |
| I3 | The Tower Of Evehagan | | |
I4
| Grid | Discovery name | Longitude | Latitude |
| --- | --- | --- | --- |
| I4 | Terhill Enclave | 61,16 | 42,66 |
| I4 | Pasland Island | 54,64 | 42,64 |
| I4 | Bordgar Cay | 61,28 | 35,28 |
| I4 | Glenminster Holm | 61,39 | 33,69 |
| I4 | Hebjour Reef | 59,67 | 34,06 |
I5
| Grid | Discovery name | Longitude | Latitude |
| --- | --- | --- | --- |
| I5 | Walfield Atoll | 48,94 | 12,24 |
| I5 | Barnmis Enclave | 56,74 | 13,07 |
| I5 | Templebalt Islet | 52,17 | 18,75 |
| I5 | Stratsack Isles | 49,53 | 24,98 |
| I5 | Gaulto Reef | 49,04 | 23,64 |
I6
| Grid | Discovery name | Longitude | Latitude |
| --- | --- | --- | --- |
| I6 | Arlingmagne Key | 56,41 | 05,15 |
| I6 | The Brilliant Isle | 48,79 | 05,59 |
| I6 | Berthierforte Holm | 49,37 | -05,64 |
| I6 | Beavercoln Cay | 51,06 | -00,12 |
I7
| Grid | Discovery name | Longitude | Latitude |
| --- | --- | --- | --- |
| I7 | The Shadowy Isle | 49,59 | -21,40 |
| I7 | Yarsard Reef | 49,07 | -12,23 |
I8
| Grid | Discovery name | Longitude | Latitude |
| --- | --- | --- | --- |
| I8 | I8 Freeport Northern Island | 54,94 | -31,43 |
| I8 | I8 Freeport Eastern Island | 59,66 | -36,62 |
| I8 | I8 Freeport Southern Island | 55,08 | -41,61 |
| I8 | I8 Freeport Western Island | 50,05 | -36,61 |
I9
| Grid | Discovery name | Longitude | Latitude |
| --- | --- | --- | --- |
| I9 | Bonacroft Archipelago | 58,73 | -59,00 |
| I9 | Gracestone Island | 59,26 | -61,85 |
| I9 | The Peaceful Enclave | 60,25 | -49,01 |
| I9 | Wallingroy Peninsula | 49,45 | -60,45 |
I10
| Grid | Discovery name | Longitude | Latitude |
| --- | --- | --- | --- |
| I10 | Cosend Isles | 49,30 | -68,08 |
| I10 | Delstino Isle | 52,42 | -79,38 |
| I10 | Jade Island | 56,65 | -68,56 |
| I10 | Oakdiac Atoll | 48,46 | -76,62 |
| I10 | Evercaster Island | 50,33 | -73,42 |
| I10 | Englebo Reef | 61,14 | -75,26 |
| I10 | Effinggate Holm | 56,02 | -74,75 |
I11
| Grid | Discovery name | Longitude | Latitude |
| --- | --- | --- | --- |
| I11 | Menberry Island | 51,28 | -94,10 |
| I11 | Kinitonas Key | 59,24 | -95,27 |
| I11 | Portsraine Skerry | 59,77 | -87,82 |
I12
| Grid | Name | Island | Longitude | Latitude |
| --- | --- | --- | --- | --- |
| I12 | Shellval Ait | - | - | - |
| I12 | What's Left of the Rapier | Berthierfell Key | 17.02 | -55.63 |
| I12 | The Heartless Atoll | - | - | - |
| I12 | Rocks of Old | The Heartless Atoll | 17.13 | -51.07 |
| I12 | Rest Spot | Cottletry Cay | 10.52 | -55.99 |
| I12 | Rapier's Outpost | Berthierfell Key | 17.38 | -56.24 |
| I12 | Pesky Dan's Needle | The Heartless Atoll | 17.31 | -51.22 |
| I12 | Coxswain's Refuge | Cottletry Cay | 11.43 | -56.15 |
| I12 | Cottletry Cay | - | - | - |
| I12 | Berthierfell Key | - | - | - |
I13
I14
| Grid | Name | Island | Longitude | Latitude |
| --- | --- | --- | --- | --- |
| I14 | Pellan Islet | - | - | - |
| I14 | Wacord Isle | - | - | - |
| I14 | Torchester Cay | - | - | - |
| I14 | Berthierforte Ait | - | - | - |
I15
| Grid | Name | Island | Longitude | Latitude |
| --- | --- | --- | --- | --- |
| I15 | Bracemiota Refuge | - | - | - |
| I15 | Trayder Island | - | - | - |
| I15 | The Sunken Maiden | Rosby Isle | 13.92 | -90.92 |
| I15 | Seadog's Hideaway | Roseville Atoll | 00.00 | 00.00 |
| I15 | Roseville Atoll | - | - | - |
| I15 | Rosby Isle | - | - | - |
| I15 | Pirate's Folly | Roseville Atoll | 00.00 | 00.00 |
| I15 | Monsoon Lookout | Calcastle Island | 00.00 | 00.00 |
| I15 | Flemsonee Reef | - | - | - |
| I15 | Crystal Mountain | Calcastle Island | 00.00 | 00.00 |
| I15 | Calcastle Island | - | - | - |
| I15 | Briscona Atoll | - | - | - |
| I15 | A Quick Slide Down | Roseville Atoll | 15.37 | -95.38 |
J1
| Grid | Discovery name | Longitude | Latitude |
| --- | --- | --- | --- |
| J1 | Maynola Chain | 77,50 | 86,12 |
J2
| Grid | Discovery name | Longitude | Latitude |
| --- | --- | --- | --- |
| J2 | The Maroon Enclave | 77,80 | 77,35 |
| J2 | Hadsonee Ait | 76,84 | 70,42 |
| J2 | The Silver Isles | 68,82 | 67,80 |
| J2 | Wilwin Atoll | 70,86 | 75,77 |
J3
| Grid | Discovery name | Longitude | Latitude |
| --- | --- | --- | --- |
| J3 | The Sterling Skerry | 68,17 | 49,52 |
| J3 | The Troubled Refuge | 75,26 | 49,30 |
| J3 | Racier Refuge | 72,96 | 60,30 |
| J3 | Hatlants Haven | 67,10 | 56,40 |
J4
| Grid | Discovery name | Longitude | Latitude |
| --- | --- | --- | --- |
| J4 | The Shrimp Enclave | 77,90 | 41,89 |
| J4 | Midsea Key | 67,12 | 36,17 |
| J4 | Albernoque Skerry | 73,60 | 37,12 |
| J4 | Creston Island | 73,24 | 35,47 |
| J4 | Versack Island | 74,89 | 35,40 |
J5
| Grid | Discovery name | Longitude | Latitude |
| --- | --- | --- | --- |
| J5 | Tervista Atoll | 72,60 | 12,94 |
| J5 | Parabraiand Island | 71,99 | 23,84 |
| J5 | Manshall Ait | 77,81 | 18,85 |
| J5 | Turborg Isle | 78,23 | 17,41 |
J6
| Grid | Discovery name | Longitude | Latitude |
| --- | --- | --- | --- |
| J6 | Midland Isles | 75,32 | -04,25 |
| J6 | Birlisle Key | 77,25 | 04,51 |
J7
| Grid | Discovery name | Longitude | Latitude |
| --- | --- | --- | --- |
| J7 | Nipapids Island | 70,23 | -18,00 |
| J7 | Bracebour Atoll | 77,74 | -13,53 |
| J7 | Gofell Holm | 76,93 | -23,72 |
J8
| Grid | Discovery name | Longitude | Latitude |
| --- | --- | --- | --- |
| J8 | Leostead Peninsula | 77,53 | -30,49 |
| J8 | Birmingmeuse Islet | 71,37 | -30,76 |
| J8 | Varencam Ait | 66,47 | -36,34 |
| J8 | Grimriden Holm | 75,17 | -35,82 |
| J8 | Wrentgueuil Atoll | 75,94 | -36,70 |
| J8 | Dighill Island | 77,39 | -41,33 |
| J8 | Unknown Cay | 69,76 | -38,64 |
J9
| Grid | Discovery name | Longitude | Latitude |
| --- | --- | --- | --- |
| J9 | Oyster Island | 76,07 | -50,89 |
| J9 | Gravelcouche Skerry | 68,37 | -50,05 |
| J9 | Calwin Holm | 70,06 | -53,80 |
| J9 | Ferhazy Haven | 78,42 | -57,18 |
| J9 | The Rough Reef | 73,76 | -60,82 |
| J9 | Oxson Chain | 70,56 | -58,45 |
J10
| Grid | Discovery name | Longitude | Latitude |
| --- | --- | --- | --- |
| J10 | Chiver Skerry | 77,16 | -77,01 |
| J10 | Brisnear Island | 70,57 | -77,54 |
| J10 | Haverduff Peninsula | 78,57 | -68,99 |
| J10 | Dolgan Refuge | 71,39 | -67,50 |
| J10 | The Smoking Islet | 75,59 | -72,27 |
| J10 | Southshall Ait | 67,12 | -71,79 |
J11
| Grid | Discovery name | Longitude | Latitude |
| --- | --- | --- | --- |
| J11 | Chanhurst Island | 68,69 | -87,14 |
| J11 | Epdale Reef | 76,57 | -86,59 |
J12
| Grid | Name | Island | Longitude | Latitude |
| --- | --- | --- | --- | --- |
| J12 | Wrentbury Haven | - | - | - |
| J12 | Vently Holm | - | - | - |
| J12 | Useless Rocks | Vently Holm | 23.72 | -55.83 |
| J12 | Sunset Vista | Gatinigan Island | 30.64 | -51.59 |
| J12 | Port Swingman | Oxwater Island | 26.16 | -52.53 |
| J12 | Oxwater Island | - | - | - |
| J12 | Oasis | Oxwater Island | 24.88 | -51.62 |
| J12 | Lifeblood and Water | Oxwater Island | 25.63 | -51.61 |
| J12 | Gatinigan Island | - | - | - |
| J12 | Horseshoe | Wrentbury Haven | 29.64 | -56.34 |
J13
| Grid | Name | Island | Longitude | Latitude |
| --- | --- | --- | --- | --- |
| J13 | The Quiet Cay | - | - | - |
| J13 | The Maroon Key | - | - | - |
| J13 | Wakewe Cay | - | - | - |
| J13 | The Slender Gate | Wakewe Cay | 24.74 | -64.31 |
| J13 | Marrooned? Rest In Peace | Crescana Reef | 28.80 | -69.40 |
| J13 | He Sits Above All | Forlinet Haven | 30.54 | -70.35 |
| J13 | Forlinet Haven | - | - | - |
| J13 | Crescana Reef | - | - | - |
J14
| Grid | Name | Island | Longitude | Latitude |
| --- | --- | --- | --- | --- |
| J14 | Shauterre Chain | - | - | - |
| J14 | Watermeny Enclave | - | - | - |
| J14 | Privateer's Rock | Bigshall Peninsula | 23.73 | -77.96 |
| J14 | Marauder's Sands | Brisval Cay | 00.00 | 00.00 |
| J14 | Fox Run Forest | Watermeny Enclave | 28.21 | -83.28 |
| J14 | Cleared Ground | Bigshall Peninsula | 00.00 | 00.00 |
| J14 | Brisval Cay | - | - | - |
| J14 | Bigshall Peninsula | - | - | - |
| J14 | A Stone Bridge | Brisval Cay | 00.00 | 00.00 |
J15
K1
| Grid | Discovery name | Longitude | Latitude |
| --- | --- | --- | --- |
| K1 | Stoneham Enclave | 86,48 | 86,40 |
| K1 | Arlingsend Island | 90,59 | 91,87 |
K2
| Grid | Discovery name | Longitude | Latitude |
| --- | --- | --- | --- |
| K2 | Davelsonee Atoll | 85,17 | 71,61 |
| K2 | The Desolate Cay | 89,53 | 77,56 |
K3
| Grid | Discovery name | Longitude | Latitude |
| --- | --- | --- | --- |
| K3 | Chatssomin Holm | 93,78 | 60,38 |
| K3 | Camware Isle | 91,78 | 49,24 |
| K3 | The Westerly Chain | 85,60 | 50,06 |
| K3 | The Blue Enclave | 96,41 | 54,35 |
K4
| Grid | Discovery name | Longitude | Latitude |
| --- | --- | --- | --- |
| K4 | Carlrose Islet | 96,21 | 32,05 |
| K4 | Bexbalt Reef | 85,76 | 40,72 |
| K4 | Ventcoln Key | 87,14 | 41,80 |
K5
| Grid | Discovery name | Longitude | Latitude |
| --- | --- | --- | --- |
| K5 | Plalants Isles | 87,47 | 15,65 |
| K5 | Hermisea Island | 90,79 | 22,96 |
| K5 | The Steep Reef | 96,42 | 19,95 |
K6
| Grid | Discovery name | Longitude | Latitude |
| --- | --- | --- | --- |
| K6 | Clinminster Enclave | 87,47 | -02,22 |
| K6 | The Orange Essence of Power | | |
| K6 | Ollion's Wall | | |
| K6 | Town Mythside | | |
| K6 | Marco's Pass | | |
| K6 | Heartrune Retreat | | |
| K6 | Wisdom Grove Spire | | |
| K6 | The Boiling Mound | | |
| K6 | Strafview Expanse | | |
| K6 | The Narrow Way | | |
| K6 | Baedcove Citadel | | |
| K6 | The Tower Of Stegaell | | |
K7
| Grid | Discovery name | Longitude | Latitude |
| --- | --- | --- | --- |
| K7 | Wolfbo Island | 86,13 | -20,54 |
| K7 | Lanishaw Holm | 93,57 | -13,71 |
| K7 | Winterholm Atoll | 86,11 | -12,48 |
| K7 | Arborbiens Haven | 94,82 | -22,15 |
K8
| Grid | Discovery name | Longitude | Latitude |
| --- | --- | --- | --- |
| K8 | The Glassy Holm | 87,42 | -30,03 |
| K8 | Blackrood Haven | 86,53 | -34,97 |
| K8 | The Pufferfish Ait | 91,32 | -41,65 |
K9
| Grid | Discovery name | Longitude | Latitude |
| --- | --- | --- | --- |
| K9 | Ganhead Holm | 93,77 | -59,78 |
| K9 | The Welcoming Atoll | 94,50 | -52,12 |
| K9 | Wellingforte Island | 86,53 | -50,13 |
| K9 | Radning Holm | 85,26 | -59,59 |
K10
| Grid | Discovery name | Longitude | Latitude |
| --- | --- | --- | --- |
| K10 | Hamgough Key | 88,20 | -72,15 |
K11
| Grid | Discovery name | Longitude | Latitude |
| --- | --- | --- | --- |
| K11 | Primeval Island | 89,72 | -89,58 |
K12
K13
K14
K15
L1
L2
| Grid | Name | Island | Longitude | Latitude |
| --- | --- | --- | --- | --- |
| L2 | Coatistable Ait | - | - | - |
| L2 | The Little Finger | Eroded Skerry | 55.74 | 76.85 |
| L2 | The Foot | Eroded Skerry | 56.20 | 77.47 |
| L2 | The Narrow Pass | The Mysterious Holm | 00.00 | 00.00 |
| L2 | Old Bill's Land | Snowy Isles | 54.55 | 82.21 |
| L2 | Wrong Choice | Snowy Isles | 55.84 | 82.78 |
| L2 | Wistler's Land | Eroded Skerry | 46.87 | 77.22 |
| L2 | The White Marker | Snowy Isles | 00.00 | 00.00 |
| L2 | The Mysterious Holm | - | - | - |
| L2 | Snowy Isles | - | - | - |
| L2 | Eroded Skerry | - | - | - |
| L2 | Cleared and Clean | Snowy Isles | 00.00 | 00.00 |
| L2 | Burgie's Great Art | The Mysterious Holm | 00.00 | 00.00 |
| L2 | The Pink Forest | Coatistable Ait | 51.18 | 77.39 |
L3
| Grid | Name | Island | Longitude | Latitude |
| --- | --- | --- | --- | --- |
| L3 | The Ground Was Salted | ??? | 00.00 | 00.00 |
| L3 | Gazing Cliffs | ??? | 00.00 | 00.00 |
| L3 | Lady's Forest | ??? | 00.00 | 00.00 |
| L3 | Serenity's Pass | Brightbury Cay | 00.00 | 00.00 |
| L3 | Peaceful Pass | Brightbury Cay | 00.00 | 00.00 |
| L3 | Monk's Peak | Brightbury Cay | 00.00 | 00.00 |
| L3 | Mermaid's Tide Pool | Brightbury Cay | 00.00 | 00.00 |
| L3 | The Yellow Essence of Power | ??? | 00.00 | 00.00 |
| L3 | The Totem of the Living | Sunview Chain | 00.00 | 00.00 |
| L3 | The Pool of Deep Waters | Brightbury Cay | 00.00 | 00.00 |
| L3 | Sunview Chain | - | - | - |
| L3 | Saufolk Island | - | - | - |
| L3 | Brightbury Cay | - | - | - |
| L3 | A Way to Refuge | Saufolk Island | 00.00 | 00.00 |
L4
| Grid | Name | Island | Longitude | Latitude |
| --- | --- | --- | --- | --- |
| L4 | Scarstone Skerry | - | - | - |
| L4 | Wasabridge Peninsula | - | - | - |
| L4 | The Serpent's Pass | The Emerald Refuge | 56.48 | 54.84 |
| L4 | The Field where Mad Malcom Died | Wasabridge Peninsula | 52.64 | 56.62 |
| L4 | The Falls from Somewhere | Portsbel Island | 54.00 | 50.30 |
| L4 | The Emerald Refuge | - | - | - |
| L4 | The Best Place for a Hangin' | Portsbel Island | 53.92 | 50.61 |
| L4 | Portsbel Island | - | - | - |
| L4 | Lady's Pool | Portsbel Island | 53.06 | 50.12 |
L5
| Grid | Name | Island | Longitude | Latitude |
| --- | --- | --- | --- | --- |
| L5 | Duparborg Chain | - | - | - |
| L5 | Grandmond Ait | - | - | - |
| L5 | Lunenlams Reef | - | - | - |
| L5 | Wallinglan Island | - | - | - |
L6
| Grid | Name | Island | Longitude | Latitude |
| --- | --- | --- | --- | --- |
| L6 | Gladston Islands | - | - | - |
| L6 | Shimmering Ridge | Onocastle Cay | 00.00 | 00.00 |
| L6 | The Wellspring | Onocastle Cay | 54.66 | 30.57 |
| L6 | Path to Power | Mangate Skerry | 54.96 | 25.84 |
| L6 | Onocastle Cay | - | - | - |
| L6 | Mangate Skerry | - | 56.19 | 25.19 |
| L6 | Gorgon's Pet | Bentrose Peninsula | 50.30 | 23.65 |
| L6 | Fire Falls | Mangate Skerry | 56.63 | 25.27 |
| L6 | Cave Spring | Mangate Skerry | 55.68 | 25.05 |
| L6 | Bentrose Peninsula | - | - | - |
| L6 | Anthem to Beauty | Mangate Skerry | 55.51 | 25.53 |
L7
| Grid | Name | Island | Longitude | Latitude | Notes |
| --- | --- | --- | --- | --- | --- |
| L7 | The Calmest Ait | - | - | - | - |
| L7 | Way of the Dead | The Calmest Ait | 51.52 | 10.06 | A gorge located under a large rock arch formation at the center of the island. |
| L7 | One Fortified Hill | The Calmest Ait | 51.82 | 10.11 | An unassuming hill located amongst some rock columns. |
| L7 | A Hidden Dock | The Calmest Ait | 52.13 | 10.06 | A small dock on the coast. |
| L7 | Huntterel Island | - | - | - | - |
| L7 | Whistlemoore | Huntterel Island | 55.91 | 11.17 | A large rock arch in the north east of the island chain. |
| L7 | Island's Jewel | Huntterel Island | 55.88 | 10.82 | A lush secluded pond. |
| L7 | Musrath Island | - | - | - | - |
| L7 | Wandering Spirit | Musrath Island | 51.95 | 17.65 | Head to the large stone column at the very north west of the island chain. |
| L7 | Richpon Island | - | - | - | - |
| L7 | The Cod Farm | Richpon Island | 57.05 | 13.92 | Located just to the north of The Captain's House. |
| L7 | The Captain's House | Richpon Island | 57.11 | 13.73 | Unassuming house located at the side of a high mountain lake. Climbing gear will make route easier. |
| L7 | Hightop Mine | Richpon Island | 57.02 | 13.91 | An abandoned mine shaft located on top of a huge rock column. Reachable on foot. |
| L7 | Flower Dusted Path | Richpon Island | 56.92 | 13.64 | Look for a mountaintop lake fed by four waterfalls. The point is located on the wall to the west. Climbing gear essential. |
| L7 | A Grand Seaside Entry | Richpon Island | 56.76 | 13.83 | Look to the southwest of the island for a gorge and a large stone arch. |
| L7 | Neuver Island | - | - | - | - |
| L7 | Betrayal Point | Neuver Island | 48.11 | 13.54 | Located on a small islet on the very north west of the island. |
L8
| Grid | Name | Island | Longitude | Latitude |
| --- | --- | --- | --- | --- |
| L8 | Bellevern Atoll | - | - | - |
| L8 | Buckingfell Isle | - | - | - |
| L8 | Fairley Isles | - | - | - |
| L8 | Farmingmar Cay | - | - | - |
L9
L10
L11
| Grid | Name | Island | Longitude | Latitude |
| --- | --- | --- | --- | --- |
| L11 | Salisver Archipelago | - | - | - |
| L11 | Emscour Refuge | - | - | - |
| L11 | Where the Duel Took Place | Stockland | 49.72 | -43.18 |
| L11 | Waters of Life | Votfait Island | 56.65 | -40.84 |
| L11 | Votfait Island | - | - | - |
| L11 | Stockland Island | - | - | - |
| L11 | Mystery of the Four | Kamstone Key | 50.41 | -37.84 |
| L11 | Lover's Pool | Votfait Island | 55.69 | -40.91 |
| L11 | Kamstone Key | - | - | - |
| L11 | Deadman's Whispers | Votfait Island | 56.65 | -40.49 |
L12
L13
| Grid | Name | Island | Longitude | Latitude |
| --- | --- | --- | --- | --- |
| L13 | A Small Rise | Lamling Island | 00.00 | 00.00 |
| L13 | Lamling Island | - | - | - |
| L13 | Rosfait Haven | - | - | - |
| L13 | Acient Sail | Barrley Ait | 00.00 | 00.00 |
| L13 | Barrley Ait | - | - | - |
| L13 | The Gaze | The Maroon Isle | 00.00 | 00.00 |
| L13 | A Tall Pale Forest | The Floating Holm | 00.00 | 00.00 |
| L13 | An Amazing View | The Lagoon Cay | 51.07 | -68.85 |
| L13 | Spire Mountain | The Lagoon Cay | 51.80 | -69.46 |
| L13 | The Lagoon Cay | - | - | - |
| L13 | The Gullible Rose | Hereboro Holm | 55.19 | -62.04 |
| L13 | The Great Monolith | Golcola Enclave | 50.51 | -68.03 |
| L13 | Hereboro Holm | - | - | - |
| L13 | Golcola Enclave | - | - | - |
| L13 | Gilbert's Gallope | Bonabourg Cay | 00.00 | 00.00 |
| L13 | Bonabourg Cay | - | - | - |
L14
| Grid | Name | Island | Longitude | Latitude |
| --- | --- | --- | --- | --- |
| L14 | The Maroon Isle | - | - | - |
| L14 | Beauty's Forest | The Floating Holm | 00.00 | 00.00 |
| L14 | The Floating Holm | - | - | - |
| L14 | Island's Treasure | Bursval Haven | 52.13 | -82.39 |
| L14 | A Peaceful Place | Bursval Haven | 00.00 | 00.00 |
| L14 | Bursval Haven | - | - | - |
| L14 | Ocean's Tiny Jewel | The Vicious Isles | 48,99 | -84,4 |
| L14 | The Vicious Isles | - | - | - |
| L14 | Where the Mermaid Cries | Rimtrie Island | 00.00 | 00.00 |
| L14 | Wenches Bench | Rimtrie Island | 00.00 | 00.00 |
| L14 | Safe on a Rock | Brosfil Island | 00.00 | 00.00 |
| L14 | Rimtrie Island | - | - | - |
| L14 | Keelhaul Rock | Rimtrie Island | 00.00 | 00.00 |
| L14 | Brosfil Island | - | - | - |
| L14 | A Pine Forest | Brosfil Island | 00.00 | 00.00 |
| L14 | A Good Place for Gallows | Rimtrie Island | 00.00 | 00.00 |
L15
| Grid | Name | Island | Longitude | Latitude |
| --- | --- | --- | --- | --- |
| L15 | Vallams Island | - | - | - |
| L15 | Winter's Trumpet | Cliffington Reef | 00.00 | 00.00 |
| L15 | The Thundering Key | - | - | - |
| L15 | The Terraced Island | - | - | - |
| L15 | The Dense Skerry | - | - | - |
| L15 | Take Leave and Rest | Cliffington Reef | 00.00 | 00.00 |
| L15 | Osiris' Demise | Cliffington Reef | 00.00 | 00.00 |
| L15 | Hullbreakers | The Thundering Key | 00.00 | 00.00 |
| L15 | Darde Enclave | - | - | - |
| L15 | Cliffington Reef | - | - | - |
| L15 | Bexnach Ait | - | - | - |
| L15 | Batten Down the Hatches! | The Terraced Island | 50.97 | -89.42 |
M1
M2
M3
| Grid | Name | Island | Longitude | Latitude |
| --- | --- | --- | --- | --- |
| M3 | Wakedare Archipelago | - | - | - |
| M3 | The Spire | Farnlin Refuge | 67.68 | 68.98 |
| M3 | Gorgeous View | Farnlin Refuge | 67.79 | 69.95 |
| M3 | Peaceful | Dolroy Cay | 63.29 | 62.88 |
| M3 | Precious Gem | Dolroy Cay | 64.56 | 62.55 |
| M3 | One More Piece | Dolroy Cay | 00.00 | 00.00 |
| M3 | Rocky Ground | Dolroy Cay | 00.00 | 00.00 |
| M3 | Farnlin Refuge | - | - | - |
| M3 | Dolroy Cay | - | - | - |
| M3 | A Rich Piece of Land | Farnlin Refuge | 00.00 | 00.00 |
| M3 | Cold Beauty | Wakedare Archipelago | 63.56 | 71.12 |
M4
| Grid | Name | Island | Longitude | Latitude |
| --- | --- | --- | --- | --- |
| M4 | The Brilliant Archipelago | - | - | - |
| M4 | Rosberg Islet | - | - | - |
| M4 | Colibourg Archipelago | - | - | - |
| M4 | Yarfil Island | - | - | - |
| M4 | The Turtle's Head | Emslow Peninsula | 63.71 | 52.26 |
| M4 | The Mighty Doorway | Cowanworth Island | 68.85 | 54.41 |
| M4 | Pincer's Grasp | Emslow Peninsula | 63.99 | 52.28 |
| M4 | Jaws of the Giant Crab | Yarfil Island | 68.37 | 49.57 |
| M4 | Fount on High | Cowanworth Island | 00.00 | 00.00 |
| M4 | Forever Divided | Cowanworth Island | 69.26 | 54.78 |
| M4 | Emslow Peninsula | - | - | - |
| M4 | Cowanworth Island | - | - | - |
| M4 | The Division | Cowanworth Island | 69.05 | 54.96 |
M5
| Grid | Name | Island | Longitude | Latitude |
| --- | --- | --- | --- | --- |
| M5 | The Bottomless Archipelago | - | 69.65 | 38.11 |
| M5 | The Whispering Island | - | - | - |
| M5 | The Wave Worn Stones | Eatoland Island | 64.06 | 37.19 |
| M5 | The Unfathomed Haven | - | - | - |
| M5 | The Highest Peak | The Unfathomed Haven | 63.90 | 43.55 |
| M5 | Eatoland Island | - | - | - |
| M5 | A Mighty Warrior | Eatoland Island | 65.20 | 37.60 |
| M5 | A Mighty Pillar Top | The Whispering Island | 70.08 | 41.82 |
M6
| Grid | Name | Island | Longitude | Latitude |
| --- | --- | --- | --- | --- |
| M6 | The Sanctuary Chain | - | - | - |
| M6 | The Blue Ait | - | - | - |
| M6 | Wog Pond | Granaguay Peninsula | 69.30 | 25.17 |
| M6 | Peddler's Stairs | Stockmiota Skerry | 65.09 | 28.65 |
| M6 | Mermaid's Perch | Granaguay Peninsula | 00.00 | 00.00 |
| M6 | Little House on The Hill | Forborough Haven | 63.81 | 23.12 |
| M6 | Maggie's Dock | The Blue Ait | 70.56 | 28.14 |
| M6 | Forborough Haven | - | - | - |
M7
| Grid | Name | Island | Longitude | Latitude |
| --- | --- | --- | --- | --- |
| M7 | The Volcanic Reef | - | - | - |
| M7 | Ridgeboia Refuge | - | - | - |
| M7 | The Decaying Peninsula | - | - | - |
| M7 | Proberg Ait | - | - | - |
M8
| Grid | Name | Island | Longitude | Latitude | Notes |
| --- | --- | --- | --- | --- | --- |
| M8 | Coatinigan Atoll | - | 67.17 | 0.16 | |
| M8 | Gretcouche Skerry | - | - | - | - |
| M8 | Walsley Archipelago | - | - | - | - |
| M8 | The Great Hysteria | Beaupawa Reef | 67.60 | 04.12 | |
| M8 | Sorcerer's Maelstrom | Alberval Island | 00.00 | 00.00 | |
| M8 | Longuay Island | - | 70.00 | -3.63 | - |
| M8 | Flat Face | Walsley Archipelago | 68.96 | 3.34 | |
| M8 | Defeated Hoboty | Longuay Island | 70.11 | -2.84 | Ruined statue |
| M8 | Beaupawa Reef | - | - | - | - |
| M8 | Alberval Island | - | - | - | - |
| M8 | A Smug Victory | Longuay Island | 69.42 | -2.20 | No longer bugged (v103.0) |
M9
| Grid | Name | Island | Longitude | Latitude |
| --- | --- | --- | --- | --- |
| M9 | Bruderden Ait | - | - | - |
| M9 | Farnbonear Island | - | - | - |
| M9 | The Ray Haven | - | - | - |
| M9 | Menling Isle | - | - | - |
M10
| Grid | Name | Island | Longitude | Latitude |
| --- | --- | --- | --- | --- |
| M10 | The Stormy Isle | - | 63.95 | -29.75 |
| M10 | Hadrood Cay | - | 69.67 | -25.05 |
| M10 | Sorcerers Wellspring | Grandhead Island | 69.00 | -30.66 |
| M10 | Saucana Reef | - | 67.29 | -27.71 |
| M10 | Ridgesomin Island | - | 66.78 | -22.22 |
| M10 | Pollywog Pond | Grandhead Island | 68.92 | -30.12 |
| M10 | Lonely Tower | Litchtois Island | 65.01 | -24.70 |
| M10 | Litchtois Island | - | 65.24 | -25.68 |
| M10 | Grandhead Island | - | 69.09 | -30.51 |
| M10 | Don't Trip | Ridgesomin Island | 67.22 | -22.35 |
| M10 | Smuggler's Run | Saucana Reef | 67.40 | -27.96 |
| M10 | The Most Fortified | The Stormy Isle | 63.85 | -29.62 |
| M10 | Patsie's Dock | The Stormy Isle | 63.72 | -29.38 |
| M10 | Deadman's Way | The Stormy Isle | 64.00 | -29.80 |
| M10 | The Spendy Tollway | Hadrood Cay | 69.92 | -25.38 |
M11
| Grid | Name | Island | Longitude | Latitude |
| --- | --- | --- | --- | --- |
| M11 | The Lucent Reef | - | - | - |
| M11 | Savage Islands | - | - | - |
| M11 | Wadet Island | - | - | - |
| M11 | Oxville Haven | - | - | - |
| M11 | Maiden's Pass | Oxville Haven | 67.25 | -42.35 |
| M11 | Lofty | Hasford Peninsula | 00.00 | 00.00 |
| M11 | Hasford Peninsula | - | - | - |
| M11 | Harper's Breech | Wadet Island | 63.81 | -38.07 |
| M11 | Broke Asunder | Hasford Peninsula | 69.05 | -37.69 |
| M11 | A Grand Doorway | Hasford Peninsula | 68.73 | -38.24 |
M12
M13
M14
| Grid | Name | Island | Longitude | Latitude |
| --- | --- | --- | --- | --- |
| M14 | A Slender Path | The Dark Cay | 69.73 | -80.29 |
| M14 | The Dark Cay | - | - | - |
| M14 | Nothing Grows Here | Gravemere Enclave | 65.20 | -76.05 |
| M14 | Gravemere Enclave | - | - | - |
| M14 | The Tiny Jewel | The Seagrass Haven | 69.16 | -77.42 |
| M14 | The Seagrass Haven | - | - | - |
| M14 | Bill's Resting Place | Asylum Enclave | 65.35 | -81.16 |
| M14 | A Really Bad Decision | Asylum Enclave | 64.08 | -81.71 |
| M14 | Thurtonas Cay | - | - | - |
| M14 | Throw Um In, See If They Swim | Thurtonas Cay | 00.00 | 00.00 |
| M14 | Seaside Grove | Asylum Enclave | 00.00 | 00.00 |
| M14 | Paradise Pool | Thurtonas Cay | 68.01 | -80.82 |
| M14 | Hope | Exgeo Peninsula | 00.00 | 00.00 |
| M14 | Exgeo Peninsula | - | - | - |
| M14 | Asylum Enclave | - | - | - |
| M14 | A Statue of Hope | Exgeo Peninsula | 65.89 | -77.13 |
| M14 | A Rocky Bit of Land | Asylum Enclave | 65.68 | -81.63 |
0.00
M15
| Grid | Name | Island | Longitude | Latitude |
| --- | --- | --- | --- | --- |
| M15 | Bentde Atoll | - | - | - |
| M15 | Yeti's Playground | Sandshaw Enclave | 00.00 | 00.00 |
| M15 | Winming Island | - | - | - |
| M15 | Wadesard Island | - | - | - |
| M15 | Sandshaw Enclave | - | - | - |
| M15 | One Way Pass | Wadesard Island | 00.00 | 00.00 |
| M15 | Durdes Archipelago | - | - | - |
| M15 | Delisisle Isle | - | - | - |
| M15 | Barren Shallows | Barnlodge Archipelago | 00.00 | 00.00 |
| M15 | Barnlodge Archipelago | - | - | - |
N1
| Grid | Name | Island | Longitude | Latitude |
| --- | --- | --- | --- | --- |
| N1 | Windy Whistle | The Forbidden Cay | 78.91 | 91.21 |
| N1 | Scuzzy Pete's Frosty Peaks | The Forbidden Cay | 78.83 | 91.51 |
| N1 | Narrow Chasm | The Darkest Chain | 79.86 | 96.70 |
| N1 | Ice Storm | Lunenlet Atoll | 82.73 | 91.64 |
| N1 | The Big Wreck | Lunenlet Atoll | 82.75 | 89.68 |
| N1 | The Davenport | Lunenlet Atoll | 82.96 | 89.69 |
| N1 | Mysterious Mystery | Lunenlet Atoll | 80.77 | 91.05 |
| N1 | The Pearly Dirt | Lunenlet Atoll | 80.24 | 91.05 |
| N1 | The Precious Stone | Lunenlet Atoll | 83.40 | 92.06 |
| N1 | The Betty Gal | Lunenlet Atoll | 83.00 | 91.93 |
| N1 | The Charger | Lunenlet Atoll | 83.43 | 91.91 |
| N1 | The Grand Rose | Lunenlet Atoll | 82.74 | 89.69 |
| N1 | The Great Beast | Lunenlet Atoll | 83.03 | 91.76 |
| N1 | Ice Palace | Lunenlet Atoll | 81.78 | 90.65 |
| N1 | Frozen Stairs | Lunenlet Atoll | 81.35 | 91.02 |
| N1 | The Wobble Hobble | Lunenlet Atoll | 80.26 | 91.85 |
| N1 | The The Shedevil | Lunenlet Atoll | 80.81 | 91.13 |
| N1 | The Hovel | Lunenlet Atoll | 80.40 | 91.61 |
| N1 | The Ocean Rose | Lunenlet Atoll | 83.26 | 91.91 |
| N1 | The Wench | Lunenlet Atoll | 82.54 | 89.65 |
| N1 | Big Mistake | Lunenlet Atoll | 83.19 | 92.02 |
| N1 | Stelburns Atoll | Iceberg | 75.52 | 94.94 |
| N1 | The Pelican Archipelago | Iceberg | 75.95 | 88.50 |
| N1 | Wallmouth Enclave | Iceberg | 84.52 | 96.75 |
| N1 | Engueuil Cay | Iceberg | 82.83 | 94.35 |
N2
| Grid | Name | Island | Longitude | Latitude | Note |
| --- | --- | --- | --- | --- | --- |
| N2 | Grafwood Peninsula | - | - | - | - |
| N2 | Dinky Peak | The Mumbling Reef | 81.81 | 78.02 | - |
| N2 | Victor Rock | The Lifeless Enclave | 76.75 | 81.38 | - |
| N2 | Eternity Obelisk | Gallanpawa Isle | 83.12 | 82.29 | Top of pillar |
| N2 | Giant's Foot | Gallanpawa Isle | 82.26 | 82.42 | - |
| N2 | Thieve's Landing | The Lifeless Enclave | 00.00 | 00.00 | |
| N2 | The Proving Pool | Gallanpawa Isle | 82.57 | 82.13 | |
| N2 | The Mumbling Reef | - | - | - | |
| N2 | The Lifeless Enclave | - | - | - | |
| N2 | Teeth of a Beast | The Mumbling Reef | 81.56 | 78.56 | |
| N2 | Gallanpawa Isle | - | - | - | |
| N2 | Eyes of a Beast | The Mumbling Reef | 81.25 | 77.53 | |
| N2 | Beastly Beach | The Mumbling Reef | 00.00 | 00.00 | |
| N2 | A Natural Bridge | The Lifeless Enclave | 77.27 | 81.68 | |
| N2 | ??? | - | 00.00 | 00.00 | Listed in ServerGrid.json with a blank name and "bIsManuallyPlaced" set to false. Might not actually exist. |
N3
N4
N5
N6
N7
| Grid | Name | Island | Longitude | Latitude | Notes |
| --- | --- | --- | --- | --- | --- |
| N7 | Temispond Skerry | - | - | - | - |
| N7 | Accusation Point | Temispond Skerry | 79.92 | 12.98 | The furthest point on the east of the island, located on a small unassuming islet. |
| N7 | Well Fortified | Giblan Holm | 82.70 | 8.85 | A small solitary stone mesa off the coast of the main island. Bring climbing gear. |
| N7 | Votcester Refuge | - | - | - | - |
| N7 | The Mourning Seat | Creslin Refuge | 76.75 | 13.61 | Small dock and building between a natural stone arch. |
| N7 | Stone Shelf | Votcester Refuge | 81.17 | 17.96 | A ledge about 3/4 of the way up a colossal stone formation. Best approached from the North. A challenging climb. |
| N7 | Rotten Petes Tollway | Hingsend Haven | 84.41 | 14.93 | Small building between two mountain rock formations. |
| N7 | Ole Elliot's Walk | Creslin Refuge | 77.02 | 13.81 | A long abandoned dock style construction across the beach. Not far from Eagle's Nest. |
| N7 | Hingsend Haven | - | - | - | - |
| N7 | Giblan Holm | - | - | - | - |
| N7 | Eagle's Nest | Creslin Refuge | 77.62 | 13.83 | Located on the very north east of the island. Proceed up the stone staircase to get the point. |
| N7 | Creslin Refuge | - | - | - | - |
N8
N9
N10
N11
N12
N13
| Grid | Name | Island | Longitude | Latitude |
| --- | --- | --- | --- | --- |
| N13 | Cudree Atoll | - | - | - |
| N13 | Triumphant Rise | The Glassy Island | 00.00 | 00.00 |
| N13 | Beware The Mermaid | Cudlam Reef | 00.00 | 00.00 |
| N13 | Cudlam Reef | - | - | - |
| N13 | Petal Pond | Choral Island | 00.00 | 00.00 |
| N13 | The Gracious Lady | Choral Island | 79.28 | -69.24 |
| N13 | The Glassy Island | - | - | - |
| N13 | Softstone Beach | The Glassy Island | 82.43 | -65.82 |
| N13 | Choral Island | - | - | - |
N14
| Grid | Name | Island | Longitude | Latitude |
| --- | --- | --- | --- | --- |
| N14 | Beautiful Rise | The Conquest Enclave | 83.27 | -80.48 |
| N14 | Twisted Spires | The Conquest Enclave | 00.00 | 00.00 |
| N14 | The Conquest Enclave | - | - | - |
| N14 | Phantom Bog Tower | Rowsonee Island | 00.00 | 00.00 |
| N14 | Strategic Advantage | Rowsonee Island | 00.00 | 00.00 |
| N14 | Squeeze! | Porttague Enclave | 77.89 | -81.38 |
| N14 | Turtle's Shell | Porttague Enclave | 00.00 | 00.00 |
| N14 | Rowsonee Island | - | - | - |
| N14 | Porttague Enclave | - | - | - |
| N14 | One Soft Stone | Porttague Enclave | 78.27 | -82.48 |
| N14 | Frosty Oasis | Rowsonee Island | 00.00 | 00.00 |
| N14 | Crackle Fruit Way | Rowsonee Island | 80.84 | -76.86 |
| N14 | A Pleasant Grove | Porttague Enclave | 00.00 | 00.00 |
| N14 | A Decent Plot of Land | Porttague Enclave | 00.00 | 00.00 |
N15
| Grid | Name | Island | Longitude | Latitude |
| --- | --- | --- | --- | --- |
| N15 | Monkher Cay | - | - | - |
| N15 | Vercola Island | - | - | - |
| N15 | The Northern Reef | - | - | - |
| N15 | The Asylum | - | - | - |
| N15 | No One Saw What Happened Here | Covenris Refuge | 00.00 | 00.00 |
| N15 | Give No Quarter! | Beaconcouche Island | 77.82 | -90.69 |
| N15 | Freezin' Knees | Chison Cay | 81.57 | -91.53 |
| N15 | Forest of Frost | Beaconcouche Island | 77.14 | -90.41 |
| N15 | Covenris Refuge | - | - | - |
| N15 | Chison Cay | - | - | - |
| N15 | Beaconcouche Island | - | - | - |
| N15 | Banshee's Breath | Chison Cay | 81.93 | -91.49 |
O1
| Grid | Name | Island | Longitude | Latitude |
| --- | --- | --- | --- | --- |
| O1 | **The Frosty Slopes | Votvons Island | 95.36 | 91.84 |
| O1 | Fletcher's Revenge | Osoleche Refuge | 97.29 | 94.74 |
| O1 | **Hidden Mirror | The Mirrored Isle | 91.58 | 91.13 |
| O1 | The Pillaging Pearl | The Mirrored Isle | 91.20 | 91.70 |
| O1 | The Ice Trolls Bridge | The Mirrored Isle | 91.19 | 91.65 |
O2
| Grid | Name | Island | Longitude | Latitude |
| --- | --- | --- | --- | --- |
| O2 | Pete's Pillar | Clifbour Skerry | 95.83 | 82.95 |
| O2 | Mermaid Sung | Clifbour Skerry | 96.52 | 82.13 |
| O2 | Where Annabell Jumped | Ganaquet Isles | 00.00 | 00.00 |
| O2 | Hogon | Gamham Isles | 91.13 | 81.73 |
| O2 | Wishing Pool | Gamham Isles | 90.83 | 82.28 |
| O2 | The Icy Flats | Gamham Isles | 90.97 | 82.77 |
| O2 | Narrow Chasm | ??? | 00.00 | 00.00 |
| O2 | Gamham Isles | - | - | - |
| O2 | The Shimmering Skerry | - | - | - |
| O2 | The Wild Range | Ganaquet Isles | 00.00 | 00.00 |
| O2 | Tandy's Patch of Dirt | Clifbour Skerry | 00.00 | 00.00 |
| O2 | Ganaquet Isles | - | - | - |
| O2 | Clifbour Skerry | - | - | - |
| O2 | Captain Balder's Headstone | Clifbour Skerry | 00.00 | 00.00 |
O3
| Grid | Name | Island | Longitude | Latitude |
| --- | --- | --- | --- | --- |
| O3 | The Lonely Edge | Bolmond Island | 00.00 | 00.00 |
| O3 | Middlesnola Reef | - | - | - |
| O3 | A Deadly Pool | Ropond Chain | 91.39 | 69.77 |
| O3 | Crystal Deep | Fairboia Island | 94.87 | 66.60 |
| O3 | Wayland's Pass | Fairboia Island | 00.00 | 00.00 |
| O3 | Thiever's Bay | Fairboia Island | 00.00 | 00.00 |
| O3 | Ropond Chain | - | - | - |
| O3 | One Big Hunk of Junk | Ropond Chain | 00.00 | 00.00 |
| O3 | For Your Lucky Coins | Bolmond Island | 00.00 | 00.00 |
| O3 | Fairboia Island | - | - | - |
| O3 | Bolmond Island | - | - | - |
| O3 | Crescent Oasis | Bolmond Island | 98 | 69 |
| O3 | The Enlightened Farmer | Bolmond Island | 98.96 | 69.73 |
O4
O5
| Grid | Name | Island | Longitude | Latitude |
| --- | --- | --- | --- | --- |
| O5 | Scorpion's Tail | Kearhampton Island | 94.32 | 38.47 |
| O5 | Razer Ridge | Livernia Chain | 92.29 | 41.23 |
| O5 | Oolag's Trumpet | Leowaki Skerry | 90.83 | 36.96 |
| O5 | Livernia Chain | - | - | - |
| O5 | Leowaki Skerry | - | - | - |
| O5 | Kearhampton Island | - | - | - |
| O5 | Parliers Atoll | - | - | - |
| O5 | Senneraine Refuge | - | - | - |
O6
| Grid | Name | Island | Longitude | Latitude |
| --- | --- | --- | --- | --- |
| O6 | Monkmar Holm | - | - | - |
| O6 | Kirkney Ait | - | - | - |
| O6 | Ponoto Island | - | - | - |
| O6 | Montmeda Island | - | - | - |
| O6 | Malsea Atoll | - | - | - |
| O6 | Bubbling Brook | Kirkney Ait | 96.39 | 23.72 |
| O6 | The Tower Of Stegaell | - | 00.00 | 00.00 |
| O6 | The One Path to Take | Montmeda Island | 90.64 | 24.22 |
| O6 | Field of Dawn Flowers | Ponoto Island | 97.20 | 27.07 |
| O6 | Crushed by the Gods | Malsea Atoll | 93.30 | 29.87 |
| O6 | A Waterfall of Firewater | Montmeda Island | 90.75 | 22.69 |
| O6 | A Mysterious Cave | Montmeda Island | 90.09 | 23.32 |
| O6 | A Beautiful Place | Montmeda Island | 90.40 | 23.61 |
| O6 | Island's Treasure | Monkmar Holm | 89.70 | 27.98 |
O7
| Grid | Name | Island | Longitude | Latitude |
| --- | --- | --- | --- | --- |
| O7 | Warriors Battle Cry | Vonwin Island | 00.00 | 00.00 |
| O7 | Vonwin Island | - | - | - |
| O7 | They Left in a Hurry! | Vonwin Island | 00.00 | 00.00 |
| O7 | The White Stone of Power | Vonwin Island | 00.00 | 00.00 |
| O7 | The Wall is Breached! | Vonwin Island | 00.00 | 00.00 |
| O7 | The Main Palace | Vonwin Island | 00.00 | 00.00 |
| O7 | The Great and Angry Warrior | Vonwin Island | 00.00 | 00.00 |
| O7 | Little Warrior Full of Fear | Vonwin Island | 00.00 | 00.00 |
| O7 | A Mighty Giant Turned to Stone | Vonwin Island | 95.27 | 14.85 |
| O7 | Maetrine Stronghold | Trench | 00.00 | 00.00 |
| O7 | Clarechester Wall | Trench | 91.10 | 11.49 |
| O7 | The Sixiht Flamelands | Trench | 90.78 | 12.76 |
| O7 | Oceanspire | Trench | 90.90 | 12.36 |
| O7 | Gravenmouth Gulch | Trench | 00.00 | 00.00 |
| O7 | Haverpar Expanse | Trench | 92.31 | 11.98 |
| O7 | Heartrune Retreat | Trench | 00.00 | 00.00 |
| O7 | Mireworth Hold | Trench | 00.00 | 00.00 |
| O7 | Shadow Bluff Pillar | Trench | 00.00 | 00.00 |
| O7 | The White Essence of Power | Trench | 90.85 | 11.93 |
O8
O9
O10
O11
O12
O13
O14
| Grid | Name | Island | Longitude | Latitude |
| --- | --- | --- | --- | --- |
| O14 | The Sacred Pass | Innissomin Isle | 00.00 | 00.00 |
| O14 | The Mirror Pool | Innissomin Isle | 00.00 | 00.00 |
| O14 | The False Lighthouse | Innissomin Isle | 00.00 | 00.00 |
| O14 | Something Went Wrong Here | Innissomin Isle | 00.00 | 00.00 |
| O14 | Parley Pass | Innissomin Isle | 93.07 | -80.71 |
| O14 | Old Man's Nose | Innissomin Isle | 00.00 | 00.00 |
| O14 | Lanky Light Tower | Innissomin Isle | 00.00 | 00.00 |
| O14 | Innissomin Isle | - | - | - |
| O14 | Gorgon's Mirror | Innissomin Isle | 94.39 | -80.45 |
| O14 | A Precarious Archway | Innissomin Isle | 00.00 | 00.00 |
| O14 | Cauldenvale | - | - | - |
| O14 | Ratgown's Way | - | - | - |
| O14 | The Frozen Shores | - | - | - |
| O14 | The Trial | Ill Tempered Coasts | 00.00 | 00.00 |
| O14 | The Slip | Ill Tempered Coasts | 00.00 | 00.00 |
| O14 | Salted Pool | Ill Tempered Coasts | 00.00 | 00.00 |
| O14 | Ancient Observatory | Ill Tempered Coasts | 00.00 | 00.00 |
| O14 | Glass Waters | Ill Tempered Coasts | 00.00 | 00.00 |
| O14 | Ill Tempered Coasts | - | - | - |
| O14 | Arvendon Hold | Trench | 00.00 | 00.00 |
| O14 | The Tempest Gulch | Trench | 00.00 | 00.00 |
| O14 | The Tower Of Upahagan | Trench | 00.00 | 00.00 |
| O14 | Kindled Spirit | Trench | 00.00 | 00.00 |
| O14 | Town Mythside | Trench | 00.00 | 00.00 |
| O14 | The Whispering Bluff | Trench | 00.00 | 00.00 |
| O14 | The Rushing Deep | Trench | 00.00 | 00.00 |
| O14 | Dire Base | Trench | 00.00 | 00.00 |
| O14 | Dewmire Citadel | Trench | 00.00 | 00.00 |
| O14 | Purity Spire | Trench | 00.00 | 00.00 |
O15
Overview
| name | Map | grid_x | grid_y | latitude | longitude |
| --- | --- | --- | --- | --- | --- |
| The Midnight Hauler | A1 | 0 | 0 | 389333.3 | 375111.1 |
| The Hopeless Reef | A1 | 0 | 0 | 536296.3 | 1011557.44 |
| The Haunted Islet | A1 | 0 | 0 | 700000 | 700000 |
| The Dread Wind | A1 | 0 | 0 | 700000 | 700000 |
| Shefcola Island | A1 | 0 | 0 | 700000 | 700000 |
| Digshaw Atoll | A1 | 0 | 0 | 700000 | 700000 |
| Croyterel Refuge | A1 | 0 | 0 | 700000 | 700000 |
| Barricade of Ice | A1 | 0 | 0 | 700000 | 700000 |
| All the Mistakes Were Made! | A1 | 0 | 0 | 700000 | 700000 |
| The Tally-Ho | A1 | 0 | 0 | 700000 | 700000 |
| The Heart of Oak | A1 | 0 | 0 | 700000 | 700000 |
| The Dirty Pearl | A1 | 0 | 0 | 700000 | 700000 |
| The Mermaid's Sun | A1 | 0 | 0 | 700000 | 700000 |
| The Dragon's Claw | A1 | 0 | 0 | 700000 | 700000 |
| The Wicked Wench | A1 | 0 | 0 | 700000 | 700000 |
| The Greedy Gold | A1 | 0 | 0 | 700000 | 700000 |
| The Bloody Tide | A1 | 0 | 0 | 700000 | 700000 |
| The Emerald | A1 | 0 | 0 | 700000 | 700000 |
| The Golden Cutlass | A1 | 0 | 0 | 700000 | 700000 |
| Too Small For These Waters | A1 | 0 | 0 | 700000 | 700000 |
| The Plundering Serpent | A1 | 0 | 0 | 700000 | 700000 |
| The Champion Dog | A1 | 0 | 0 | 940444.4 | 606222.4 |
| The Seasong | A1 | 0 | 0 | 1114667 | 1172148 |
| An Ancient Stairway | A1 | 0 | 0 | 1178074 | 278518.5 |
| The Stone Bridge | A2 | 0 | 1 | 2100000 | 9100000 |
| The Red Enclave | A2 | 0 | 1 | 2100000 | 9100000 |
| The Isolated Island | A2 | 0 | 1 | 2100000 | 9100000 |
| Teeth of the Wolf | A2 | 0 | 1 | 2100000 | 9100000 |
| Marauders Beach | A2 | 0 | 1 | 2100000 | 9100000 |
| Eye of the Wolf | A2 | 0 | 1 | 2100000 | 10500000 |
| Biting Wolf Island | A2 | 0 | 1 | 2342667 | 8886667 |
| Troheller Key | A3 | 0 | 2 | 3500000 | 700000 |
| The Rough Ait | A3 | 0 | 2 | 3500000 | 700000 |
| The Barracude Refuge | A3 | 0 | 2 | 3500000 | 700000 |
| Stone Tears | A3 | 0 | 2 | 3500000 | 700000 |
| Now This is The Spot | A3 | 0 | 2 | 3500000 | 700000 |
| An Opening in the Glade | A3 | 0 | 2 | 3500000 | 700000 |
| A Good Way to Sneak | A3 | 0 | 2 | 3500000 | 2100000 |
| Wintry Skerry | A4 | 0 | 3 | 3017334 | 19713340 |
| Uptown Well | A4 | 0 | 3 | 3178001 | 20236000 |
| The Siren Inn | A4 | 0 | 3 | 3500000 | 20300000 |
| The Onion Mill | A4 | 0 | 3 | 3500000 | 20300000 |
| The Hawking Tower | A4 | 0 | 3 | 3500000 | 20300000 |
| The Harbor | A4 | 0 | 3 | 3500000 | 20300000 |
| The Fishery | A4 | 0 | 3 | 3554001 | 19952000 |
| Stockfait Key | A4 | 0 | 3 | 3590001 | 20696000 |
| Sour Ale Tavern and Inn | A4 | 0 | 3 | 3880001 | 20318000 |
| Seashell Reef | A4 | 0 | 3 | 4511407 | 228148.1 |
| Penwood Island | A4 | 0 | 3 | 4539260 | 1073778 |
| Pauler's Tollway | A4 | 0 | 3 | 4731852 | 496592.6 |
| Outway Inn and Keep | A4 | 0 | 3 | 4900000 | 700000 |
| Hustler's Pier | A4 | 0 | 3 | 4900000 | 700000 |
| Auntie's Strawberry Patch | A4 | 0 | 3 | 4900000 | 700000 |
| Aleville | A4 | 0 | 3 | 4900000 | 700000 |
| Alevill Falls | A4 | 0 | 3 | 4900000 | 700000 |
| A Tiny Forest | A4 | 0 | 3 | 4900000 | 700000 |
| A Dried Up Well | A4 | 0 | 3 | 5098667 | 891259.2 |
| A Bridge over Troubled Waters | A4 | 0 | 3 | 5293037 | 300444.4 |
| Thieve's Alcove | A5 | 0 | 4 | 4616001 | 20288000 |
| The Shadowed Reef | A5 | 0 | 4 | 4900000 | 20300000 |
| The Old Fort Courtyard | A5 | 0 | 4 | 4900000 | 20300000 |
| The Bursting Atoll | A5 | 0 | 4 | 4900000 | 20300000 |
| Millercona Chain | A5 | 0 | 4 | 4910001 | 20798000 |
| Light In The Hand | A5 | 0 | 4 | 5080001 | 20712000 |
| Eagle's Dive | A5 | 0 | 4 | 5152001 | 20312000 |
| A Tiny Dock | A5 | 0 | 4 | 5272001 | 19838000 |
| Washers Pass | A7 | 0 | 6 | 8811851 | 2001185 |
| The Silver Isles | A7 | 0 | 6 | 9100000 | 2100000 |
| The Maroon Enclave | A7 | 0 | 6 | 9100000 | 2100000 |
| The Desolate Cay | A7 | 0 | 6 | 9100000 | 2100000 |
| Madman's Plunge | A7 | 0 | 6 | 9100000 | 3500000 |
| Davelsonee Atoll | A7 | 0 | 6 | 9352888 | 2394667 |
| Tiverfail Archipelago | A8 | 0 | 7 | 10430670 | 3282667 |
| Laniston Chain | A8 | 0 | 7 | 10500000 | 2100000 |
| JerJer HuHaHa Monolith | A8 | 0 | 7 | 10500000 | 3500000 |
| Hudrood Holm | A8 | 0 | 7 | 10500000 | 3500000 |
| Fort Fontaine | A8 | 0 | 7 | 10648000 | 3462667 |
| Dangerous Shallows | A8 | 0 | 7 | 10770670 | 3704001 |
| The Trail Carved by Tears | A9 | 0 | 8 | 10150000 | 20678000 |
| The Perfect Place for Treasure | A9 | 0 | 8 | 10318000 | 20138000 |
| The New Atoll | A9 | 0 | 8 | 10936000 | 19956000 |
| The Mage's Circle | A9 | 0 | 8 | 11374810 | 283851.8 |
| Robrial Isles | A9 | 0 | 8 | 11900000 | 700000 |
| Poacher's Doom | A9 | 0 | 8 | 11900000 | 700000 |
| Lockethon Isle | A9 | 0 | 8 | 11900000 | 700000 |
| Hangman's Hollow | A9 | 0 | 8 | 11987560 | 679111.1 |
| Gate of the Damned | A9 | 0 | 8 | 12098960 | 395259.3 |
| Chamgonie Isles | A9 | 0 | 8 | 12387560 | 1139556 |
| The Risen Forest | A11 | 0 | 10 | 14445340 | 7406668 |
| The Old Courtyard | A11 | 0 | 10 | 14700000 | 6300000 |
| The New Atoll | A11 | 0 | 10 | 14700000 | 6300000 |
| The Cutlass Crab | A11 | 0 | 10 | 14700000 | 6300000 |
| Scallywag's Cove | A11 | 0 | 10 | 14700000 | 6300000 |
| Mighty Captain Benjamin | A11 | 0 | 10 | 14700000 | 7700000 |
| Luseden Archipelago | A11 | 0 | 10 | 14700000 | 7700000 |
| Hawk's Abode | A11 | 0 | 10 | 14700000 | 7700000 |
| Fallcaster Isles | A11 | 0 | 10 | 14700000 | 7700000 |
| Bloomslis | A11 | 0 | 10 | 14813340 | 6577335 |
| A Modest Dock | A11 | 0 | 10 | 15001340 | 7756001 |
| Xander's Inn | A12 | 0 | 11 | 15798220 | 3270223 |
| The Village of Hambolton | A12 | 0 | 11 | 15919400 | 2348444 |
| The Red Sand Inn | A12 | 0 | 11 | 15938670 | 4695112 |
| The Old Bridge | A12 | 0 | 11 | 16100000 | 2100000 |
| The Franklin Tollway | A12 | 0 | 11 | 16100000 | 2100000 |
| Samuel's Shoe Shop | A12 | 0 | 11 | 16100000 | 2100000 |
| Makeshift Pier | A12 | 0 | 11 | 16100000 | 3500000 |
| Lucy's Berry Garden | A12 | 0 | 11 | 16100000 | 3500000 |
| Hodge's Onion Farm | A12 | 0 | 11 | 16100000 | 3500000 |
| Hightown's Tower | A12 | 0 | 11 | 16100000 | 4900000 |
| Hightown's Mill | A12 | 0 | 11 | 16100000 | 4900000 |
| Hambolton Harbor | A12 | 0 | 11 | 16100000 | 4900000 |
| Gorgon's State | A12 | 0 | 11 | 16125630 | 1812741 |
| Cresney Cay | A12 | 0 | 11 | 16152000 | 3390223 |
| Bountiful BackSide Inn | A12 | 0 | 11 | 16290670 | 3743112 |
| Barley's Watch Tower | A12 | 0 | 11 | 16366220 | 4796445 |
| Albernoque Skerry | A12 | 0 | 11 | 16523850 | 2199111 |
| Trapper's Pass | A13 | 0 | 12 | 17223110 | 5017779 |
| This Way to Freedom | A13 | 0 | 12 | 17500000 | 4900000 |
| The Shadowy Key | A13 | 0 | 12 | 17500000 | 4900000 |
| The Rippling Haven | A13 | 0 | 12 | 17500000 | 4900000 |
| The Barracuda Reef | A13 | 0 | 12 | 17500000 | 4900000 |
| Our Favourite Place | A13 | 0 | 12 | 17500000 | 4900000 |
| Mermaid's Rock | A13 | 0 | 12 | 17698670 | 4809779 |
| Pachampton Island | A14 | 0 | 13 | 18900000 | 700000 |
| Chibouwe Ait | A14 | 0 | 13 | 19069630 | 1031111 |
| Versack Island | A15 | 0 | 14 | 18600000 | 15084000 |
| The Westerly Chain | A15 | 0 | 14 | 18706000 | 15782000 |
| The Sterling Skerry | A15 | 0 | 14 | 18900000 | 14700000 |
| Racier Refuge | A15 | 0 | 14 | 18900000 | 14700000 |
| Northquest Island | A15 | 0 | 14 | 18900000 | 16100000 |
| Hydr's Claw | A15 | 0 | 14 | 18900000 | 16100000 |
| Here is Where it All Happened | A15 | 0 | 14 | 18900000 | 16100000 |
| Hatlants Haven | A15 | 0 | 14 | 18900000 | 16100000 |
| Fletcher's Trail | A15 | 0 | 14 | 18988000 | 16252000 |
| Creston Island | A15 | 0 | 14 | 19024000 | 14705340 |
| An Icy Passage | A15 | 0 | 14 | 19126670 | 14489340 |
| An Icy Explosion | A15 | 0 | 14 | 19194000 | 15946000 |
| Yeti's Chasm | B1 | 1 | 0 | 448000.1 | 3464000 |
| Thin Ice | B1 | 1 | 0 | 549333.4 | 1952000 |
| Sennewich Enclave | B1 | 1 | 0 | 642666.8 | 5232001 |
| Rossby Ait | B1 | 1 | 0 | 700000 | 2100000 |
| Parabraiand Island | B1 | 1 | 0 | 700000 | 2100000 |
| Grensby Ait | B1 | 1 | 0 | 700000 | 2100000 |
| The Red Ghost | B1 | 1 | 0 | 700000 | 3500000 |
| The Howling Damned | B1 | 1 | 0 | 700000 | 3500000 |
| The Devil's Jewel | B1 | 1 | 0 | 700000 | 3500000 |
| The Grand | B1 | 1 | 0 | 700000 | 3500000 |
| The Black Wave | B1 | 1 | 0 | 700000 | 4900000 |
| The Blasted Rose | B1 | 1 | 0 | 700000 | 4900000 |
| The Devil's Saber | B1 | 1 | 0 | 700000 | 4900000 |
| The Bearded Fear | B1 | 1 | 0 | 700000 | 4900000 |
| The Drunken Privateer | B1 | 1 | 0 | 700000 | 4900000 |
| The Night Eel | B1 | 1 | 0 | 700000 | 4900000 |
| The Great Bear | B1 | 1 | 0 | 788000.1 | 3182667 |
| The Speedy Delight | B1 | 1 | 0 | 900050.1 | 3669333 |
| The Abandoned | B1 | 1 | 0 | 921481.4 | 2215704 |
| Made By Ancient Hands | B1 | 1 | 0 | 1167408 | 2083556 |
| Only One Way up | B1 | 1 | 0 | 1227260 | 2032000 |
| The Pale Stone | B2 | 1 | 1 | 1812000 | 10134670 |
| Campmer Holm | B2 | 1 | 1 | 1893334 | 10768000 |
| Boothliers Ait | B2 | 1 | 1 | 2100000 | 10500000 |
| Bald Hills | B2 | 1 | 1 | 2100000 | 10500000 |
| A Rise of Pines | B2 | 1 | 1 | 2385334 | 10172000 |
| The Totem of Failure | B3 | 1 | 2 | 3287111 | 1981630 |
| Tecumtawa Atoll | B3 | 1 | 2 | 3366667 | 3660000 |
| One Big Rock | B3 | 1 | 2 | 3500000 | 2100000 |
| Maybe Treasure is Buried here? | B3 | 1 | 2 | 3500000 | 2100000 |
| Forward to Safety | B3 | 1 | 2 | 3500000 | 3500000 |
| Bloomworth Ait | B3 | 1 | 2 | 3603555 | 2203259 |
| Allerdon Islet | B3 | 1 | 2 | 3710815 | 1828741 |
| Tuff Ole Maggie's Cottage | B4 | 1 | 3 | 4900000 | 700000 |
| Rock Elemental Territory | B4 | 1 | 3 | 4900000 | 700000 |
| Parawich Peninsula | B4 | 1 | 3 | 4900000 | 700000 |
| Malarwood Chain | B4 | 1 | 3 | 4900000 | 700000 |
| Heartbreak Ridge | B4 | 1 | 3 | 4900000 | 700000 |
| Deldes Isle | B4 | 1 | 3 | 4900000 | 700000 |
| A Remnant of Forest | B4 | 1 | 3 | 4900000 | 700000 |
| A Matter of Perspective | B4 | 1 | 3 | 4900000 | 700000 |
| The Keyhole to Paradise | B5 | 1 | 4 | 4548001 | 19808000 |
| The Great Horn | B5 | 1 | 4 | 4900000 | 20300000 |
| Terrennear Refuge | B5 | 1 | 4 | 5890370 | 1145482 |
| Shauquet Haven | B5 | 1 | 4 | 6170075 | 327703.7 |
| Gorgon's Nest | B5 | 1 | 4 | 6300000 | 700000 |
| Eatoswell Island | B5 | 1 | 4 | 6300000 | 700000 |
| Carnpawa Island | B5 | 1 | 4 | 6573037 | 738962.9 |
| A Lonely Well | B5 | 1 | 4 | 6707556 | 223407.4 |
| A Corner for your Enemies | B5 | 1 | 4 | 6784593 | 1207704 |
| The Secret Garden | B6 | 1 | 5 | 7548444 | 2299852 |
| The Anchor that Failed | B6 | 1 | 5 | 7700000 | 2100000 |
| Pool of the Goddess of Dawn | B6 | 1 | 5 | 7700000 | 2100000 |
| Pirate's Chapel | B6 | 1 | 5 | 7700000 | 2100000 |
| Nicoterre Island | B6 | 1 | 5 | 7700000 | 2100000 |
| Giant's Cup | B6 | 1 | 5 | 7700000 | 3500000 |
| Francaster Cay | B6 | 1 | 5 | 7700000 | 3500000 |
| Farlie's Pass | B6 | 1 | 5 | 7700000 | 3500000 |
| Comgue Peninsula | B6 | 1 | 5 | 7717334 | 3521334 |
| Blaincier Island | B6 | 1 | 5 | 8000592 | 2073481 |
| Trito Enclave | B7 | 1 | 6 | 8832002 | 4569334 |
| Tragic Tides | B7 | 1 | 6 | 9100000 | 3500000 |
| The Spring Skerry | B7 | 1 | 6 | 9100000 | 3500000 |
| Tears of the Lost | B7 | 1 | 6 | 9100000 | 3500000 |
| Merdock's Alcove | B7 | 1 | 6 | 9100000 | 3500000 |
| Great Arch | B7 | 1 | 6 | 9100000 | 3500000 |
| Brimingcona Haven | B7 | 1 | 6 | 9100000 | 3500000 |
| Beast Foot | B7 | 1 | 6 | 9100000 | 4900000 |
| Ashleighen Pool | B7 | 1 | 6 | 9106668 | 3482667 |
| Unknown Statue | B8 | 1 | 7 | 10228000 | 3138667 |
| Sandy Shack | B8 | 1 | 7 | 10500000 | 3500000 |
| Kahissbahs Monument | B8 | 1 | 7 | 10500000 | 3500000 |
| Herminoque Archipelago | B8 | 1 | 7 | 10500000 | 3500000 |
| Hermicord Island | B8 | 1 | 7 | 10500000 | 3500000 |
| Farnterre Enclave | B8 | 1 | 7 | 10834670 | 3969334 |
| Why Did We Let Him Sail? | B9 | 1 | 8 | 11419260 | 899555.5 |
| The raging Atoll | B9 | 1 | 8 | 11699550 | 1726815 |
| The Map Said This Way | B9 | 1 | 8 | 11898670 | 1038815 |
| Readwich Peninsula | B9 | 1 | 8 | 11900000 | 2100000 |
| Paradise Pool | B9 | 1 | 8 | 11900000 | 2100000 |
| Grand Archway | B9 | 1 | 8 | 11900000 | 2100000 |
| Foot of a Beast | B9 | 1 | 8 | 11900000 | 2100000 |
| Farlie's Shortcut | B9 | 1 | 8 | 11913480 | 2464000 |
| Attleburg Reef | B9 | 1 | 8 | 12215110 | 1910518 |
| The Shrimp Enclave | B10 | 1 | 9 | 12961340 | 3488001 |
| The Giant Holm | B10 | 1 | 9 | 13140740 | 1670518 |
| The Dark Jungle | B10 | 1 | 9 | 13300000 | 700000 |
| Surrounded by Beauty | B10 | 1 | 9 | 13300000 | 2100000 |
| Sunset Theater | B10 | 1 | 9 | 13300000 | 2100000 |
| Oxsend Island | B10 | 1 | 9 | 13300000 | 3500000 |
| Ogegami Island | B10 | 1 | 9 | 13300000 | 3500000 |
| Leaminggus Skerry | B10 | 1 | 9 | 13300000 | 3500000 |
| Kidney Pond | B10 | 1 | 9 | 13337480 | 2025481 |
| Gaping Mouth | B10 | 1 | 9 | 13364000 | 3876001 |
| Dawn Pools | B10 | 1 | 9 | 13502810 | 2478815 |
| Cutlas Land | B10 | 1 | 9 | 13570670 | 3025334 |
| Triholm Chain | B11 | 1 | 10 | 14330670 | 8830668 |
| Trap Them Here! | B11 | 1 | 10 | 14356000 | 9422668 |
| The Scared Wood | B11 | 1 | 10 | 14600000 | 8996001 |
| The Dreary Skerry | B11 | 1 | 10 | 14700000 | 7700000 |
| The Cottage Inn | B11 | 1 | 10 | 14700000 | 7700000 |
| Long Forgotten and Dried Up | B11 | 1 | 10 | 14700000 | 7700000 |
| Illusion Beyond | B11 | 1 | 10 | 14700000 | 9100000 |
| Glasstone Island | B11 | 1 | 10 | 14700000 | 9100000 |
| Don't Get Lost Here | B11 | 1 | 10 | 14700000 | 9100000 |
| Croyberry Island | B11 | 1 | 10 | 14788000 | 7440001 |
| A Mighty Horn | B11 | 1 | 10 | 14921340 | 9116002 |
| The Collapsing Holm | B12 | 1 | 11 | 16045340 | 7449335 |
| The Cheerless Island | B12 | 1 | 11 | 16100000 | 4900000 |
| Seadog Hill | B12 | 1 | 11 | 16100000 | 4900000 |
| Rumrunner's Hideout | B12 | 1 | 11 | 16100000 | 7700000 |
| Rockholm Island | B12 | 1 | 11 | 16100000 | 7700000 |
| Refuge of Seadogs | B12 | 1 | 11 | 16100000 | 7700000 |
| Landlubber's Cove | B12 | 1 | 11 | 16106670 | 5204002 |
| Haven of No Tales | B12 | 1 | 11 | 16366670 | 7841335 |
| Zara's Spot | B13 | 1 | 12 | 17318670 | 5974668 |
| Ode to the Kraken | B13 | 1 | 12 | 17328000 | 6534668 |
| Food for Thought | B13 | 1 | 12 | 17500000 | 6300000 |
| Cavern of Auras | B13 | 1 | 12 | 17500000 | 6300000 |
| Bloomfail Chain | B13 | 1 | 12 | 17500000 | 6300000 |
| Bienstable Reef | B13 | 1 | 12 | 17852000 | 6184001 |
| Hancoln Island | B14 | 1 | 13 | 18900000 | 700000 |
| Grandmeda Reef | B14 | 1 | 13 | 18900000 | 2100000 |
| Fairher Cay | B14 | 1 | 13 | 18900000 | 2100000 |
| The Jezebel | B15 | 1 | 14 | 18726000 | 19110000 |
| Pasland Island | B15 | 1 | 14 | 18816000 | 17724000 |
| Hinwood Island | B15 | 1 | 14 | 18900000 | 17500000 |
| Hilboia Reef | B15 | 1 | 14 | 18900000 | 17500000 |
| Glenminster Holm | B15 | 1 | 14 | 18900000 | 18900000 |
| Bordgar Cay | B15 | 1 | 14 | 19094000 | 18608000 |
| A Cold and Usless Place | B15 | 1 | 14 | 19218000 | 17478000 |
| The Pass of No Return | C1 | 2 | 0 | 320000 | 9169334 |
| The Ice Palace | C1 | 2 | 0 | 468000.1 | 6046668 |
| Playnia Holm | C1 | 2 | 0 | 540000.1 | 4712000 |
| Kensinghill Enclave | C1 | 2 | 0 | 682666.8 | 6562668 |
| Hebjour Reef | C1 | 2 | 0 | 700000 | 4900000 |
| Grave of the Davenport | C1 | 2 | 0 | 700000 | 4900000 |
| Effinglam Peninsula | C1 | 2 | 0 | 700000 | 4900000 |
| Bexbalt Reef | C1 | 2 | 0 | 700000 | 4900000 |
| Alafil Atoll | C1 | 2 | 0 | 700000 | 4900000 |
| A Wreck Among Many | C1 | 2 | 0 | 700000 | 4900000 |
| A Frozen Lake | C1 | 2 | 0 | 700000 | 4900000 |
| A Field of Golden Life | C1 | 2 | 0 | 700000 | 4900000 |
| The Penguin Hovel | C1 | 2 | 0 | 700000 | 4900000 |
| The Dauntless | C1 | 2 | 0 | 700000 | 4900000 |
| The Jiggling Jolly | C1 | 2 | 0 | 700000 | 6300000 |
| The Little Bell | C1 | 2 | 0 | 700000 | 6300000 |
| When Cold and Water Meet | C1 | 2 | 0 | 700000 | 6300000 |
| The Medusa | C1 | 2 | 0 | 700000 | 6300000 |
| The Sea Lust | C1 | 2 | 0 | 700000 | 6300000 |
| The Rising North | C1 | 2 | 0 | 700000 | 9100000 |
| The Sea Flower | C1 | 2 | 0 | 700000 | 9100000 |
| The Siren's Servant | C1 | 2 | 0 | 746666.8 | 5112002 |
| The Hell-born Princess | C1 | 2 | 0 | 749333.4 | 8605334 |
| The Little King | C1 | 2 | 0 | 773333.4 | 9446668 |
| The Flying Betty | C1 | 2 | 0 | 1054667 | 4964001 |
| The Icy Stairway | C1 | 2 | 0 | 1077334 | 6248001 |
| Where the People of Old Walked | C1 | 2 | 0 | 1082667 | 8829334 |
| The Proving Pool | C2 | 2 | 1 | 2100000 | 11900000 |
| Statue of Cold Hope | C2 | 2 | 1 | 2100000 | 11900000 |
| Somerhill Refuge | C2 | 2 | 1 | 2100000 | 11900000 |
| Horse Head Island | C2 | 2 | 1 | 2100000 | 11900000 |
| Hillburns Archipelago | C2 | 2 | 1 | 2221334 | 11557340 |
| Chanwater Island | C2 | 2 | 1 | 2485334 | 12140000 |
| Willy's Hill | C3 | 2 | 2 | 3500000 | 3500000 |
| Salismar Cay | C3 | 2 | 2 | 3500000 | 3500000 |
| Pacer's Rock | C3 | 2 | 2 | 3500000 | 4900000 |
| Night Horse Island | C3 | 2 | 2 | 3650667 | 3252000 |
| Camware Isle | C3 | 2 | 2 | 3663112 | 4493334 |
| Your Last Chance | C4 | 2 | 3 | 4774667 | 3758667 |
| Turtle Island | C4 | 2 | 3 | 4776296 | 1888000 |
| The Hermit's Sanctuary | C4 | 2 | 3 | 4900000 | 700000 |
| The Colossal Atoll | C4 | 2 | 3 | 4900000 | 700000 |
| The Chilly Charlotte | C4 | 2 | 3 | 4900000 | 700000 |
| Stoughcam Haven | C4 | 2 | 3 | 4900000 | 2100000 |
| Rum Shallows | C4 | 2 | 3 | 4900000 | 2100000 |
| Pirate's Cove | C4 | 2 | 3 | 4900000 | 2100000 |
| Itugami Island | C4 | 2 | 3 | 4900000 | 3500000 |
| Draytown Key | C4 | 2 | 3 | 4900000 | 3500000 |
| Brightdurn Islands | C4 | 2 | 3 | 5002667 | 3296000 |
| A Forgotten Well | C4 | 2 | 3 | 5019851 | 2336000 |
| The High Forest | C5 | 2 | 4 | 6040296 | 823703.7 |
| Keeltawa Haven | C5 | 2 | 4 | 6300000 | 700000 |
| Gorgon's Trap | C5 | 2 | 4 | 6300000 | 700000 |
| Gorgons Haven | C5 | 2 | 4 | 6300000 | 700000 |
| Bassard Island | C5 | 2 | 4 | 6300000 | 2100000 |
| A Wishing Well | C5 | 2 | 4 | 6300000 | 2100000 |
| What Happened Here? | C6 | 2 | 5 | 7285334 | 4954667 |
| The Blue Stone of Power | C6 | 2 | 5 | 7374667 | 3164000 |
| The Abandoned Tower | C6 | 2 | 5 | 7700000 | 3500000 |
| Secret Tunnel | C6 | 2 | 5 | 7700000 | 4900000 |
| Resting Place of The Sealion | C6 | 2 | 5 | 7700000 | 4900000 |
| Giant's Last Breath | C6 | 2 | 5 | 7922668 | 4718668 |
| Flemfield Haven | C6 | 2 | 5 | 8077334 | 3933334 |
| The Pool That Kept Lucky Sam Alive | C7 | 2 | 6 | 8845334 | 6020001 |
| Seabeasts Breach | C7 | 2 | 6 | 9100000 | 4900000 |
| Rhinos Horn | C7 | 2 | 6 | 9100000 | 4900000 |
| Magriden Holm | C7 | 2 | 6 | 9100000 | 4900000 |
| Hidden Forest | C7 | 2 | 6 | 9100000 | 4900000 |
| Doland Atoll | C7 | 2 | 6 | 9100000 | 6300000 |
| Chever Archipelago | C7 | 2 | 6 | 9178668 | 4761334 |
| Blythewich Island | C7 | 2 | 6 | 9384002 | 5192001 |
| Templeter Refuge | C8 | 2 | 7 | 10238670 | 4614667 |
| Sand Hill | C8 | 2 | 7 | 10500000 | 4900000 |
| Makatuchoo Stonehead | C8 | 2 | 7 | 10500000 | 4900000 |
| Maidligan Holm | C8 | 2 | 7 | 10500000 | 4900000 |
| Kinideen Key | C8 | 2 | 7 | 10500000 | 4900000 |
| A Mahoota Monolith | C8 | 2 | 7 | 10825340 | 4589334 |
| Winderden Island | C9 | 2 | 8 | 11516000 | 5250668 |
| The Ladle of Life | C9 | 2 | 8 | 11869340 | 4528001 |
| Secret Forest | C9 | 2 | 8 | 11900000 | 4900000 |
| Rhinos Horn | C9 | 2 | 8 | 11900000 | 4900000 |
| Plaintry Enclave | C9 | 2 | 8 | 11900000 | 4900000 |
| Minnepon Island | C9 | 2 | 8 | 11900000 | 4900000 |
| Hammere Cay | C9 | 2 | 8 | 11900000 | 6300000 |
| Fountain of Hope | C9 | 2 | 8 | 12078670 | 6136001 |
| Forest of Spirits | C9 | 2 | 8 | 12294670 | 4886667 |
| Wretches Falls | C10 | 2 | 9 | 12933340 | 4338668 |
| Weeping Giant | C10 | 2 | 9 | 12992000 | 4721334 |
| The Seagrass Atoll | C10 | 2 | 9 | 13300000 | 3500000 |
| Seabeast's Breach | C10 | 2 | 9 | 13300000 | 3500000 |
| Kerrocroft Island | C10 | 2 | 9 | 13300000 | 4900000 |
| Flattop | C10 | 2 | 9 | 13300000 | 4900000 |
| Don't Get Stuck | C10 | 2 | 9 | 13300000 | 4900000 |
| Captain Alisters Mountain | C10 | 2 | 9 | 13300000 | 4900000 |
| Bonedry Island | C10 | 2 | 9 | 13458670 | 5106668 |
| Bereslet Reef | C10 | 2 | 9 | 13524000 | 4632001 |
| Trapped By Fire! | C11 | 2 | 10 | 14382670 | 10845340 |
| Emerald Grove | C11 | 2 | 10 | 14700000 | 9100000 |
| Delisborg Cay | C11 | 2 | 10 | 14700000 | 10500000 |
| Chesduff Haven | C11 | 2 | 10 | 14700000 | 10500000 |
| Bermere Peninsula | C11 | 2 | 10 | 14840000 | 10770670 |
| A Well Like Any Other | C11 | 2 | 10 | 15038670 | 10293330 |
| The Fortune Horiwon | C12 | 2 | 11 | 15812000 | 7992001 |
| Siren's Hollow | C12 | 2 | 11 | 16100000 | 7700000 |
| Onward to Paradise | C12 | 2 | 11 | 16100000 | 7700000 |
| Gaulto Reef | C12 | 2 | 11 | 16100000 | 7700000 |
| Ganarial Island | C12 | 2 | 11 | 16100000 | 9100000 |
| An Adorable Tidepool | C12 | 2 | 11 | 16100000 | 9100000 |
| The Cutlass in the Stone | C13 | 2 | 12 | 17301340 | 7492001 |
| Saufield Key | C13 | 2 | 12 | 17500000 | 6300000 |
| Lover's Plight | C13 | 2 | 12 | 17500000 | 7700000 |
| Hempen Halter Island | C13 | 2 | 12 | 17500000 | 7700000 |
| Chesterland Haven | C13 | 2 | 12 | 17500000 | 7700000 |
| Wally Enclave | C15 | 2 | 14 | 18460000 | 20658000 |
| Wall of Diamond | C15 | 2 | 14 | 18488000 | 20450000 |
| The Brilliant Isle | C15 | 2 | 14 | 18900000 | 18900000 |
| Terreboro Archipelago | C15 | 2 | 14 | 18900000 | 18900000 |
| Strafthon Island | C15 | 2 | 14 | 18900000 | 18900000 |
| Snake Eye Sands | C15 | 2 | 14 | 18900000 | 18900000 |
| Penechill Holm | C15 | 2 | 14 | 18900000 | 18900000 |
| Hydra's Crown | C15 | 2 | 14 | 18900000 | 20300000 |
| Blunderbuss Beach | C15 | 2 | 14 | 18900000 | 20300000 |
| Beavercoln Cay | C15 | 2 | 14 | 19288000 | 19742000 |
| Walfield Atoll | D1 | 3 | 0 | 349333.4 | 12297340 |
| The Perfect Place to Hunker Down | D1 | 3 | 0 | 384000.1 | 10221330 |
| The Decayed Archipelago | D1 | 3 | 0 | 478666.8 | 14964000 |
| Templebalt Islet | D1 | 3 | 0 | 700000 | 10500000 |
| Shrewtara Archipelago | D1 | 3 | 0 | 700000 | 10500000 |
| For the Ice Bore Witness | D1 | 3 | 0 | 700000 | 10500000 |
| Berthierforte Holm | D1 | 3 | 0 | 700000 | 11900000 |
| The Charger | D1 | 3 | 0 | 700000 | 11900000 |
| The Pathfinder | D1 | 3 | 0 | 700000 | 11900000 |
| A Maelstrom of Ice | D1 | 3 | 0 | 700000 | 11900000 |
| The Kraken's Spit | D1 | 3 | 0 | 700000 | 11900000 |
| A Mighty Whale Did This | D1 | 3 | 0 | 700000 | 11900000 |
| The Borealis Majesty | D1 | 3 | 0 | 700000 | 14700000 |
| The Fire Dancer | D1 | 3 | 0 | 700000 | 14700000 |
| The Good Hangman | D1 | 3 | 0 | 700000 | 14700000 |
| The Princess | D1 | 3 | 0 | 700000 | 14700000 |
| The Broken Horror | D1 | 3 | 0 | 700000 | 14700000 |
| The Foul Hangman | D1 | 3 | 0 | 712000.1 | 12070670 |
| The Gallant Charge | D1 | 3 | 0 | 717975.4 | 10808994 |
| Carved From The Ice | D1 | 3 | 0 | 737333.4 | 11402670 |
| Someone Was Here! | D1 | 3 | 0 | 936000.1 | 11756000 |
| A Lost City | D1 | 3 | 0 | 945531.063 | 10258390 |
| Yarsard Reef | D2 | 3 | 1 | 1836000 | 12068000 |
| The Stone Bridge | D2 | 3 | 1 | 2100000 | 11900000 |
| The Shadowy Isle | D2 | 3 | 1 | 2100000 | 11900000 |
| Marauder's Beach | D2 | 3 | 1 | 2205334 | 12786670 |
| Ancient Breath | D2 | 3 | 1 | 2310667 | 13684000 |
| Winterholm Atoll | D3 | 3 | 2 | 3369778 | 4854223 |
| One Sassy Wench | D3 | 3 | 2 | 3500000 | 4900000 |
| Midland Isles | D3 | 3 | 2 | 3500000 | 4900000 |
| Green Pastures | D3 | 3 | 2 | 3915556 | 4847112 |
| The Steep Reef | D4 | 3 | 3 | 4535112 | 5307260 |
| The Old Peasant's Well | D4 | 3 | 3 | 4898964 | 4568297 |
| Marauder's Cove | D4 | 3 | 3 | 4900000 | 4900000 |
| Hermisea Island | D4 | 3 | 3 | 4900000 | 4900000 |
| Gorgon's Perch | D4 | 3 | 3 | 4900000 | 4900000 |
| Arborbiens Haven | D4 | 3 | 3 | 5158520 | 4929186 |
| Whistler's Summer Home | D5 | 3 | 4 | 6112001 | 3314667 |
| Turborg Isle | D5 | 3 | 4 | 6149333 | 2273778 |
| The Elemental's Home | D5 | 3 | 4 | 6276001 | 3770667 |
| The Dancing Lady | D5 | 3 | 4 | 6300000 | 2100000 |
| Lanishaw Holm | D5 | 3 | 4 | 6300000 | 3500000 |
| Hermit's House | D5 | 3 | 4 | 6300000 | 3500000 |
| Grocona Reef | D5 | 3 | 4 | 6300000 | 3500000 |
| Butterfly Grove | D5 | 3 | 4 | 6300000 | 3500000 |
| An Oyster Pool | D5 | 3 | 4 | 6566518 | 1880889 |
| A Quaint Forest | D5 | 3 | 4 | 6566667 | 3376000 |
| Turtle's Shell | D6 | 3 | 5 | 7538668 | 6434668 |
| The Mermaid's Shallows | D6 | 3 | 5 | 7700000 | 4900000 |
| The Gloomy Reef | D6 | 3 | 5 | 7700000 | 6300000 |
| The Best Place to Hide | D6 | 3 | 5 | 7700000 | 6300000 |
| Notbron Ait | D6 | 3 | 5 | 7700000 | 6300000 |
| Nipapids Island | D6 | 3 | 5 | 7700000 | 6300000 |
| Moonlit Haven | D6 | 3 | 5 | 7700000 | 6300000 |
| Captain Pritchard's Respite | D6 | 3 | 5 | 7700000 | 6300000 |
| A Pool of Ocean Water | D6 | 3 | 5 | 7893335 | 5208001 |
| A HIdden Gem | D6 | 3 | 5 | 8058668 | 6614668 |
| Whitgar Archipelago | D7 | 3 | 6 | 9100000 | 6300000 |
| Whispering Way | D7 | 3 | 6 | 9100000 | 6300000 |
| The Seabeast | D7 | 3 | 6 | 9100000 | 6300000 |
| The Final Arch | D7 | 3 | 6 | 9100000 | 6300000 |
| Stone Ellipse | D7 | 3 | 6 | 9100000 | 6300000 |
| Stambel Key | D7 | 3 | 6 | 9100000 | 6300000 |
| Okograve Islands | D7 | 3 | 6 | 9100000 | 6300000 |
| Islands Head of Hair | D7 | 3 | 6 | 9100000 | 6300000 |
| Bracebour Atoll | D7 | 3 | 6 | 9232001 | 6246668 |
| A Natural Waterfall | D7 | 3 | 6 | 9324002 | 6680001 |
| Tranquil Island | D9 | 3 | 8 | 11694670 | 6382668 |
| Tide Pool | D9 | 3 | 8 | 11820000 | 7772001 |
| The Sea Devil | D9 | 3 | 8 | 11826670 | 7388001 |
| The Last Arch | D9 | 3 | 8 | 11900000 | 6300000 |
| Old Stone Wreath | D9 | 3 | 8 | 11900000 | 6300000 |
| Nokonan Island | D9 | 3 | 8 | 11900000 | 6300000 |
| Hushman's Pass | D9 | 3 | 8 | 11900000 | 6300000 |
| Howling Pass | D9 | 3 | 8 | 11900000 | 6300000 |
| Hinghead Island | D9 | 3 | 8 | 11900000 | 6300000 |
| Hangman's Arch | D9 | 3 | 8 | 11900000 | 7700000 |
| Bracepool Holm | D9 | 3 | 8 | 12282670 | 6593334 |
| Unstabke Island | D10 | 3 | 9 | 13016000 | 5966668 |
| The Adamantine Refuge | D10 | 3 | 9 | 13156000 | 7552001 |
| Privateer's Hideout | D10 | 3 | 9 | 13300000 | 6300000 |
| Pladosa Island | D10 | 3 | 9 | 13300000 | 6300000 |
| Mermaids Boudoir | D10 | 3 | 9 | 13300000 | 6300000 |
| Home Away From Home | D10 | 3 | 9 | 13300000 | 6300000 |
| Bredenmark Reef | D10 | 3 | 9 | 13300000 | 7700000 |
| An Upper Pool | D10 | 3 | 9 | 13300000 | 7700000 |
| Abundant in Oysters | D10 | 3 | 9 | 13300000 | 7700000 |
| A Secret Place | D10 | 3 | 9 | 13454670 | 6464001 |
| A Bit of Ocean | D10 | 3 | 9 | 13616000 | 7912001 |
| A Beautiful Place to Hide | D10 | 3 | 9 | 13617340 | 6237334 |
| Titan's Claw | D11 | 3 | 10 | 14678670 | 11998670 |
| The Risen Forest | D11 | 3 | 10 | 14700000 | 10500000 |
| Sherrood Island | D11 | 3 | 10 | 14700000 | 10500000 |
| Miltown Enclave | D11 | 3 | 10 | 14700000 | 11900000 |
| Last Words Ridge | D11 | 3 | 10 | 14700000 | 11900000 |
| Gravetown Island | D11 | 3 | 10 | 14817340 | 10124000 |
| A Shaded Refuge | D11 | 3 | 10 | 14894670 | 12113340 |
| Tower of the Dawn | D12 | 3 | 11 | 15616000 | 9130668 |
| The Turquoise Stone of Power | D12 | 3 | 11 | 15974670 | 8736002 |
| Pass of Horrors | D12 | 3 | 11 | 16100000 | 9100000 |
| Lord Ungar's Keep | D12 | 3 | 11 | 16100000 | 9100000 |
| Bigsevain Atoll | D12 | 3 | 11 | 16496000 | 9017335 |
| The Bare Enclave | D13 | 3 | 12 | 17209340 | 8036001 |
| Reef of Anchors | D13 | 3 | 12 | 17500000 | 10500000 |
| Highho Jolly Tavern | D13 | 3 | 12 | 17749340 | 10186670 |
| Dignigan Island | D13 | 3 | 12 | 17798670 | 7898668 |
| Mulmeda Island | D14 | 3 | 13 | 18736000 | 1945481 |
| Kensinggate Peninsula | D14 | 3 | 13 | 18900000 | 2100000 |
| Cottlelem Peninsula | D14 | 3 | 13 | 19065480 | 2320593 |
| The Sea Devil | D15 | 3 | 14 | 18688000 | 20018000 |
| The Cyclone Chaser | D15 | 3 | 14 | 18900000 | 20300000 |
| Readmeny Reef | D15 | 3 | 14 | 18900000 | 20300000 |
| Langisle Holm | D15 | 3 | 14 | 18900000 | 20300000 |
| Kinichester Reef | D15 | 3 | 14 | 19054000 | 20582000 |
| Kamcord Enclave | D15 | 3 | 14 | 19090000 | 20104000 |
| Jacob's Errand | D15 | 3 | 14 | 20225780 | 466994.3 |
| Enguay Refuge | D15 | 3 | 14 | 20498368 | 874666.7 |
| Buchside Holm | D15 | 3 | 14 | 20693930 | 204444.5 |
| A Horrible Plan | D15 | 3 | 14 | 20778080 | 1145482 |
| Yeti Pass | E1 | 4 | 0 | 633333.4 | 14246670 |
| Weswe Isle | E1 | 4 | 0 | 700000 | 14700000 |
| Varencam Ait | E1 | 4 | 0 | 700000 | 14700000 |
| The Jagged Atoll | E1 | 4 | 0 | 700000 | 16100000 |
| The Frozen Tortoise | E1 | 4 | 0 | 700000 | 16100000 |
| Oxhurst Cay | E1 | 4 | 0 | 700000 | 16100000 |
| Lapland | E1 | 4 | 0 | 700000 | 16100000 |
| Fool's Hill | E1 | 4 | 0 | 700000 | 16100000 |
| Deadman's Peak | E1 | 4 | 0 | 700000 | 16100000 |
| Clifmar Reef | E1 | 4 | 0 | 853333.5 | 14520000 |
| Chasm Halloway | E1 | 4 | 0 | 1056000 | 14904000 |
| Wild Horse Grove | E2 | 4 | 1 | 1733334 | 13697340 |
| Old Bill's Rock | E2 | 4 | 1 | 2100000 | 13300000 |
| Grimriden Holm | E2 | 4 | 1 | 2100000 | 13300000 |
| Dedhill Refuge | E2 | 4 | 1 | 2100000 | 13300000 |
| Burnt Hill | E2 | 4 | 1 | 2142667 | 13120000 |
| Wrentgueuil Atoll | E3 | 4 | 2 | 3500000 | 4900000 |
| Wesdwell Holm | E3 | 4 | 2 | 3500000 | 4900000 |
| The Passage Above | E3 | 4 | 2 | 3500000 | 4900000 |
| The Best Way to Go | E3 | 4 | 2 | 3500000 | 6300000 |
| Petrogar Skerry | E3 | 4 | 2 | 3572445 | 5191112 |
| A Pool for Washin | E3 | 4 | 2 | 3728001 | 4891556 |
| A Peaceful bit of Beach | E3 | 4 | 2 | 3855112 | 5010667 |
| The Seawitch | E5 | 4 | 4 | 6300000 | 6300000 |
| The Rough Reef | E5 | 4 | 4 | 6300000 | 6300000 |
| The Old Well | E5 | 4 | 4 | 6300000 | 6300000 |
| Surprise! You Found It | E5 | 4 | 4 | 6300000 | 6300000 |
| Stingray Island | E5 | 4 | 4 | 6300000 | 6300000 |
| Shallow Water | E5 | 4 | 4 | 6325334 | 6161334 |
| Hermit Hovel | E5 | 4 | 4 | 6344001 | 5880001 |
| Wide Mouth | E6 | 4 | 5 | 7469335 | 7410668 |
| Thetnora Island | E6 | 4 | 5 | 7700000 | 6300000 |
| Oxson Chain | E6 | 4 | 5 | 7700000 | 7700000 |
| Kraken's Damage | E6 | 4 | 5 | 7700000 | 7700000 |
| Greencona Cay | E6 | 4 | 5 | 7700000 | 7700000 |
| Gocook Haven | E6 | 4 | 5 | 7848001 | 7854668 |
| Crosseyed Hill | E6 | 4 | 5 | 7916001 | 6120001 |
| An Interesting Point of View | E6 | 4 | 5 | 7950668 | 7468001 |
| The Best Oyster Pool | E7 | 4 | 6 | 8897335 | 7465335 |
| Oyster Island | E7 | 4 | 6 | 9100000 | 7700000 |
| Lady's Bossom | E7 | 4 | 6 | 9100000 | 7700000 |
| Gravelcouche Skerry | E7 | 4 | 6 | 9100000 | 7700000 |
| Giant's Chalice | E7 | 4 | 6 | 9100000 | 7700000 |
| Ferhazy Haven | E7 | 4 | 6 | 9100000 | 10500000 |
| Calwin Holm | E7 | 4 | 6 | 9309334 | 10717340 |
| Bucklers Way | E7 | 4 | 6 | 9321334 | 7890668 |
| Wellingforte Island | E8 | 4 | 7 | 10468000 | 5201334 |
| Sorcerer's Warning | E8 | 4 | 7 | 10500000 | 4900000 |
| Rochgamau Island | E8 | 4 | 7 | 10500000 | 6300000 |
| Monument to Fear | E8 | 4 | 7 | 10500000 | 6300000 |
| Maroon Rock | E8 | 4 | 7 | 10500000 | 6300000 |
| Hollow Victory | E8 | 4 | 7 | 10500000 | 6300000 |
| Hannola Reef | E8 | 4 | 7 | 10860000 | 5968001 |
| Wrentcana Island | E9 | 4 | 8 | 11698670 | 8858668 |
| Wind in Her Hair | E9 | 4 | 8 | 11900000 | 7700000 |
| Noot Falls | E9 | 4 | 8 | 11900000 | 7700000 |
| Fairby Archipelago | E9 | 4 | 8 | 11900000 | 9100000 |
| Circle of the Flow Stones | E9 | 4 | 8 | 11900000 | 9100000 |
| Bucklers Pass | E9 | 4 | 8 | 12025340 | 9318668 |
| Broadstead Island | E9 | 4 | 8 | 12145340 | 8738668 |
| Blackrood Haven | E9 | 4 | 8 | 12189340 | 7484001 |
| Timber Hill | E10 | 4 | 9 | 12900000 | 10844000 |
| The Stone Eagle | E10 | 4 | 9 | 13113340 | 8904002 |
| Omars Inner Jungle | E10 | 4 | 9 | 13222670 | 10518670 |
| Hobble Horse Hill | E10 | 4 | 9 | 13300000 | 9100000 |
| Eastdon Cay | E10 | 4 | 9 | 13300000 | 9100000 |
| Claresonee Island | E10 | 4 | 9 | 13300000 | 9100000 |
| Caraly Isle | E10 | 4 | 9 | 13300000 | 10500000 |
| Boucherbel Enclave | E10 | 4 | 9 | 13513340 | 9269335 |
| A Bald Patch | E10 | 4 | 9 | 13685340 | 9097334 |
| The Ship Slide | E11 | 4 | 10 | 14409340 | 11833340 |
| The Sea Knave | E11 | 4 | 10 | 14700000 | 11900000 |
| The Sea Knave | E11 | 4 | 10 | 14700000 | 11900000 |
| The Fortune Horizon | E11 | 4 | 10 | 14700000 | 11900000 |
| The Dawn Eagle | E11 | 4 | 10 | 14700000 | 11900000 |
| The Dancing Lady | E11 | 4 | 10 | 14700000 | 11900000 |
| Krakens Bay | E11 | 4 | 10 | 14700000 | 11900000 |
| Gracestone Island | E11 | 4 | 10 | 14929340 | 11509340 |
| Captain Jimmy's Failure | E11 | 4 | 10 | 15053340 | 11442670 |
| Wretched Field | E13 | 4 | 12 | 17185340 | 10608000 |
| The Prawn Marker | E13 | 4 | 12 | 17500000 | 10500000 |
| The Big Mouth's Downfall | E13 | 4 | 12 | 17500000 | 10500000 |
| Readborough Island | E13 | 4 | 12 | 17500000 | 10500000 |
| Radmark Skerry | E13 | 4 | 12 | 17500000 | 10500000 |
| Mahostable Island | E13 | 4 | 12 | 17500000 | 13300000 |
| Jolly Roger Beach | E13 | 4 | 12 | 17602670 | 10042670 |
| Freebooter Bridge | E13 | 4 | 12 | 17856000 | 10802670 |
| The Bland Haven | E14 | 4 | 13 | 18900000 | 2100000 |
| Bayney Atoll | E14 | 4 | 13 | 19153770 | 1815704 |
| Where Nothing Grows | E15 | 4 | 14 | 19828150 | 701629.6 |
| The Eroded Haven | E15 | 4 | 14 | 19990520 | 1164444 |
| Prescola Island | E15 | 4 | 14 | 20157630 | 2339556 |
| Landlubber's Demise | E15 | 4 | 14 | 20300000 | 700000 |
| Emerald Peninsula | E15 | 4 | 14 | 20300000 | 700000 |
| Dead End | E15 | 4 | 14 | 20300000 | 2100000 |
| Colipar Peninsula | E15 | 4 | 14 | 20300000 | 2100000 |
| Bloomport Island | E15 | 4 | 14 | 20300000 | 2100000 |
| Bentisle Refuge | E15 | 4 | 14 | 20300000 | 3500000 |
| Battlena Island | E15 | 4 | 14 | 20578960 | 1881481 |
| Treasures Abound | F1 | 5 | 0 | 694666.8 | 16164000 |
| The Gloomy Isle | F1 | 5 | 0 | 700000 | 16100000 |
| Susfair Island | F1 | 5 | 0 | 700000 | 16100000 |
| Shawgan Reef | F1 | 5 | 0 | 700000 | 16100000 |
| Okoside Skerry | F1 | 5 | 0 | 700000 | 16100000 |
| Gorgon's Prison | F1 | 5 | 0 | 700000 | 16100000 |
| Fortress Hall | F1 | 5 | 0 | 700000 | 16100000 |
| Coham Peninsula | F1 | 5 | 0 | 700000 | 16100000 |
| Carignola Refuge | F1 | 5 | 0 | 700000 | 16100000 |
| Boxworth Isle | F1 | 5 | 0 | 700000 | 16100000 |
| Windsons Isle | F2 | 5 | 1 | 2100000 | 13300000 |
| Totem of Life | F2 | 5 | 1 | 2100000 | 13300000 |
| This Way to Safety | F2 | 5 | 1 | 2100000 | 13300000 |
| The Last Piece | F2 | 5 | 1 | 2100000 | 13300000 |
| The Last of the Farm | F2 | 5 | 1 | 2100000 | 14700000 |
| Hatgami Cay | F2 | 5 | 1 | 2462667 | 13020000 |
| Bosbridge Key | F2 | 5 | 1 | 2502667 | 14998670 |
| Thieves Lie in Wait | F3 | 5 | 2 | 3246667 | 6378668 |
| The Narrow Way | F3 | 5 | 2 | 3500000 | 6300000 |
| Khan-Jin's Way | F3 | 5 | 2 | 3500000 | 6300000 |
| Framingris Holm | F3 | 5 | 2 | 3500000 | 7700000 |
| Clarede Enclave | F3 | 5 | 2 | 3500000 | 7700000 |
| Barkriden Island | F3 | 5 | 2 | 3738667 | 6524001 |
| A High and Mighty Seat | F3 | 5 | 2 | 3756001 | 6042668 |
| Through The Eye | F4 | 5 | 3 | 4578667 | 5838668 |
| Mahobourg Refuge | F4 | 5 | 3 | 4664001 | 6248001 |
| Ellingsort Holm | F4 | 5 | 3 | 4900000 | 6300000 |
| Don't Stop Here! | F4 | 5 | 3 | 4900000 | 6300000 |
| Brimside Cay | F4 | 5 | 3 | 4900000 | 6300000 |
| A Beautiful Vista | F4 | 5 | 3 | 4900000 | 6300000 |
| Witbridge Haven | F5 | 5 | 4 | 6013334 | 7306668 |
| Twin Tales | F5 | 5 | 4 | 6056001 | 7946668 |
| Puthazy Enclave | F5 | 5 | 4 | 6300000 | 7700000 |
| Proteus Ruins | F5 | 5 | 4 | 6300000 | 7700000 |
| Makeout Point | F5 | 5 | 4 | 6300000 | 7700000 |
| Loose Rubble | F5 | 5 | 4 | 6300000 | 7700000 |
| Lexi Falls | F5 | 5 | 4 | 6300000 | 9100000 |
| Historical Insignificance | F5 | 5 | 4 | 6426668 | 9110668 |
| Forgotten Grotto | F5 | 5 | 4 | 6553334 | 7406668 |
| Exroy Peninsula | F5 | 5 | 4 | 6604001 | 7829335 |
| Whitebiens Holm | F6 | 5 | 5 | 7394668 | 8861334 |
| The Perfect Shelter | F6 | 5 | 5 | 7700000 | 9100000 |
| Radtois Refuge | F6 | 5 | 5 | 7700000 | 9100000 |
| Eplow Key | F6 | 5 | 5 | 7700000 | 9100000 |
| Break Point | F6 | 5 | 5 | 7836001 | 9194667 |
| A Secret Place for You | F6 | 5 | 5 | 7881335 | 8746668 |
| Wasanora Island | F7 | 5 | 6 | 8730668 | 10593340 |
| Temple of Aphrodite | F7 | 5 | 6 | 8853334 | 11785340 |
| Solemn Shade | F7 | 5 | 6 | 9073334 | 10141340 |
| Jamstino Enclave | F7 | 5 | 6 | 9100000 | 10500000 |
| Hillsjour Ait | F7 | 5 | 6 | 9100000 | 10500000 |
| Golden Plains Peak | F7 | 5 | 6 | 9100000 | 10500000 |
| The Lost Library | F8 | 5 | 7 | 10178670 | 6669335 |
| The Highest View | F8 | 5 | 7 | 10448000 | 6173334 |
| The Green Stone of Power | F8 | 5 | 7 | 10500000 | 6300000 |
| Chesterlams Island | F8 | 5 | 7 | 10500000 | 6300000 |
| Smison Archipelago | F9 | 5 | 8 | 11648000 | 10178670 |
| Remainders | F9 | 5 | 8 | 11900000 | 9100000 |
| Readlow Island | F9 | 5 | 8 | 11900000 | 9100000 |
| Leftovers | F9 | 5 | 8 | 11900000 | 10500000 |
| Ethos Ruins | F9 | 5 | 8 | 11900000 | 10500000 |
| Well Aged | F10 | 5 | 9 | 13264000 | 13006670 |
| Seadog's Pass | F10 | 5 | 9 | 13300000 | 10500000 |
| Menberry Island | F10 | 5 | 9 | 13300000 | 10500000 |
| Kinitonas Key | F10 | 5 | 9 | 13300000 | 13300000 |
| Jolly Roger's Crown | F10 | 5 | 9 | 13300000 | 13300000 |
| Eagle's Eye | F10 | 5 | 9 | 13300000 | 13300000 |
| Defiance Rock | F10 | 5 | 9 | 13300000 | 13300000 |
| Colisack Island | F10 | 5 | 9 | 13482670 | 13621340 |
| Bad History | F10 | 5 | 9 | 13580000 | 10184000 |
| Well Aged | F11 | 5 | 10 | 14389340 | 12856000 |
| Weathered Ruins | F11 | 5 | 10 | 14580000 | 13136000 |
| Unknown Temple | F11 | 5 | 10 | 14700000 | 11900000 |
| Timeless | F11 | 5 | 10 | 14700000 | 13300000 |
| The Perfect Shelter | F11 | 5 | 10 | 14700000 | 13300000 |
| Seadog's Bed | F11 | 5 | 10 | 14700000 | 13300000 |
| Portsraine Skerry | F11 | 5 | 10 | 14700000 | 13300000 |
| Englebo Reef | F11 | 5 | 10 | 14700000 | 13300000 |
| Chanhurst Island | F11 | 5 | 10 | 14869340 | 13449340 |
| The Straight and Narrow | F12 | 5 | 11 | 16100000 | 9100000 |
| Snaggletooth Pass | F12 | 5 | 11 | 16100000 | 9100000 |
| Rutliers Skerry | F12 | 5 | 11 | 16100000 | 9100000 |
| Primeval Island | F12 | 5 | 11 | 16100000 | 9100000 |
| Pokey Prawns Pass | F12 | 5 | 11 | 16100000 | 9100000 |
| Evercaster Island | F12 | 5 | 11 | 16100000 | 11900000 |
| Epdale Reef | F12 | 5 | 11 | 16100000 | 11900000 |
| Effinggate Holm | F12 | 5 | 11 | 16100000 | 11900000 |
| Crestacean Cliffs | F12 | 5 | 11 | 16100000 | 11900000 |
| Bilge Rats's Mouth | F12 | 5 | 11 | 16100000 | 11900000 |
| Bilge Rat's Island | F12 | 5 | 11 | 16354670 | 9345335 |
| The Path is Narrow | F13 | 5 | 12 | 17352000 | 13094670 |
| Landlubber's Island | F13 | 5 | 12 | 17500000 | 13300000 |
| Kavy Cones' Locker | F13 | 5 | 12 | 17500000 | 13300000 |
| Duparson Island | F13 | 5 | 12 | 17525340 | 12848000 |
| Brisnear Island | F13 | 5 | 12 | 17549340 | 13416000 |
| Hillslam Island | F14 | 5 | 13 | 18900000 | 2100000 |
| Haverduff Peninsula | F14 | 5 | 13 | 18900000 | 2100000 |
| Dolgan Refuge | F14 | 5 | 13 | 18900000 | 3500000 |
| Thin and Cracking | F15 | 5 | 14 | 20024000 | 4792890 |
| Southshall Ait | F15 | 5 | 14 | 20058670 | 3304890 |
| Monkware Chain | F15 | 5 | 14 | 20176890 | 3673778 |
| Marauder's Peak | F15 | 5 | 14 | 20300000 | 3500000 |
| Hamgough Key | F15 | 5 | 14 | 20300000 | 3500000 |
| Golden Respite | F15 | 5 | 14 | 20300000 | 3500000 |
| Fools Slope | F15 | 5 | 14 | 20300000 | 6300000 |
| Cyclops Pass | F15 | 5 | 14 | 20300000 | 6300000 |
| Chiver Skerry | F15 | 5 | 14 | 20300000 | 6300000 |
| Bloomsrey Ait | F15 | 5 | 14 | 20327110 | 5164445 |
| Barrpar Peninsula | F15 | 5 | 14 | 20478220 | 3266668 |
| A Crack in Time | F15 | 5 | 14 | 20552000 | 4797334 |
| Wakemeda Islet | G1 | 6 | 0 | 378666.7 | 17310670 |
| Montview Archipelago | G1 | 6 | 0 | 548000.1 | 15773340 |
| Limingmota Enclave | G1 | 6 | 0 | 553333.4 | 17658670 |
| Falvista Holm | G1 | 6 | 0 | 700000 | 17500000 |
| Ellishurst Haven | G1 | 6 | 0 | 700000 | 17500000 |
| Dragon's Crown | G1 | 6 | 0 | 700000 | 17500000 |
| Crying Elephant | G1 | 6 | 0 | 700000 | 17500000 |
| A Cold Shoulder | G1 | 6 | 0 | 896000.1 | 17408000 |
| Wintercier Holm | G2 | 6 | 1 | 1828000 | 14932000 |
| Where Andy met Molly | G2 | 6 | 1 | 1985334 | 14344000 |
| The Autmn Isle | G2 | 6 | 1 | 2100000 | 14700000 |
| Poacher's Pass | G2 | 6 | 1 | 2100000 | 14700000 |
| Mermaid's Snare | G2 | 6 | 1 | 2100000 | 14700000 |
| Leily Isle | G2 | 6 | 1 | 2100000 | 14700000 |
| A Handy Underpassage | G2 | 6 | 1 | 2100000 | 14700000 |
| Watchman's High Tower | G3 | 6 | 2 | 3468001 | 7640001 |
| The Yellow Stone of Power | G3 | 6 | 2 | 3500000 | 7700000 |
| The Wall that Almost Fell | G3 | 6 | 2 | 3500000 | 7700000 |
| The Temple Destroyed | G3 | 6 | 2 | 3500000 | 7700000 |
| Lifeblood of The City | G3 | 6 | 2 | 3500000 | 7700000 |
| Eswood Atoll | G3 | 6 | 2 | 3500000 | 9100000 |
| Decay of a Grand Affair | G3 | 6 | 2 | 3500000 | 9100000 |
| A Path to Treasure or Death? | G3 | 6 | 2 | 3500000 | 9100000 |
| The Roaring Cay | G4 | 6 | 3 | 4900000 | 6300000 |
| The Captain's Failure | G4 | 6 | 3 | 4900000 | 6300000 |
| Take a Break | G4 | 6 | 3 | 4900000 | 6300000 |
| Rest Assured | G4 | 6 | 3 | 4900000 | 7700000 |
| Picsons Peninsula | G4 | 6 | 3 | 4900000 | 7700000 |
| Hawthorn's Trap | G4 | 6 | 3 | 4900000 | 7700000 |
| Grandale Haven | G4 | 6 | 3 | 5056001 | 6506668 |
| Captain Gogu's Mine | G4 | 6 | 3 | 5116001 | 7630668 |
| What Could These Be? | G5 | 6 | 4 | 6044001 | 8722668 |
| Turbulent Holm | G5 | 6 | 4 | 6260001 | 8844002 |
| Pirate Alley | G5 | 6 | 4 | 6300000 | 9100000 |
| Lost Altai Ruins | G5 | 6 | 4 | 6300000 | 9100000 |
| Hydro Temple | G5 | 6 | 4 | 6300000 | 9100000 |
| Hazbar's Lookout | G5 | 6 | 4 | 6300000 | 10500000 |
| Fountain Island | G5 | 6 | 4 | 6300000 | 10500000 |
| Destroyed Altai Temple | G5 | 6 | 4 | 6300000 | 10500000 |
| Depraved Isle | G5 | 6 | 4 | 6300000 | 10500000 |
| Cyclops Den | G5 | 6 | 4 | 6414668 | 10809340 |
| Altai Ruins, Long Destroyed | G5 | 6 | 4 | 6568001 | 9378668 |
| Altai Ruins of Old | G5 | 6 | 4 | 6606668 | 10112000 |
| Wrecked Ruins | G6 | 6 | 5 | 7512001 | 11665340 |
| Stingray Ait | G6 | 6 | 5 | 7650669 | 10550670 |
| Razer's Door | G6 | 6 | 5 | 7700000 | 10500000 |
| Melody's Pass | G6 | 6 | 5 | 7700000 | 10500000 |
| Crumbling Altai Ruins and Rocks | G6 | 6 | 5 | 7700000 | 10500000 |
| Berthierterel Key | G6 | 6 | 5 | 7700000 | 11900000 |
| Unknown Statue | G8 | 6 | 7 | 10490670 | 7673335 |
| Triumphant Holm | G8 | 6 | 7 | 10500000 | 6300000 |
| The Great and Mighty HuHaHa | G8 | 6 | 7 | 10500000 | 7700000 |
| Shutterland Island | G8 | 6 | 7 | 10500000 | 7700000 |
| Chammouth Atoll | G8 | 6 | 7 | 10500000 | 7700000 |
| A Tribute to Mahoota | G8 | 6 | 7 | 10500000 | 7700000 |
| A Little House | G8 | 6 | 7 | 10500000 | 7700000 |
| The Frozen Reef | G9 | 6 | 8 | 11900000 | 10500000 |
| Ruined Ruins | G9 | 6 | 8 | 11949340 | 10453340 |
| Petroden Haven | G9 | 6 | 8 | 12097340 | 12140000 |
| A Quiet Place to Rest | G9 | 6 | 8 | 12100000 | 10882670 |
| Salisroy Peninsula | G10 | 6 | 9 | 12980000 | 14789340 |
| Ruins of Thesimony | G10 | 6 | 9 | 13250670 | 14273340 |
| Ruins of Argyopi | G10 | 6 | 9 | 13300000 | 14700000 |
| Pinfell Island | G10 | 6 | 9 | 13300000 | 14700000 |
| Legami Chain | G10 | 6 | 9 | 13300000 | 14700000 |
| Gorgon's Tears | G10 | 6 | 9 | 13300000 | 14700000 |
| Giants Nest | G10 | 6 | 9 | 13300000 | 14700000 |
| Captain Caxswain Lays Claim | G10 | 6 | 9 | 13300000 | 14700000 |
| A Crab Stole Me Knife! | G10 | 6 | 9 | 13569340 | 14749340 |
| Suflan Island | G11 | 6 | 10 | 14532000 | 14310670 |
| Sleep With One Eye Open | G11 | 6 | 10 | 14532000 | 15069340 |
| Sanctum Island | G11 | 6 | 10 | 14700000 | 14700000 |
| Rosbourg Holm | G11 | 6 | 10 | 14700000 | 14700000 |
| Remnants of Before | G11 | 6 | 10 | 14794000 | 15596000 |
| Living History | G11 | 6 | 10 | 14909340 | 14893340 |
| Altai Ruins | G11 | 6 | 10 | 15005340 | 14682670 |
| The Hammer's Blow | G12 | 6 | 11 | 15860000 | 11649330 |
| The Golden Macaw | G12 | 6 | 11 | 15984000 | 12144000 |
| Swashbuckler's Haven | G12 | 6 | 11 | 16100000 | 11900000 |
| Sinkasing Island | G12 | 6 | 11 | 16100000 | 11900000 |
| Salty Sam's Throne | G12 | 6 | 11 | 16100000 | 11900000 |
| Rossraine Island | G12 | 6 | 11 | 16100000 | 11900000 |
| Hulgan Enclave | G12 | 6 | 11 | 16406670 | 11596000 |
| Drunk Man's Way | G12 | 6 | 11 | 16422670 | 12089340 |
| Trenmeuse Island | G13 | 6 | 12 | 17201340 | 14504000 |
| This is Where You Woo a Lady | G13 | 6 | 12 | 17500000 | 13300000 |
| Stelden Island | G13 | 6 | 12 | 17500000 | 13300000 |
| Red Water Hideout | G13 | 6 | 12 | 17500000 | 14700000 |
| One Way Up | G13 | 6 | 12 | 17500000 | 14700000 |
| Lurker Point | G13 | 6 | 12 | 17500000 | 14700000 |
| Jagged Rock Pass | G13 | 6 | 12 | 17500000 | 14700000 |
| Enclave of Rapiers | G13 | 6 | 12 | 17564000 | 14958670 |
| Elmguay Ait | G13 | 6 | 12 | 17693340 | 14524000 |
| Cliffcolm Island | G13 | 6 | 12 | 17752000 | 13710670 |
| The Terraced Enclave | G14 | 6 | 13 | 18806220 | 3531556 |
| Stelgue Island | G14 | 6 | 13 | 18900000 | 3500000 |
| Durmore Island | G14 | 6 | 13 | 19104000 | 3242667 |
| Thetheller Refuge | G15 | 6 | 14 | 20029330 | 6606668 |
| The Weeping Elephant | G15 | 6 | 14 | 20192000 | 6157334 |
| The Rolling Enclave | G15 | 6 | 14 | 20197340 | 7840001 |
| Rotheline Peninsula | G15 | 6 | 14 | 20290670 | 7361334 |
| Nottingbour Island | G15 | 6 | 14 | 20300000 | 7700000 |
| Giant's Crown | G15 | 6 | 14 | 20300000 | 7700000 |
| Frozen Beneath | G15 | 6 | 14 | 20440000 | 6453334 |
| Biengate Ait | G15 | 6 | 14 | 20641340 | 7714668 |
| Yorkmack Skerry | H1 | 7 | 0 | 190666.7 | 19846670 |
| Troheim Isle | H1 | 7 | 0 | 285333.4 | 20840000 |
| The Teal Isle | H1 | 7 | 0 | 449333.4 | 20524000 |
| Terrengonie Isle | H1 | 7 | 0 | 558666.8 | 19994670 |
| Romdover Haven | H1 | 7 | 0 | 744000.1 | 19014670 |
| Mudslide Pass | H1 | 7 | 0 | 949333.6 | 18693330 |
| Lamkasing Cay | H1 | 7 | 0 | 958666.8 | 20776000 |
| Wellingtawa Ait | H2 | 7 | 1 | 1845334 | 15788000 |
| The Sky Stone | H2 | 7 | 1 | 2017334 | 16168000 |
| Ridgecana Islet | H2 | 7 | 1 | 2100000 | 14700000 |
| Nothing Grows Here Anymore | H2 | 7 | 1 | 2100000 | 16100000 |
| Marley's Land | H2 | 7 | 1 | 2100000 | 16100000 |
| Gracewood Peninsula | H2 | 7 | 1 | 2100000 | 16100000 |
| A Well Kept Forest | H2 | 7 | 1 | 2350667 | 14556000 |
| A Great Tortoise Tear | H2 | 7 | 1 | 2386667 | 16405340 |
| Wise Ole Jacob's Eye | H3 | 7 | 2 | 3060001 | 10685340 |
| Wapedeen Island | H3 | 7 | 2 | 3320001 | 8674668 |
| The Harmonious Reef | H3 | 7 | 2 | 3320001 | 9478668 |
| The Gaping Fish | H3 | 7 | 2 | 3380001 | 10334670 |
| Oakpon Refuge | H3 | 7 | 2 | 3500000 | 9100000 |
| Gandale Haven | H3 | 7 | 2 | 3500000 | 10500000 |
| Don't Camp Up Here | H3 | 7 | 2 | 3500000 | 10500000 |
| Brilliant Islands | H3 | 7 | 2 | 3500000 | 10500000 |
| An Ancient Rock Formation | H3 | 7 | 2 | 3612000 | 8760000 |
| A Hot Sticky Pile of Rocks | H3 | 7 | 2 | 3700001 | 9218668 |
| A Horrible Place to be Marooned | H3 | 7 | 2 | 3862667 | 10502670 |
| The Howling Dog | H4 | 7 | 3 | 4466668 | 8044001 |
| The Holten Haven | H4 | 7 | 3 | 4684001 | 7356001 |
| The Highest Hardest Place to Go | H4 | 7 | 3 | 4800001 | 9022668 |
| Marlgue Isles | H4 | 7 | 3 | 4900000 | 7700000 |
| Jolly Curt's Round-about | H4 | 7 | 3 | 4900000 | 7700000 |
| Horseshoe of Eternity | H4 | 7 | 3 | 4900000 | 7700000 |
| Autumncam Cay | H4 | 7 | 3 | 4900000 | 9100000 |
| A Shaded Paradise | H4 | 7 | 3 | 5298668 | 8168001 |
| Widow's Solace | H5 | 7 | 4 | 5910668 | 10332000 |
| The Temple | H5 | 7 | 4 | 6274668 | 11577340 |
| The Blue Enclave | H5 | 7 | 4 | 6300000 | 11900000 |
| Ruins of the Dawn | H5 | 7 | 4 | 6300000 | 11900000 |
| Lonely Altai Ruins | H5 | 7 | 4 | 6300000 | 11900000 |
| Derstable Chain | H5 | 7 | 4 | 6300000 | 11900000 |
| Crushed Altai Ruins | H5 | 7 | 4 | 6300000 | 13300000 |
| Crumbling Ruins | H5 | 7 | 4 | 6428001 | 12270670 |
| Bonabalt Reef | H5 | 7 | 4 | 6524002 | 12160000 |
| Altai Ruins | H5 | 7 | 4 | 6536001 | 11758670 |
| War Elephant's Doing | H6 | 7 | 5 | 7448000 | 13489340 |
| The Orange Stone of Power | H6 | 7 | 5 | 7700000 | 11900000 |
| The Highest Tower | H6 | 7 | 5 | 7700000 | 11900000 |
| How The City Was Breached | H6 | 7 | 5 | 7700000 | 13300000 |
| Hanging Garden's of the Dawn | H6 | 7 | 5 | 7700000 | 13300000 |
| Castois Island | H6 | 7 | 5 | 7700000 | 13300000 |
| A Narrow Pass to a Secret Place | H6 | 7 | 5 | 7860001 | 12061340 |
| A Dawn Spire | H6 | 7 | 5 | 7900001 | 13261340 |
| Vagrant's Bath | H7 | 7 | 6 | 8760001 | 13500000 |
| Triumph Rock | H7 | 7 | 6 | 9100000 | 11900000 |
| Traywaki Island | H7 | 7 | 6 | 9100000 | 11900000 |
| The Weeping Maiden | H7 | 7 | 6 | 9100000 | 13300000 |
| Surfil Peninsula | H7 | 7 | 6 | 9100000 | 13300000 |
| Lugossi Ruins | H7 | 7 | 6 | 9100000 | 13300000 |
| Giants Cluster | H7 | 7 | 6 | 9230668 | 13230670 |
| Garden Falls of the Dawn | H7 | 7 | 6 | 9334668 | 12014670 |
| Castois Island | H7 | 7 | 6 | 9340002 | 13018670 |
| The Demon of the Deep | H8 | 7 | 7 | 10500000 | 7700000 |
| The Cyan Stone of Power | H8 | 7 | 7 | 10500000 | 7700000 |
| Varenland Island | H9 | 7 | 8 | 11604000 | 11806670 |
| The Jade Holm | H9 | 7 | 8 | 11900000 | 11900000 |
| Of The Dawn | H9 | 7 | 8 | 11900000 | 11900000 |
| Dalai Ruins | H9 | 7 | 8 | 11900000 | 11900000 |
| Crumbling Ruins of the Dawn | H9 | 7 | 8 | 12106670 | 11618670 |
| Temple of Zeus | H10 | 7 | 9 | 12962000 | 16340000 |
| Meeting Point | H10 | 7 | 9 | 13300000 | 16100000 |
| Lookout Point | H10 | 7 | 9 | 13300000 | 16100000 |
| Cracked Temple | H10 | 7 | 9 | 13300000 | 16100000 |
| Collapsed Temple | H10 | 7 | 9 | 13300000 | 16100000 |
| Clarenson Haven | H10 | 7 | 9 | 13300000 | 16100000 |
| Carleton Island | H10 | 7 | 9 | 13314000 | 16094000 |
| A Pirates Pass | H10 | 7 | 9 | 13730000 | 15890000 |
| Tecumlinet Skerry | H11 | 7 | 10 | 14340000 | 16570000 |
| Flowing Temple | H11 | 7 | 10 | 14700000 | 16100000 |
| Boisliers Island | H11 | 7 | 10 | 14700000 | 16100000 |
| Blinky's Patch | H11 | 7 | 10 | 14700000 | 16100000 |
| The Rainless Reef | H12 | 7 | 11 | 15889340 | 13605340 |
| The Dusty Bowl | H12 | 7 | 11 | 15926670 | 12968000 |
| Sanctuary of the Lost | H12 | 7 | 11 | 16100000 | 13300000 |
| Hydra's Cry | H12 | 7 | 11 | 16100000 | 13300000 |
| Donnahead Isle | H12 | 7 | 11 | 16100000 | 13300000 |
| Carighaze Island | H12 | 7 | 11 | 16100000 | 13300000 |
| Baxris Bay | H12 | 7 | 11 | 16100000 | 13300000 |
| Oroston Island | H14 | 7 | 13 | 18900000 | 4900000 |
| Minilam Refuge | H14 | 7 | 13 | 18900000 | 4900000 |
| Hafsay Island | H14 | 7 | 13 | 18900000 | 4900000 |
| Woops! | H15 | 7 | 14 | 20300000 | 7700000 |
| The Frisky Dolphine | H15 | 7 | 14 | 20300000 | 7700000 |
| The Dread Wind | H15 | 7 | 14 | 20300000 | 7700000 |
| Eastmer Island | H15 | 7 | 14 | 20300000 | 7700000 |
| Corcord Island | H15 | 7 | 14 | 20300000 | 9100000 |
| Chesgueuil Cay | H15 | 7 | 14 | 20300000 | 9100000 |
| Carlcam Isle | H15 | 7 | 14 | 20357340 | 9053334 |
| The Horn of Hoarfrost | I1 | 8 | 0 | 700000 | 20300000 |
| Tamboia Island | I1 | 8 | 0 | 700000 | 20300000 |
| Stratberg Cay | I1 | 8 | 0 | 700000 | 20300000 |
| Snap! Crack! | I1 | 8 | 0 | 700000 | 20300000 |
| Penby Cay | I1 | 8 | 0 | 700000 | 20300000 |
| Never Getting Out | I1 | 8 | 0 | 988000.2 | 20369340 |
| Glassard Reef | I1 | 8 | 0 | 1114667 | 19866670 |
| Elmminster Archipelago | I1 | 8 | 0 | 2100000 | 700000 |
| Berve Reef | I1 | 8 | 0 | 2100000 | 700000 |
| The Wondering Atoll | I2 | 8 | 1 | 2100000 | 16100000 |
| The Anchor Stone | I2 | 8 | 1 | 2100000 | 16100000 |
| Prime Spot | I2 | 8 | 1 | 2100000 | 17500000 |
| Neeval Reef | I2 | 8 | 1 | 2100000 | 17500000 |
| Millertown Island | I2 | 8 | 1 | 2100000 | 17500000 |
| Hustler's Crawl | I2 | 8 | 1 | 2162667 | 17185340 |
| Horseface Flats | I2 | 8 | 1 | 2344001 | 17318670 |
| The Yelling Isle | I4 | 8 | 3 | 4548001 | 9410669 |
| The Stairs | I4 | 8 | 3 | 4900000 | 9100000 |
| The Needle's Eye | I4 | 8 | 3 | 4900000 | 9100000 |
| The Best Spot for a Signal Fire | I4 | 8 | 3 | 4900000 | 9100000 |
| Sunderning Reef | I4 | 8 | 3 | 4900000 | 9100000 |
| Ridgelinet Ait | I4 | 8 | 3 | 4974667 | 9189334 |
| A Great Place to Ambush | I4 | 8 | 3 | 5256001 | 8698668 |
| The Thundering Haven | I5 | 8 | 4 | 6300000 | 13300000 |
| Temple Destruction | I5 | 8 | 4 | 6300000 | 13300000 |
| Tecumlinet Skerry | I5 | 8 | 4 | 6300000 | 13300000 |
| Shipwreck Island | I5 | 8 | 4 | 6300000 | 13300000 |
| Pirate's Sass | I5 | 8 | 4 | 6300000 | 14700000 |
| Miamos Ruins | I5 | 8 | 4 | 6300000 | 14700000 |
| Fire Elemental's Domain | I5 | 8 | 4 | 6322668 | 12844000 |
| Dragon Armor | I5 | 8 | 4 | 6325334 | 13690670 |
| Captain Taylor's Lookout | I5 | 8 | 4 | 6497334 | 13072000 |
| Altai Aqueous Temple | I5 | 8 | 4 | 6588001 | 13413340 |
| Woodgeo Enclave | I6 | 8 | 5 | 7454668 | 12942670 |
| The Severed Island | I6 | 8 | 5 | 7700000 | 13300000 |
| Ruler's Crown | I6 | 8 | 5 | 7700000 | 13300000 |
| Rubble Pile | I6 | 8 | 5 | 7700000 | 13300000 |
| Lashval Island | I6 | 8 | 5 | 7700000 | 14700000 |
| Altai Remnants | I6 | 8 | 5 | 7700000 | 14700000 |
| Williers Cay | I7 | 8 | 6 | 8809334 | 14949340 |
| The Turtle Reef | I7 | 8 | 6 | 9084001 | 14713340 |
| Temple of the Altai | I7 | 8 | 6 | 9100000 | 13300000 |
| Ruins of Nestor | I7 | 8 | 6 | 9100000 | 13300000 |
| Berestos Enclave | I7 | 8 | 6 | 9100000 | 13300000 |
| Bellite Ruins | I7 | 8 | 6 | 9100000 | 14700000 |
| Altai Temple Remnant | I7 | 8 | 6 | 9282668 | 14454670 |
| Weykasing Cay | I8 | 8 | 7 | 10241330 | 9142668 |
| Sorcerer's Pool | I8 | 8 | 7 | 10500000 | 9100000 |
| Kahissbah | I8 | 8 | 7 | 10500000 | 9100000 |
| Faceplant! | I8 | 8 | 7 | 10500000 | 9100000 |
| Chamto Island | I8 | 8 | 7 | 10500000 | 9100000 |
| Berestos Enclave | I8 | 8 | 7 | 10701340 | 8780002 |
| Walltawa Enclave | I9 | 8 | 8 | 11605340 | 13016000 |
| The Jagged Door | I9 | 8 | 8 | 11900000 | 11900000 |
| Shrewdale Island | I9 | 8 | 8 | 11900000 | 13300000 |
| Langcaster Island | I9 | 8 | 8 | 11900000 | 13300000 |
| Harmony Trail | I9 | 8 | 8 | 11900000 | 13300000 |
| Golden Plains Pinnacle | I9 | 8 | 8 | 11900000 | 13300000 |
| Dragon's Scales | I9 | 8 | 8 | 12192000 | 13569340 |
| Twin Falls | I10 | 8 | 9 | 13044000 | 17280000 |
| Rimourath Island | I10 | 8 | 9 | 13300000 | 17500000 |
| Pool of the Eternal Maidens | I10 | 8 | 9 | 13300000 | 17500000 |
| Pleasant Falls | I10 | 8 | 9 | 13300000 | 17500000 |
| Persius Ruins | I10 | 8 | 9 | 13300000 | 18900000 |
| Mulwall Island | I10 | 8 | 9 | 13300000 | 18900000 |
| Galden Skerry | I10 | 8 | 9 | 13474000 | 19168000 |
| Fallen Rubble | I10 | 8 | 9 | 13508000 | 17802000 |
| A Cool Place to Rest | I10 | 8 | 9 | 13686000 | 17894000 |
| Salty Bob's Spot | I11 | 8 | 10 | 14700000 | 16100000 |
| Rockingfair Island | I11 | 8 | 10 | 14700000 | 16100000 |
| Dragon's Breath Forest | I11 | 8 | 10 | 14700000 | 16100000 |
| Black Spot Pass | I11 | 8 | 10 | 14802000 | 16360000 |
| Amesbiens Island | I11 | 8 | 10 | 14940000 | 15996000 |
| What's Left of the Rapier | I12 | 8 | 11 | 15950670 | 14446670 |
| The Heartless Atoll | I12 | 8 | 11 | 16100000 | 13300000 |
| Rocks of Old | I12 | 8 | 11 | 16100000 | 14700000 |
| Rest Spot | I12 | 8 | 11 | 16100000 | 14700000 |
| Rapier's Outpost | I12 | 8 | 11 | 16100000 | 14700000 |
| Pesky Dan's Needle | I12 | 8 | 11 | 16100000 | 14700000 |
| Coxswain's Refuge | I12 | 8 | 11 | 16186670 | 14581340 |
| Cottletry Cay | I12 | 8 | 11 | 16338670 | 13321330 |
| Berthierfell Key | I12 | 8 | 11 | 16397340 | 14777340 |
| The Sharpest Rocks | I13 | 8 | 12 | 17490000 | 16050000 |
| The Golden Hoof | I13 | 8 | 12 | 17500000 | 14700000 |
| Only The Bravest Come Here | I13 | 8 | 12 | 17500000 | 16100000 |
| Livernola Chain | I13 | 8 | 12 | 17500000 | 16100000 |
| Krill Hill | I13 | 8 | 12 | 17500000 | 16100000 |
| Itubrook Haven | I13 | 8 | 12 | 17500000 | 16100000 |
| Hawthorn's Escape | I13 | 8 | 12 | 17500000 | 16100000 |
| Farmingburn Holm | I13 | 8 | 12 | 17500000 | 16100000 |
| Coroworth Island | I13 | 8 | 12 | 17500000 | 16100000 |
| Wacord Isle | I14 | 8 | 13 | 18900000 | 4900000 |
| Torchester Cay | I14 | 8 | 13 | 18900000 | 4900000 |
| Berthierforte Ait | I14 | 8 | 13 | 19046220 | 4747556 |
| Trayder Island | I15 | 8 | 14 | 20129340 | 10757340 |
| The Sunken Maiden | I15 | 8 | 14 | 20300000 | 9100000 |
| Seadog's Hideaway | I15 | 8 | 14 | 20300000 | 9100000 |
| Roseville Atoll | I15 | 8 | 14 | 20300000 | 9100000 |
| Rosby Isle | I15 | 8 | 14 | 20300000 | 9100000 |
| Pirate's Folly | I15 | 8 | 14 | 20300000 | 9100000 |
| Monsoon Lookout | I15 | 8 | 14 | 20300000 | 9100000 |
| Flemsonee Reef | I15 | 8 | 14 | 20300000 | 10500000 |
| Crystal Mountain | I15 | 8 | 14 | 20300000 | 10500000 |
| Calcastle Island | I15 | 8 | 14 | 20300000 | 10500000 |
| Briscona Atoll | I15 | 8 | 14 | 20468000 | 10501340 |
| A Quick Slide Down | I15 | 8 | 14 | 20593340 | 10094670 |
| Windleche Atoll | J1 | 9 | 0 | 1823407 | 992000 |
| Widowmaker's Claw | J1 | 9 | 0 | 1916445 | 578370.3 |
| The Rolling Isle | J1 | 9 | 0 | 2100000 | 700000 |
| The Iron Atoll | J1 | 9 | 0 | 2100000 | 700000 |
| The Icy Gateway | J1 | 9 | 0 | 2100000 | 700000 |
| The Homeless Atoll | J1 | 9 | 0 | 2100000 | 700000 |
| Fordboro Cay | J1 | 9 | 0 | 2100000 | 700000 |
| Dragon's Ice Blast | J1 | 9 | 0 | 2100000 | 700000 |
| Chanoque Isles | J1 | 9 | 0 | 2366815 | 840296.3 |
| A Shelter from the Cold | J1 | 9 | 0 | 2386963 | 295111.1 |
| White Horse | J2 | 9 | 1 | 1836000 | 18638670 |
| Templerath Ait | J2 | 9 | 1 | 1933334 | 17609340 |
| Sufrane Refuge | J2 | 9 | 1 | 2100000 | 20300000 |
| Never Lose Hope | J2 | 9 | 1 | 2158667 | 19161330 |
| Hampnan Ait | J2 | 9 | 1 | 2388001 | 18624000 |
| The Howling Wolf | J3 | 9 | 2 | 3014667 | 12362670 |
| Joe's Island | J3 | 9 | 2 | 3338667 | 12257340 |
| Englemore Archipelago | J3 | 9 | 2 | 3500000 | 11900000 |
| Cudmore Cay | J3 | 9 | 2 | 3500000 | 11900000 |
| Chacouche Reef | J3 | 9 | 2 | 3500000 | 11900000 |
| All That's Left of Joe | J3 | 9 | 2 | 3500000 | 11900000 |
| A Safe Spot for the Night | J3 | 9 | 2 | 3680001 | 11950670 |
| A Cool Refuge | J3 | 9 | 2 | 3888001 | 11578670 |
| The Tiny Town that Could | J4 | 9 | 3 | 4537334 | 12218670 |
| The Source of Life | J4 | 9 | 3 | 4900000 | 9100000 |
| The Fish's Mouth | J4 | 9 | 3 | 4900000 | 11900000 |
| The Bronze Enclave | J4 | 9 | 3 | 4900000 | 11900000 |
| Port Town of Haslton | J4 | 9 | 3 | 4900000 | 11900000 |
| Morinster Island | J4 | 9 | 3 | 4900000 | 11900000 |
| Goose Trap | J4 | 9 | 3 | 4900000 | 11900000 |
| Ardown Peninsula | J4 | 9 | 3 | 4913334 | 11478670 |
| Rockingfair Island | J5 | 9 | 4 | 6142668 | 14804000 |
| Not the Place to Sleep | J5 | 9 | 4 | 6300000 | 14700000 |
| Mulwall Island | J5 | 9 | 4 | 6300000 | 14700000 |
| Amesbiens Atoll | J5 | 9 | 4 | 6300000 | 14700000 |
| Altai Temple Remains | J5 | 9 | 4 | 6300000 | 14700000 |
| Altai Temple | J5 | 9 | 4 | 6300000 | 14700000 |
| A Soft Place to Rest | J5 | 9 | 4 | 6620001 | 14470670 |
| The Worst Place | J6 | 9 | 5 | 7700000 | 14700000 |
| The Windy Cay | J6 | 9 | 5 | 7700000 | 14700000 |
| Petrotawa Skerry | J6 | 9 | 5 | 7700000 | 14700000 |
| Dragon Scale Forest | J6 | 9 | 5 | 7700000 | 14700000 |
| Cutthroat Pass | J6 | 9 | 5 | 8006668 | 14632000 |
| Stonelisle | J7 | 9 | 6 | 9100000 | 14700000 |
| Ruins of Wrend | J7 | 9 | 6 | 9100000 | 14700000 |
| Rimsonee Reef | J7 | 9 | 6 | 9100000 | 14700000 |
| Ole Hodges Drinking Spot | J7 | 9 | 6 | 9100000 | 16100000 |
| Causaside Refuge | J7 | 9 | 6 | 9100000 | 16100000 |
| A Deadly Rockslide | J7 | 9 | 6 | 9100000 | 16100000 |
| The Green Islet | J8 | 9 | 7 | 10500000 | 9100000 |
| Rimouwich Atoll | J8 | 9 | 7 | 10500000 | 9100000 |
| House Built on the Sand | J8 | 9 | 7 | 10500000 | 10500000 |
| Halgrave Reef | J8 | 9 | 7 | 10500000 | 10500000 |
| Fort Mellow | J8 | 9 | 7 | 10705340 | 11688000 |
| Archmage Patoe Statue | J8 | 9 | 7 | 10824000 | 9305334 |
| Thesolini Temple | J10 | 9 | 9 | 13038000 | 18640000 |
| Some Old Rock | J10 | 9 | 9 | 13228000 | 19774000 |
| Readborn Reef | J10 | 9 | 9 | 13300000 | 18900000 |
| Newinglodge Refuge | J10 | 9 | 9 | 13300000 | 18900000 |
| Long Ago | J10 | 9 | 9 | 13300000 | 18900000 |
| Lady's Tears | J10 | 9 | 9 | 13638000 | 19290000 |
| Sanguine Island | J11 | 9 | 10 | 14428000 | 17324000 |
| Ruins of the Dawn | J11 | 9 | 10 | 14700000 | 17500000 |
| Pummeled Altai Ruins | J11 | 9 | 10 | 14700000 | 17500000 |
| Lavalsomin Reef | J11 | 9 | 10 | 14700000 | 17500000 |
| Hornswaggle point | J11 | 9 | 10 | 14700000 | 17500000 |
| Historical Insignificance | J11 | 9 | 10 | 14700000 | 18900000 |
| Heartless Island | J11 | 9 | 10 | 14710000 | 17820000 |
| Eroded Ruins | J11 | 9 | 10 | 14948000 | 17408000 |
| Aging Ruins | J11 | 9 | 10 | 15040000 | 18568000 |
| Vently Holm | J12 | 9 | 11 | 15816000 | 17648000 |
| Useless Rocks | J12 | 9 | 11 | 16028000 | 17882000 |
| Sunset Vista | J12 | 9 | 11 | 16100000 | 14700000 |
| Port Swingman | J12 | 9 | 11 | 16100000 | 17500000 |
| Oxwater Island | J12 | 9 | 11 | 16100000 | 17500000 |
| Oasis | J12 | 9 | 11 | 16100000 | 17500000 |
| Lifeblood and Water | J12 | 9 | 11 | 16100000 | 18900000 |
| Gatinigan Island | J12 | 9 | 11 | 16266000 | 17032000 |
| Wakewe Cay | J13 | 9 | 12 | 17374000 | 17718000 |
| The Slender Gate | J13 | 9 | 12 | 17500000 | 16100000 |
| Marrooned? Rest In Peace | J13 | 9 | 12 | 17500000 | 17500000 |
| He Sits Above All | J13 | 9 | 12 | 17500000 | 17500000 |
| Forlinet Haven | J13 | 9 | 12 | 17500000 | 17500000 |
| Crescana Reef | J13 | 9 | 12 | 17692000 | 17394000 |
| Watermeny Enclave | J14 | 9 | 13 | 18760000 | 5994668 |
| Privateer's Rock | J14 | 9 | 13 | 18801780 | 5109334 |
| Marauder's Beach | J14 | 9 | 13 | 18816000 | 6578668 |
| Fox Run Forest | J14 | 9 | 13 | 18900000 | 6300000 |
| Cleared Ground | J14 | 9 | 13 | 18900000 | 6300000 |
| Brisval Cay | J14 | 9 | 13 | 18900000 | 6300000 |
| Bigshall Peninsula | J14 | 9 | 13 | 19262670 | 6198668 |
| A Stone Bridge | J14 | 9 | 13 | 19330670 | 5272001 |
| Veverree Island | J15 | 9 | 14 | 20128000 | 11628000 |
| Vencroft Isle | J15 | 9 | 14 | 20300000 | 11900000 |
| Treasures Abound | J15 | 9 | 14 | 20300000 | 11900000 |
| The Icy Deep | J15 | 9 | 14 | 20300000 | 11900000 |
| Mulguay Atoll | J15 | 9 | 14 | 20300000 | 11900000 |
| Kearbron Haven | J15 | 9 | 14 | 20300000 | 11900000 |
| Hornswaggle Hideout | J15 | 9 | 14 | 20300000 | 11900000 |
| Franston Atoll | J15 | 9 | 14 | 20372000 | 12046670 |
| Canroy Island | J15 | 9 | 14 | 20624000 | 11662670 |
| Through The Spyglass | K1 | 10 | 0 | 1998815 | 1807407 |
| The Wasteful Holm | K1 | 10 | 0 | 2073481 | 2253037 |
| The Royal Highness | K1 | 10 | 0 | 2100000 | 700000 |
| The Ice Palace | K1 | 10 | 0 | 2100000 | 700000 |
| The Boundless Reef | K1 | 10 | 0 | 2100000 | 700000 |
| The Bleak Isle | K1 | 10 | 0 | 2100000 | 700000 |
| Susden Islet | K1 | 10 | 0 | 2100000 | 700000 |
| Many Widows were Made | K1 | 10 | 0 | 2100000 | 700000 |
| Jeweltop Peak | K1 | 10 | 0 | 2100000 | 700000 |
| Handy Ice Formations | K1 | 10 | 0 | 2100000 | 700000 |
| Golborg Haven | K1 | 10 | 0 | 2100000 | 700000 |
| Bruderview Chain | K1 | 10 | 0 | 2100000 | 2100000 |
| Totem's Mouth | K2 | 10 | 1 | 1756000 | 20776000 |
| The Vicious Holm | K2 | 10 | 1 | 1894667 | 20025340 |
| The Shineling Forest | K2 | 10 | 1 | 2100000 | 20300000 |
| Stokeswell Isle | K2 | 10 | 1 | 2118667 | 20226670 |
| Bexnola Key | K2 | 10 | 1 | 2302667 | 20536000 |
| An Unknown Statue | K2 | 10 | 1 | 2465334 | 19757340 |
| The Worst Garden Spot Ever | K3 | 10 | 2 | 3300001 | 12904000 |
| The Great Marker Stone | K3 | 10 | 2 | 3465334 | 13578670 |
| One Way Under | K3 | 10 | 2 | 3500000 | 11900000 |
| Nordwell Ait | K3 | 10 | 2 | 3500000 | 13300000 |
| Hunter's Way | K3 | 10 | 2 | 3500000 | 13300000 |
| Ellisford Refuge | K3 | 10 | 2 | 3500000 | 13300000 |
| Darmack Island | K3 | 10 | 2 | 3500000 | 13300000 |
| The Tide Between the Stones | K4 | 10 | 3 | 4757334 | 13090670 |
| The Pearl Islet | K4 | 10 | 3 | 4900000 | 11900000 |
| The Mighty Warrior | K4 | 10 | 3 | 4900000 | 11900000 |
| Plamont Archipelago | K4 | 10 | 3 | 4900000 | 13300000 |
| Old Tom's Strawberry Patch | K4 | 10 | 3 | 5120001 | 11798670 |
| Misty Island | K4 | 10 | 3 | 5234668 | 13430670 |
| Death's Door | K4 | 10 | 3 | 5301334 | 12206670 |
| Ugly Bill's Throne | K5 | 10 | 4 | 6010668 | 17177340 |
| The Sharktooth Holm | K5 | 10 | 4 | 6282001 | 18590000 |
| The Rainy Cay | K5 | 10 | 4 | 6300000 | 17500000 |
| Riddle of the Four | K5 | 10 | 4 | 6300000 | 17500000 |
| Minnow Pool | K5 | 10 | 4 | 6300000 | 17500000 |
| Grenhampton Holm | K5 | 10 | 4 | 6300000 | 17500000 |
| Falliers Island | K5 | 10 | 4 | 6300000 | 17500000 |
| Eternal Division | K5 | 10 | 4 | 6300000 | 20300000 |
| Churning Shallows | K5 | 10 | 4 | 6332001 | 17822670 |
| A Great Doorway | K5 | 10 | 4 | 6506001 | 19042000 |
| A Beautiful Fountain | K5 | 10 | 4 | 6562668 | 17572000 |
| The Ocean's Wellspring | K6 | 10 | 5 | 7406667 | 16066670 |
| The Bridge That Was and Is No More | K6 | 10 | 5 | 7533335 | 14408000 |
| Rorior Atoll | K6 | 10 | 5 | 7552001 | 14924000 |
| Ole Foul Joe's Mine | K6 | 10 | 5 | 7554668 | 15612000 |
| Ole Foul Joe's House | K6 | 10 | 5 | 7700000 | 16100000 |
| Nangue Haven | K6 | 10 | 5 | 7700000 | 16100000 |
| Long Lost Ruins of the Dawn | K6 | 10 | 5 | 7700000 | 16100000 |
| Lonely Pillar | K6 | 10 | 5 | 7793335 | 16557340 |
| Camto Archipelago | K6 | 10 | 5 | 8044001 | 16421340 |
| Beautiful Ruins of the Dawn | K6 | 10 | 5 | 8141335 | 15850670 |
| The Shimmering Island | K7 | 10 | 6 | 8824002 | 17650000 |
| Surtrie Island | K7 | 10 | 6 | 8972002 | 16008000 |
| Springland Enclave | K7 | 10 | 6 | 9100000 | 16100000 |
| Seahorse Island | K7 | 10 | 6 | 9100000 | 16100000 |
| Forgotten Throne | K7 | 10 | 6 | 9100000 | 17500000 |
| Beggar's Steps | K7 | 10 | 6 | 9152002 | 16352000 |
| Baljour Refuge | K7 | 10 | 6 | 9346002 | 16024000 |
| A Tiny Patch of Dirt | K7 | 10 | 6 | 9490002 | 17460000 |
| Pinher Cay | K8 | 10 | 7 | 10309340 | 12125340 |
| Pilnan Island | K8 | 10 | 7 | 10500000 | 11900000 |
| Not Impressed | K8 | 10 | 7 | 10500000 | 11900000 |
| Killingwaki Island | K8 | 10 | 7 | 10500000 | 11900000 |
| He Who Sees | K8 | 10 | 7 | 10500000 | 13300000 |
| Grand Kahissbahs | K8 | 10 | 7 | 10500000 | 13300000 |
| Brine Beach | K8 | 10 | 7 | 10500000 | 13300000 |
| Arning Island | K8 | 10 | 7 | 10500000 | 13300000 |
| Waterfall Bridge | K9 | 10 | 8 | 11708000 | 14510670 |
| Trensdosa Island | K9 | 10 | 8 | 11900000 | 13300000 |
| Tordown Key | K9 | 10 | 8 | 11900000 | 13300000 |
| The Great Muti Muti | K9 | 10 | 8 | 11900000 | 14700000 |
| The Great Moto Moto | K9 | 10 | 8 | 11900000 | 14700000 |
| Sheet Island | K9 | 10 | 8 | 11900000 | 14700000 |
| Prepare to Starve | K9 | 10 | 8 | 11900000 | 16100000 |
| Nip's Island | K9 | 10 | 8 | 11900000 | 16100000 |
| Nantham Island | K9 | 10 | 8 | 11900000 | 16100000 |
| Look What You Found! | K9 | 10 | 8 | 11900000 | 16100000 |
| Just a Statue | K9 | 10 | 8 | 11900000 | 16100000 |
| Cartvon Refuge | K9 | 10 | 8 | 11905340 | 13280000 |
| A Long Way Down | K9 | 10 | 8 | 12144000 | 14904000 |
| A Long Forgotten Farm | K9 | 10 | 8 | 12296000 | 15856000 |
| Vantage Point | K10 | 10 | 9 | 12970000 | 20682000 |
| Tordown Island | K10 | 10 | 9 | 13070000 | 19764000 |
| Solitary Guard | K10 | 10 | 9 | 13194000 | 20158000 |
| Sobbing Sorrows | K10 | 10 | 9 | 13300000 | 20300000 |
| Snitches Rock | K10 | 10 | 9 | 13300000 | 20300000 |
| Renegade Haven | K10 | 10 | 9 | 13300000 | 20300000 |
| Peg-leg Path | K10 | 10 | 9 | 13354000 | 19848000 |
| Minimeda Archipelago | K10 | 10 | 9 | 13486000 | 20528000 |
| Turtle's Head | K11 | 10 | 10 | 14700000 | 18900000 |
| The Steep Island | K11 | 10 | 10 | 14700000 | 18900000 |
| The Giant's Grasp | K11 | 10 | 10 | 14700000 | 18900000 |
| Nicodeen Key | K11 | 10 | 10 | 14700000 | 18900000 |
| Monktois Island | K11 | 10 | 10 | 14700000 | 18900000 |
| Cornlants Haven | K11 | 10 | 10 | 14788000 | 18972000 |
| Wayline Isle | K12 | 10 | 11 | 15830000 | 19932000 |
| The Giants Pass | K12 | 10 | 11 | 16092000 | 19076000 |
| Temple by the Sea | K12 | 10 | 11 | 16100000 | 18596000 |
| Freebooter's Hideaway | K12 | 10 | 11 | 16100000 | 18900000 |
| Ellisfair Island | K12 | 10 | 11 | 16100000 | 18900000 |
| Dirty Curt's Seat | K12 | 10 | 11 | 16100000 | 18900000 |
| Davelgus Reef | K12 | 10 | 11 | 16100000 | 18900000 |
| Carbotrie Reef | K12 | 10 | 11 | 16100000 | 18900000 |
| A Seaside Forest | K12 | 10 | 11 | 16100000 | 20300000 |
| A High and Beautiful Spring | K12 | 10 | 11 | 16368000 | 20242000 |
| Worsonee Cay | K13 | 10 | 12 | 17300000 | 19074000 |
| Tear from Above | K13 | 10 | 12 | 17422000 | 18580000 |
| Saliscoln Skerry | K13 | 10 | 12 | 17500000 | 18900000 |
| Retreat This Way! | K13 | 10 | 12 | 17500000 | 18900000 |
| Fertile Ground | K13 | 10 | 12 | 17500000 | 18900000 |
| Crimson Hideout | K13 | 10 | 12 | 17500000 | 18900000 |
| Chantown Skerry | K13 | 10 | 12 | 17626000 | 18970000 |
| Where My Dearest Died | K14 | 10 | 13 | 18798670 | 8017335 |
| Vonstable Island | K14 | 10 | 13 | 18810670 | 7485335 |
| Unfortunate Business | K14 | 10 | 13 | 18900000 | 6300000 |
| The Darkened Eye | K14 | 10 | 13 | 18900000 | 7700000 |
| The Captain's Marker | K14 | 10 | 13 | 18900000 | 7700000 |
| Stoughview Chain | K14 | 10 | 13 | 18900000 | 7700000 |
| Statue of Longing | K14 | 10 | 13 | 18900000 | 7700000 |
| Siren's Solitude | K14 | 10 | 13 | 18900000 | 7700000 |
| Scuttlebut Stone | K14 | 10 | 13 | 18900000 | 9100000 |
| PRivate PRoperty | K14 | 10 | 13 | 18900000 | 9100000 |
| Monument of Glory | K14 | 10 | 13 | 18900000 | 9100000 |
| Jagged Teeth | K14 | 10 | 13 | 18900000 | 9100000 |
| Farmhazy Holm | K14 | 10 | 13 | 18938670 | 8170668 |
| Cursed Land | K14 | 10 | 13 | 19018670 | 8685334 |
| Craven Beast | K14 | 10 | 13 | 19120000 | 7282668 |
| Widowmaker's Cry | K15 | 10 | 14 | 20086670 | 13013340 |
| When Ice Explodes | K15 | 10 | 14 | 20093340 | 14512000 |
| The Mighty Tortoise Deity | K15 | 10 | 14 | 20165340 | 13444000 |
| The Kraken Was Here | K15 | 10 | 14 | 20277340 | 13065340 |
| The Frozen Gate | K15 | 10 | 14 | 20300000 | 13300000 |
| The Empress Regalia | K15 | 10 | 14 | 20300000 | 13300000 |
| Shattered Castle | K15 | 10 | 14 | 20300000 | 13300000 |
| Nanonseel Isle | K15 | 10 | 14 | 20300000 | 13300000 |
| Mansmouth Refuge | K15 | 10 | 14 | 20300000 | 13300000 |
| Magpie Island | K15 | 10 | 14 | 20300000 | 13300000 |
| Irridows Cay | K15 | 10 | 14 | 20300000 | 13300000 |
| Coatirich Enclave | K15 | 10 | 14 | 20300000 | 14700000 |
| Brudermer Reef | K15 | 10 | 14 | 20440000 | 13130670 |
| Rosmond Atoll Graceheim Isle | L1 | 11 | 0 | 2100000 | 2100000 |
| Gladtara Isle | L1 | 11 | 0 | 2100000 | 2100000 |
| Giant's Ice | L1 | 11 | 0 | 2100000 | 3500000 |
| Framingcona Atoll | L1 | 11 | 0 | 2100000 | 3500000 |
| Fletcher's Run | L1 | 11 | 0 | 2100000 | 3500000 |
| Desolate Ground | L1 | 11 | 0 | 2100000 | 3500000 |
| Colibridge Archipelago | L1 | 11 | 0 | 2270667 | 3372000 |
| Birmingdosa Ait | L1 | 11 | 0 | 2312000 | 3817334 |
| Whistler's Land | L2 | 11 | 1 | 2983704 | 1127704 |
| The White Marker | L2 | 11 | 1 | 3261630 | 346074.1 |
| The Mysterious Holm | L2 | 11 | 1 | 3438815 | 1077926 |
| Snowy Isles | L2 | 11 | 1 | 3500000 | 700000 |
| Eroded Skerry | L2 | 11 | 1 | 3500000 | 700000 |
| Cleared and Clean | L2 | 11 | 1 | 3500000 | 700000 |
| Burgie's Great Art | L2 | 11 | 1 | 3719704 | 498370.4 |
| The Totem of the Living | L3 | 11 | 2 | 3270667 | 13221340 |
| The Pool of Deep Waters | L3 | 11 | 2 | 3500000 | 13300000 |
| Sunview Chain | L3 | 11 | 2 | 3500000 | 13300000 |
| Saufolk Island | L3 | 11 | 2 | 3500000 | 14700000 |
| Brightbury Cay | L3 | 11 | 2 | 3500000 | 14700000 |
| A Way to Refuge | L3 | 11 | 2 | 3910667 | 13757340 |
| Wasabridge Peninsula | L4 | 11 | 3 | 4740001 | 13569340 |
| The Serpent's Pass | L4 | 11 | 3 | 4900000 | 13300000 |
| The Field where Mad Malcom Died | L4 | 11 | 3 | 4900000 | 13300000 |
| The Falls from Somewhere | L4 | 11 | 3 | 4900000 | 13300000 |
| The Emerald Refuge | L4 | 11 | 3 | 4900000 | 13300000 |
| The Best Place for a Hangin' | L4 | 11 | 3 | 4900000 | 13300000 |
| Portsbel Island | L4 | 11 | 3 | 4900000 | 13300000 |
| Lady's Pool | L4 | 11 | 3 | 5248001 | 12930670 |
| Shimmering Ridge | L6 | 11 | 5 | 7426668 | 17776000 |
| Path to Power | L6 | 11 | 5 | 7452002 | 18462000 |
| Onocastle Cay | L6 | 11 | 5 | 7700000 | 16100000 |
| Mangate Skerry | L6 | 11 | 5 | 7700000 | 16100000 |
| Gorgon's Pet | L6 | 11 | 5 | 7700000 | 16100000 |
| Fire Falls | L6 | 11 | 5 | 7700000 | 17500000 |
| Cave Spring | L6 | 11 | 5 | 7700000 | 17500000 |
| Bentrose Peninsula | L6 | 11 | 5 | 7700000 | 17500000 |
| Anthem to Beauty | L6 | 11 | 5 | 7961335 | 17276000 |
| Whistlemoore | L7 | 11 | 6 | 8636002 | 17898000 |
| Wandering Spirit | L7 | 11 | 6 | 8710002 | 20628000 |
| The Cod Farm | L7 | 11 | 6 | 8890002 | 17110000 |
| The Captain's House | L7 | 11 | 6 | 9100000 | 17500000 |
| Richpon Island | L7 | 11 | 6 | 9100000 | 17500000 |
| Neuver Island | L7 | 11 | 6 | 9100000 | 17500000 |
| Musrath Island | L7 | 11 | 6 | 9100000 | 17500000 |
| Island's Jewel | L7 | 11 | 6 | 9100000 | 17500000 |
| Huntterel Island | L7 | 11 | 6 | 9100000 | 20300000 |
| Hightop Mine | L7 | 11 | 6 | 9128002 | 18655000 |
| Flower Dusted Path | L7 | 11 | 6 | 9270002 | 18814000 |
| Betrayal Point | L7 | 11 | 6 | 9282002 | 19206000 |
| A Grand Seaside Entry | L7 | 11 | 6 | 9436002 | 19928000 |
| The Pointing Finger | L9 | 11 | 8 | 11446000 | 17472000 |
| The Lonely Tower | L9 | 11 | 8 | 11674000 | 18602000 |
| The Fishery | L9 | 11 | 8 | 11766000 | 16106000 |
| Ocean View | L9 | 11 | 8 | 11880000 | 17088000 |
| Lord Ungar's Lake House | L9 | 11 | 8 | 11900000 | 16100000 |
| Jewel's of the Island | L9 | 11 | 8 | 11900000 | 17500000 |
| Hillnew Haven | L9 | 11 | 8 | 11900000 | 17500000 |
| Flowering Cliffs | L9 | 11 | 8 | 11900000 | 17500000 |
| Dan's Coal Mine | L9 | 11 | 8 | 11900000 | 17500000 |
| Chansea Enclave | L9 | 11 | 8 | 11900000 | 17500000 |
| Causastino Island | L9 | 11 | 8 | 12102000 | 17256000 |
| Baylander | L9 | 11 | 8 | 12196000 | 17888000 |
| Alice Island | L9 | 11 | 8 | 12334000 | 16402000 |
| The Stone Shark | L10 | 11 | 9 | 14269630 | 1137778 |
| Rosville Island | L10 | 11 | 9 | 14504300 | 384592.6 |
| Proclamation Path | L10 | 11 | 9 | 14700000 | 700000 |
| Gravelton Haven | L10 | 11 | 9 | 14700000 | 700000 |
| Gossamer Ridge | L10 | 11 | 9 | 14700000 | 700000 |
| Flame Falls | L10 | 11 | 9 | 14700000 | 700000 |
| Cave of the Mystic Waters | L10 | 11 | 9 | 14700000 | 700000 |
| Brospool Island | L10 | 11 | 9 | 14701630 | 706962.9 |
| Bliss | L10 | 11 | 9 | 14849180 | 1035259 |
| Where the Duel Took Place | L11 | 11 | 10 | 14484000 | 19302000 |
| Waters of Life | L11 | 11 | 10 | 14700000 | 18900000 |
| Votfait Island | L11 | 11 | 10 | 14700000 | 18900000 |
| Stockland Island | L11 | 11 | 10 | 14700000 | 18900000 |
| Mystery of the Four | L11 | 11 | 10 | 14700000 | 18900000 |
| Lover's Pool | L11 | 11 | 10 | 14700000 | 18900000 |
| Kamstone Key | L11 | 11 | 10 | 14700000 | 18900000 |
| Deadman's Whispers | L11 | 11 | 10 | 14700000 | 20300000 |
| The Gullible Rose | L13 | 11 | 12 | 17340000 | 20554000 |
| The Great Monolith | L13 | 11 | 12 | 17500000 | 18900000 |
| Hereboro Holm | L13 | 11 | 12 | 17500000 | 18900000 |
| Golcola Enclave | L13 | 11 | 12 | 17500000 | 20300000 |
| Gilbert's Gallope | L13 | 11 | 12 | 17728000 | 20490000 |
| Bonabourg Cay | L13 | 11 | 12 | 17804000 | 20794000 |
| Where the Mermaid Cries | L14 | 11 | 13 | 18600000 | 9132002 |
| Wenches Bench | L14 | 11 | 13 | 18900000 | 9100000 |
| Safe on a Rock | L14 | 11 | 13 | 18900000 | 9100000 |
| Rimtrie Island | L14 | 11 | 13 | 18900000 | 10500000 |
| Keelhaul Rock | L14 | 11 | 13 | 18982670 | 10545340 |
| Brosfil Island | L14 | 11 | 13 | 19233340 | 10882670 |
| A Pine Forest | L14 | 11 | 13 | 19246670 | 9492001 |
| A Good Place for Gallows | L14 | 11 | 13 | 19346670 | 8938668 |
| Winter's Trumpet | L15 | 11 | 14 | 20096000 | 15652000 |
| The Thundering Key | L15 | 11 | 14 | 20300000 | 14700000 |
| The Terraced Island | L15 | 11 | 14 | 20300000 | 14700000 |
| The Dense Skerry | L15 | 11 | 14 | 20300000 | 14700000 |
| Take Leave and Rest | L15 | 11 | 14 | 20300000 | 16100000 |
| Osiris' Demise | L15 | 11 | 14 | 20300000 | 16100000 |
| Hullbreakers | L15 | 11 | 14 | 20300000 | 16100000 |
| Darde Enclave | L15 | 11 | 14 | 20300000 | 16100000 |
| Cliffington Reef | L15 | 11 | 14 | 20381340 | 14882670 |
| Bexnach Ait | L15 | 11 | 14 | 20382000 | 15760000 |
| Batten Downthe Hatches! | L15 | 11 | 14 | 20582670 | 14524000 |
| Waterrior Holm | M1 | 12 | 0 | 1732000 | 3574667 |
| The Stricken Pass | M1 | 12 | 0 | 1786667 | 4536001 |
| The Mysterious Wreck of The Alibaster | M1 | 12 | 0 | 2076445 | 4888890 |
| The Grim Enclave | M1 | 12 | 0 | 2100000 | 4900000 |
| Susston Reef | M1 | 12 | 0 | 2100000 | 4900000 |
| Man Killer | M1 | 12 | 0 | 2100000 | 4900000 |
| Haulted Waves | M1 | 12 | 0 | 2100000 | 4900000 |
| Grandronto Cay | M1 | 12 | 0 | 2100000 | 4900000 |
| Denmeda Cay | M1 | 12 | 0 | 2344889 | 5251556 |
| The Last Piece | M3 | 12 | 2 | 3292001 | 14741340 |
| Rocky Ground | M3 | 12 | 2 | 3500000 | 14700000 |
| Farnlin Refuge | M3 | 12 | 2 | 3500000 | 16100000 |
| Dolroy Cay | M3 | 12 | 2 | 3686667 | 14498670 |
| A Rich Piece of Land | M3 | 12 | 2 | 3698667 | 14988000 |
| Yarfil Island | M4 | 12 | 3 | 4565334 | 14398670 |
| The Turtle's Head | M4 | 12 | 3 | 4900000 | 13300000 |
| The Mighty Doorway | M4 | 12 | 3 | 4900000 | 14700000 |
| Pincer's Grasp | M4 | 12 | 3 | 4900000 | 14700000 |
| Jaws of the Giant Crab | M4 | 12 | 3 | 4900000 | 14700000 |
| Fount on High | M4 | 12 | 3 | 4900000 | 14700000 |
| Forever Divided | M4 | 12 | 3 | 4900000 | 16100000 |
| Emslow Peninsula | M4 | 12 | 3 | 5076001 | 14546670 |
| Cowanworth Island | M4 | 12 | 3 | 5264001 | 15010670 |
| The Whispering Island | M5 | 12 | 4 | 5794001 | 20410000 |
| The Wave Worn Stones | M5 | 12 | 4 | 5984001 | 20796000 |
| The Unfathomed Haven | M5 | 12 | 4 | 6030001 | 20540000 |
| The Highest Peak | M5 | 12 | 4 | 6114001 | 19854000 |
| Eatoland Island | M5 | 12 | 4 | 6300000 | 20300000 |
| A Mighty Warrior | M5 | 12 | 4 | 6300000 | 20300000 |
| A Mighty Pillar Top | M5 | 12 | 4 | 6548001 | 20028000 |
| Stockmiota Skerry | M6 | 12 | 5 | 7258002 | 20298000 |
| Peddler's Stairs | M6 | 12 | 5 | 7506002 | 19948000 |
| MerMaid's Perch | M6 | 12 | 5 | 7700000 | 20300000 |
| Little House on The Hill | M6 | 12 | 5 | 7700000 | 20300000 |
| Granaguay Peninsula | M6 | 12 | 5 | 7770002 | 18634000 |
| Forborough Haven | M6 | 12 | 5 | 8042002 | 19006000 |
| Walsley Archipelago | M8 | 12 | 7 | 10278670 | 14437340 |
| The Great Hysteria | M8 | 12 | 7 | 10446670 | 13378670 |
| Sorcerer's Maelstrom | M8 | 12 | 7 | 10500000 | 13300000 |
| Longuay Island | M8 | 12 | 7 | 10500000 | 13300000 |
| Flat Face | M8 | 12 | 7 | 10500000 | 14700000 |
| Defeated Hoboty | M8 | 12 | 7 | 10500000 | 14700000 |
| Beaupawa Reef | M8 | 12 | 7 | 10500000 | 16100000 |
| Alberval Island | M8 | 12 | 7 | 10676000 | 13041340 |
| A Smug Victory | M8 | 12 | 7 | 10693340 | 14877340 |
| Sorcerers Wellspring | M10 | 12 | 9 | 14178370 | 145185.219 |
| Saucana Reef | M10 | 12 | 9 | 14510810 | 2355556 |
| Ridgesomin Island | M10 | 12 | 9 | 14632890 | 1757629 |
| Pollywog Pond | M10 | 12 | 9 | 14700000 | 700000 |
| Lonely Tower | M10 | 12 | 9 | 14700000 | 2100000 |
| Litchtois Island | M10 | 12 | 9 | 14700000 | 2100000 |
| Grandhead Island | M10 | 12 | 9 | 14700000 | 2100000 |
| Don't Trip | M10 | 12 | 9 | 14930370 | 2068741 |
| A Dock for Smugglers | M10 | 12 | 9 | 15184590 | 330074.1 |
| Wadet Island | M11 | 12 | 10 | 14486000 | 20044000 |
| Oxville Haven | M11 | 12 | 10 | 14700000 | 20300000 |
| Maiden's Pass | M11 | 12 | 10 | 14700000 | 20300000 |
| Lofty | M11 | 12 | 10 | 14700000 | 20300000 |
| Hasford Peninsula | M11 | 12 | 10 | 14700000 | 20300000 |
| Harper's Breech | M11 | 12 | 10 | 14700000 | 20300000 |
| Broke Asunder | M11 | 12 | 10 | 14700000 | 20300000 |
| A Grand Doorway | M11 | 12 | 10 | 15116000 | 19842000 |
| Watcher of the Sea | M12 | 12 | 11 | 15642000 | 20230000 |
| The Red Stone of Power | M12 | 12 | 11 | 15818000 | 20654000 |
| The Belltower Temple | M12 | 12 | 11 | 16100000 | 20300000 |
| Temple by the Sea | M12 | 12 | 11 | 16100000 | 20300000 |
| Sudlin Island | M12 | 12 | 11 | 16100000 | 20300000 |
| Ole Man Mayberrys Spot | M12 | 12 | 11 | 16100000 | 20300000 |
| Dawn Warrior | M12 | 12 | 11 | 16406000 | 19784000 |
| Brother of the Watch | M12 | 12 | 11 | 16408000 | 20740000 |
| Betrayed | M12 | 12 | 11 | 17973930 | 1103407 |
| The Flying Horsehair | M13 | 12 | 12 | 17048000 | 19816000 |
| Litchhead Cay | M13 | 12 | 12 | 17460000 | 19940000 |
| Kamenoque Reef | M13 | 12 | 12 | 17500000 | 20300000 |
| Gravel Hill | M13 | 12 | 12 | 17500000 | 20300000 |
| A Great Tortoise Tear | M13 | 12 | 12 | 18008000 | 20126000 |
| Thurtonas Cay | M14 | 12 | 13 | 18561340 | 11929340 |
| Throw Um In. See If They Swim | M14 | 12 | 13 | 18689340 | 10244000 |
| Seaside Grove | M14 | 12 | 13 | 18900000 | 10500000 |
| Paradise Pool | M14 | 12 | 13 | 18900000 | 10500000 |
| Hope | M14 | 12 | 13 | 18900000 | 10500000 |
| Exgeo Peninsula | M14 | 12 | 13 | 18900000 | 11900000 |
| Asylum Enclave | M14 | 12 | 13 | 18900000 | 11900000 |
| A Statue of Hope | M14 | 12 | 13 | 18900000 | 11900000 |
| A Rocky Bit of Land | M14 | 12 | 13 | 19038670 | 12352000 |
| Yeti's Playground | M15 | 12 | 14 | 20014000 | 16452000 |
| Winming Island | M15 | 12 | 14 | 20124000 | 17294000 |
| Wadesard Island | M15 | 12 | 14 | 20244000 | 17680000 |
| Sandshaw Enclave | M15 | 12 | 14 | 20300000 | 17500000 |
| One Way Pass | M15 | 12 | 14 | 20300000 | 17500000 |
| Durdes Archipelago | M15 | 12 | 14 | 20300000 | 17500000 |
| Delisisle Isle | M15 | 12 | 14 | 20300000 | 17500000 |
| Barren Shallows | M15 | 12 | 14 | 20562000 | 17306000 |
| Barnlodge Archipelago | M15 | 12 | 14 | 20646000 | 15926000 |
| Windy Whistle | N1 | 13 | 0 | 1813334 | 6045334 |
| Where it All Went Wrong | N1 | 13 | 0 | 2097334 | 5882668 |
| Wallmouth Enclave | N1 | 13 | 0 | 2100000 | 6300000 |
| The Siren's Breath | N1 | 13 | 0 | 2100000 | 6300000 |
| The Pelican Archipelago | N1 | 13 | 0 | 2100000 | 6300000 |
| The Ivory Skull | N1 | 13 | 0 | 2100000 | 6300000 |
| The Forbidden Cay | N1 | 13 | 0 | 2100000 | 6300000 |
| The Fallen Lady | N1 | 13 | 0 | 2100000 | 7700000 |
| The Darkest Chain | N1 | 13 | 0 | 2100000 | 7700000 |
| Stelburns Atoll | N1 | 13 | 0 | 2100000 | 7700000 |
| Scuzzy Pete's Frosty Peaks | N1 | 13 | 0 | 2100000 | 7700000 |
| Lunenlet Atoll | N1 | 13 | 0 | 2100001 | 7996002 |
| Hustler's Skiff | N1 | 13 | 0 | 2102667 | 6537335 |
| A Mysterious Place | N1 | 13 | 0 | 2401334 | 6041334 |
| Thieve's Landing | N2 | 13 | 1 | 3381333 | 795851.8 |
| The Proving Pool | N2 | 13 | 1 | 3500000 | 700000 |
| The Mumbling Reef | N2 | 13 | 1 | 3500000 | 700000 |
| The Lifeless Enclave | N2 | 13 | 1 | 3500000 | 700000 |
| Teeth of a Beast | N2 | 13 | 1 | 3500000 | 700000 |
| Gallanpawa Isle | N2 | 13 | 1 | 3500000 | 700000 |
| Eyes of a Beast | N2 | 13 | 1 | 3500000 | 700000 |
| Beastly Beach | N2 | 13 | 1 | 3500000 | 700000 |
| A Natural Bridge | N2 | 13 | 1 | 4008889 | 968888.9 |
| The Windy Mane | N3 | 13 | 2 | 3269334 | 16317340 |
| The Prickly Maiden | N3 | 13 | 2 | 3500000 | 16100000 |
| Oxbonear Island | N3 | 13 | 2 | 3500000 | 16100000 |
| Lavaltara Skerry | N3 | 13 | 2 | 3754667 | 15953340 |
| Thieves Abode | N4 | 13 | 3 | 4854668 | 17685340 |
| The Temperate Shallows | N4 | 13 | 3 | 4900000 | 16100000 |
| The Seven Sons | N4 | 13 | 3 | 4900000 | 16100000 |
| Nornear Chain | N4 | 13 | 3 | 4900000 | 16100000 |
| Mermaid's Nursery | N4 | 13 | 3 | 4900000 | 17500000 |
| Hourglass Lake | N4 | 13 | 3 | 4900000 | 17500000 |
| Gamding Enclave | N4 | 13 | 3 | 4913334 | 16029340 |
| Durset Island | N4 | 13 | 3 | 5174668 | 17340000 |
| The Sunny Cay | N5 | 13 | 4 | 5968001 | 20228000 |
| The Seal Skerry | N5 | 13 | 4 | 6458001 | 20588000 |
| The Last Pieces | N5 | 13 | 4 | 7230222 | 354370.4 |
| The Dark Door | N5 | 13 | 4 | 7578074 | 673777.8 |
| Mermaid's Window | N5 | 13 | 4 | 7700000 | 700000 |
| Broaddon Island | N5 | 13 | 4 | 7978074 | 158222.2 |
| Bridge Between Worlds | N5 | 13 | 4 | 8044444 | 1176889 |
| Widow's Peak | N6 | 13 | 5 | 7668002 | 20546000 |
| Ventrial Island | N6 | 13 | 5 | 7700000 | 20300000 |
| The Lady Calypso | N6 | 13 | 5 | 7700000 | 20300000 |
| Panhandler's Port | N6 | 13 | 5 | 7700000 | 20300000 |
| Maggie Lu's Smuggler Dock | N6 | 13 | 5 | 7700000 | 20300000 |
| Emnigan Island | N6 | 13 | 5 | 7988002 | 20182000 |
| Deddosa Island | N6 | 13 | 5 | 8074002 | 19842000 |
| Bursby Island | N6 | 13 | 5 | 8096002 | 20842000 |
| A Woeful Tower | N6 | 13 | 5 | 9261037 | 914370.3 |
| Well Fortified | N7 | 13 | 6 | 8944002 | 20038000 |
| Votcester Refuge | N7 | 13 | 6 | 9100000 | 20300000 |
| The Mourning Seat | N7 | 13 | 6 | 9100000 | 20300000 |
| Stone Shelf | N7 | 13 | 6 | 9292002 | 20536000 |
| Rotten Petes Tollway | N7 | 13 | 6 | 9548002 | 20096000 |
| Ole Elliot's Walk | N7 | 13 | 6 | 10051560 | 1208889 |
| Hingsend Haven | N7 | 13 | 6 | 10193780 | 242370.4 |
| Giblan Holm | N7 | 13 | 6 | 10442670 | 913185.1 |
| Eagle's Nest | N7 | 13 | 6 | 10605630 | 545185.1 |
| Creslin Refuge | N7 | 13 | 6 | 10926220 | 1089778 |
| The Shack | N8 | 13 | 7 | 10282000 | 16214000 |
| Hepmont Island | N8 | 13 | 7 | 10500000 | 16100000 |
| Digmeuse Refuge | N8 | 13 | 7 | 10500000 | 16100000 |
| Bellto Holm | N8 | 13 | 7 | 10500000 | 16100000 |
| Ancient Kahissbah | N8 | 13 | 7 | 10634000 | 15872000 |
| An Angry Statue | N8 | 13 | 7 | 10714000 | 18908000 |
| A Terrible Statue | N8 | 13 | 7 | 10750000 | 16324000 |
| Widows Seat | N9 | 13 | 8 | 11446000 | 20798000 |
| Tiny Fortress | N9 | 13 | 8 | 11480000 | 19782000 |
| Strafberg Island | N9 | 13 | 8 | 11554000 | 20242000 |
| Rob's Prison | N9 | 13 | 8 | 11900000 | 20300000 |
| Racastle Island | N9 | 13 | 8 | 11900000 | 20300000 |
| Me Spyglass be Broken! | N9 | 13 | 8 | 11900000 | 20300000 |
| Kerroheim Island | N9 | 13 | 8 | 11900000 | 20300000 |
| High Point Watch | N9 | 13 | 8 | 11900000 | 20300000 |
| Giant's Table | N9 | 13 | 8 | 11900000 | 20300000 |
| Fool's Treasure | N9 | 13 | 8 | 11940000 | 18862000 |
| Esterrial Enclave | N9 | 13 | 8 | 11956000 | 20020000 |
| Elija's Trail | N9 | 13 | 8 | 11994000 | 19118000 |
| Belleline Island | N9 | 13 | 8 | 12112000 | 20558000 |
| Alberg Island | N9 | 13 | 8 | 12380000 | 20198000 |
| The Withered Island | N10 | 13 | 9 | 14484450 | 3366223 |
| The Perfect Getaway | N10 | 13 | 9 | 14700000 | 3500000 |
| The Golden Lass | N10 | 13 | 9 | 14700000 | 3500000 |
| The Gleaming Island | N10 | 13 | 9 | 14700000 | 3500000 |
| Port of Two Dogs | N10 | 13 | 9 | 14700000 | 3500000 |
| Hodge's Mine | N10 | 13 | 9 | 14700000 | 4900000 |
| Beggars Mountain | N10 | 13 | 9 | 14702220 | 3830223 |
| Baswin Enclave | N10 | 13 | 9 | 14870230 | 3464001 |
| Archmage's Tower | N10 | 13 | 9 | 15112000 | 5282668 |
| Serpent's Pass | N11 | 13 | 10 | 14302000 | 20566000 |
| One High Peak | N11 | 13 | 10 | 14330000 | 20652000 |
| Livernia Island | N11 | 13 | 10 | 14944000 | 20632000 |
| Confolk Island | N11 | 13 | 10 | 14958000 | 20358000 |
| Carlenola Island | N11 | 13 | 10 | 15633190 | 1132445 |
| Baker Bill's Garden | N11 | 13 | 10 | 16324150 | 551703.7 |
| Way Between Wonders | N12 | 13 | 11 | 17139560 | 226963 |
| The Giant's Horn | N12 | 13 | 11 | 17349330 | 915555.5 |
| Mouth of the Crab | N12 | 13 | 11 | 17500000 | 700000 |
| Mermain Heights | N12 | 13 | 11 | 17500000 | 700000 |
| Killingtane Isle | N12 | 13 | 11 | 17500000 | 700000 |
| Boothlan Atol | N12 | 13 | 11 | 17500000 | 700000 |
| Beavertou Archipelago | N12 | 13 | 11 | 17684150 | 528000 |
| The Gracious Lady | N13 | 13 | 12 | 18900000 | 700000 |
| The Glassy Island | N13 | 13 | 12 | 18900000 | 700000 |
| Softstone Beach | N13 | 13 | 12 | 18900000 | 700000 |
| Choral Island | N13 | 13 | 12 | 19375410 | 340740.8 |
| Turtle's Shell | N14 | 13 | 13 | 18900000 | 11900000 |
| Rowsonee Island | N14 | 13 | 13 | 18900000 | 11900000 |
| Porttague Enclave | N14 | 13 | 13 | 18900000 | 11900000 |
| One Soft Stone | N14 | 13 | 13 | 18900000 | 11900000 |
| Frosty Oasis | N14 | 13 | 13 | 18900000 | 11900000 |
| Crackle Fruit Way | N14 | 13 | 13 | 18925340 | 11456000 |
| A Pleasant Grove | N14 | 13 | 13 | 19221340 | 11740000 |
| A Decent Plot of Land | N14 | 13 | 13 | 19305340 | 11917340 |
| Vercola Island | N15 | 13 | 14 | 20300000 | 18900000 |
| The Northern Reef | N15 | 13 | 14 | 20300000 | 18900000 |
| The Asylum | N15 | 13 | 14 | 20300000 | 18900000 |
| No One Saw What Happened Here | N15 | 13 | 14 | 20300000 | 18900000 |
| Give No Quarter! | N15 | 13 | 14 | 20300000 | 18900000 |
| Freezin' Knees | N15 | 13 | 14 | 20300000 | 18900000 |
| Forest of Frost | N15 | 13 | 14 | 20300000 | 18900000 |
| Covenris Refuge | N15 | 13 | 14 | 20300000 | 18900000 |
| Chison Cay | N15 | 13 | 14 | 20300000 | 18900000 |
| Beaconcouche Island | N15 | 13 | 14 | 20300000 | 18900000 |
| Banshee's Breath | N15 | 13 | 14 | 20338000 | 18934000 |
| Westburg Cay | O1 | 14 | 0 | 1752000 | 8717334 |
| Wakasevain Islet | O1 | 14 | 0 | 1889334 | 7656001 |
| Votvons Island | O1 | 14 | 0 | 1906667 | 9380002 |
| Vertos Island | O1 | 14 | 0 | 2100000 | 7700000 |
| The Frosty Slopes | O1 | 14 | 0 | 2100000 | 7700000 |
| The Barren Shallows | O1 | 14 | 0 | 2100000 | 9100000 |
| Halistead Haven | O1 | 14 | 0 | 2184000 | 7253334 |
| Elmore Atoll | O1 | 14 | 0 | 2413334 | 7618668 |
| The Wild Range | O2 | 14 | 1 | 3500000 | 700000 |
| Tandy's Patch of Dirt | O2 | 14 | 1 | 3500000 | 700000 |
| Ganaquet Isles | O2 | 14 | 1 | 3500000 | 700000 |
| Clifbour Skerry | O2 | 14 | 1 | 3500000 | 700000 |
| Captain Balder's Headstone | O2 | 14 | 1 | 3500000 | 700000 |
| Wayland's Pass | O3 | 14 | 2 | 3058001 | 20658000 |
| Thiever's Bay | O3 | 14 | 2 | 3500000 | 16100000 |
| Ropond Chain | O3 | 14 | 2 | 3500000 | 17500000 |
| One Big Hunk of Junk | O3 | 14 | 2 | 3500000 | 17500000 |
| For Your Lucky Coins | O3 | 14 | 2 | 3500000 | 17500000 |
| Fairboia Island | O3 | 14 | 2 | 3504001 | 17804000 |
| Bolmond Island | O3 | 14 | 2 | 3608001 | 17169340 |
| The Savage Island | O4 | 14 | 3 | 4482001 | 18904000 |
| Kerroview Refuge | O4 | 14 | 3 | 4826001 | 18570000 |
| Horstawa Island | O4 | 14 | 3 | 5026001 | 19132000 |
| Scorpion's Tail | O5 | 14 | 4 | 7310222 | 1106370 |
| Razer Ridge | O5 | 14 | 4 | 7700000 | 700000 |
| Oolag's Trumpet | O5 | 14 | 4 | 7700000 | 700000 |
| Livernia Chain | O5 | 14 | 4 | 8072296 | 252444.4 |
| Leowaki Skerry | O5 | 14 | 4 | 8072296 | 718814.8 |
| Kearhampton Island | O5 | 14 | 4 | 8095407 | 2406518 |
| The One Path to Take | O6 | 14 | 5 | 8684443 | 1127111 |
| Ponoto Island | O6 | 14 | 5 | 8911409 | 612148.1 |
| Montmeda Island | O6 | 14 | 5 | 9100000 | 700000 |
| Malsea Atoll | O6 | 14 | 5 | 9100000 | 700000 |
| Field of Dawn Flowers | O6 | 14 | 5 | 9100000 | 700000 |
| Crushed by the gods | O6 | 14 | 5 | 9100000 | 2100000 |
| A Waterfall of Firewater | O6 | 14 | 5 | 9101628 | 1950222 |
| A Mysterious Cave | O6 | 14 | 5 | 9287704 | 1142519 |
| A Beautiful Place | O6 | 14 | 5 | 9442370 | 408888.9 |
| Warriors Battle Cry | O7 | 14 | 6 | 10059260 | 721185.1 |
| Vonwin Island | O7 | 14 | 6 | 10277930 | 1872000 |
| They Left in a Hurry! | O7 | 14 | 6 | 10500000 | 700000 |
| The White Stone of Power | O7 | 14 | 6 | 10500000 | 2100000 |
| The Wall is Breached! | O7 | 14 | 6 | 10500000 | 2100000 |
| The Main Palace | O7 | 14 | 6 | 10500000 | 2100000 |
| The Great and Angry Warrior | O7 | 14 | 6 | 10500000 | 2100000 |
| Little Warrior Full of Fear | O7 | 14 | 6 | 10512590 | 2432000 |
| A Mighty Giant Turned to Stone | O7 | 14 | 6 | 10688000 | 2056296 |
| Sutgue Reef | O8 | 14 | 7 | 10270000 | 19136000 |
| Lansack Island | O8 | 14 | 7 | 10500000 | 20300000 |
| Esterrood Skerry | O8 | 14 | 7 | 10500000 | 20300000 |
| A Tiny Pond | O8 | 14 | 7 | 10500000 | 20300000 |
| A Lonely Bump of Sand | O8 | 14 | 7 | 10544000 | 18426000 |
| A Fallen Face | O8 | 14 | 7 | 10756000 | 20490000 |
| Under the Elephants Foot | O9 | 14 | 8 | 12868740 | 506074.969 |
| Trayrath Island | O9 | 14 | 8 | 12884740 | 1172148 |
| The Way of the Dead | O9 | 14 | 8 | 12909040 | 265481.5 |
| The Remote Island | O9 | 14 | 8 | 13118810 | 976592.6 |
| Kindercour Island | O9 | 14 | 8 | 13300000 | 700000 |
| Fierce Patsies Dock | O9 | 14 | 8 | 13300000 | 700000 |
| Crack in the Wall | O9 | 14 | 8 | 13300000 | 700000 |
| A Narrow Pass | O9 | 14 | 8 | 13496300 | 565925.9 |
| A Fortified Hill | O9 | 14 | 8 | 13720890 | 1115259 |
| Victor's Peak | O10 | 14 | 9 | 14398670 | 6320001 |
| The Diamond Cay | O10 | 14 | 9 | 14546670 | 5050667 |
| Rimoudosa Island | O10 | 14 | 9 | 14549340 | 5892001 |
| Penegeo Island | O10 | 14 | 9 | 14700000 | 4900000 |
| Pass of the Dawn Flowers | O10 | 14 | 9 | 14700000 | 4900000 |
| Not Paradise | O10 | 14 | 9 | 14700000 | 4900000 |
| Forsaken by the gods | O10 | 14 | 9 | 14700000 | 6300000 |
| Dawns Fire Falls | O10 | 14 | 9 | 14700000 | 6300000 |
| Dark Water Cave | O10 | 14 | 9 | 14700000 | 6300000 |
| Bonabour Reef | O10 | 14 | 9 | 14856890 | 4692445 |
| Beauty | O10 | 14 | 9 | 14940000 | 6145334 |
| The Risen Way | O11 | 14 | 10 | 15730960 | 224592.6 |
| Pristine Atoll | O11 | 14 | 10 | 15861330 | 737185.2 |
| Pool of the Forgotten | O11 | 14 | 10 | 16100000 | 700000 |
| Pool of Remembrance | O11 | 14 | 10 | 16100000 | 700000 |
| Huntsevain Enclave | O11 | 14 | 10 | 16100000 | 700000 |
| Appleronto Cay | O11 | 14 | 10 | 16100000 | 2100000 |
| A Spire | O11 | 14 | 10 | 16405330 | 1022222 |
| Verlodge Ait | O12 | 14 | 11 | 17092150 | 1197630 |
| Smugglers Hideaway | O12 | 14 | 11 | 17345780 | 3716445 |
| Silver Cove | O12 | 14 | 11 | 17500000 | 3500000 |
| Razerback Ridge | O12 | 14 | 11 | 17500000 | 3500000 |
| Mighty Pillar Top | O12 | 14 | 11 | 17500000 | 3500000 |
| Grimvern Island | O12 | 14 | 11 | 17500000 | 4900000 |
| Ellingstable Isle | O12 | 14 | 11 | 17619560 | 3355556 |
| Brimheller Island | O12 | 14 | 11 | 17667560 | 5286223 |
| Undertow Beach | O13 | 14 | 12 | 18429630 | 530962.9 |
| The Deep Pool | O13 | 14 | 12 | 18475260 | 1206519 |
| Salterel Holm | O13 | 14 | 12 | 18791110 | 900148.1 |
| Ill-Gotten Island Pass | O13 | 14 | 12 | 18813630 | 333037 |
| Hilbourg Key | O13 | 14 | 12 | 18900000 | 700000 |
| Glouming Chain | O13 | 14 | 12 | 18900000 | 700000 |
| Gaping Totem | O13 | 14 | 12 | 18900000 | 700000 |
| The Sacred Pass | O14 | 14 | 13 | 18621340 | 13345340 |
| The Purple Stone of Power | O14 | 14 | 13 | 18900000 | 13300000 |
| The Mirror Pool | O14 | 14 | 13 | 18900000 | 13300000 |
| The False Lighthouse | O14 | 14 | 13 | 18900000 | 13300000 |
| Something Went Wrong Here | O14 | 14 | 13 | 18900000 | 13300000 |
| Parley Pass | O14 | 14 | 13 | 18900000 | 13300000 |
| Old Man's Nose | O14 | 14 | 13 | 18900000 | 13300000 |
| Lanky Light Tower | O14 | 14 | 13 | 18900000 | 14700000 |
| Innissomin Isle | O14 | 14 | 13 | 19136000 | 11929340 |
| Gorgon's Mirror | O14 | 14 | 13 | 19178670 | 12964000 |
| A Precarious Archway | O14 | 14 | 13 | 19326670 | 13705340 |
| The Ray Isle | O15 | 14 | 14 | 19846000 | 20798000 |
| The Hailstone Heart | O15 | 14 | 14 | 20092000 | 20010000 |
| The Crevis | O15 | 14 | 14 | 20228000 | 20288000 |
| Strafter Enclave | O15 | 14 | 14 | 20300000 | 20300000 |
| Spyglass Pass | O15 | 14 | 14 | 20300000 | 20300000 |
| Riverrich Enclave | O15 | 14 | 14 | 20300000 | 20300000 |
| Respite for the Downtrodden | O15 | 14 | 14 | 20300000 | 20300000 |
| In The Reaper's Mouth | O15 | 14 | 14 | 20300000 | 20300000 |
| Harmonious Key | O15 | 14 | 14 | 20300000 | 20300000 |
| Dandover Island | O15 | 14 | 14 | 20340000 | 20620000 |
| Crystal Speartip | O15 | 14 | 14 | 20614000 | 20240000 |
| Bigsack Isle | O15 | 14 | 14 | 20794000 | 20840000 |
| Berkdon Haven | O15 | 14 | 14 | 20810000 | 19800000 |